Doogie Blog - August 2012
---
August 25 - Krystal & Rick at Todd & Betsy Kingma party, Richland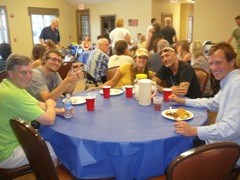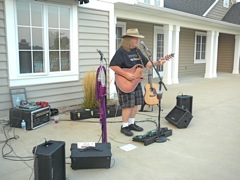 The party started indoors with a GREAT barbecue dinner, . . . Then we moved outdoors for some wet wild fun with kids
This was our weekend for lots of fun with families and kids. First the VanderMill on Friday, and then this family party over by Richland. Todd & Betsy Kingma paid for this party with a donation to Allegan Hospice "Wings of Hope". They were the winners of a Rick & Krys music show that we donated to the annual Wings of Hope auction earlier this year. The hospice auction "packaged" our music show along with a Pig Roast Barbecue. Sorry I don't have the Bar-B-Q guy's name. But I'll testify about how good the pork was; I'm actually eating left-over pork barbecue from the party as I type, and it is yummy. Todd & Betsy had their party at Gilmore Farms Community Club House.
Everyone brought a dish to pass, to go along with the pig roast babecue sandwiches. The party was mostly a thank you party from the Kingma family to their church friends at "The River Church" in Kalamazoo. Todd & Betsy are hugely busy right now, moving to a new house, preparing for one daughter's wedding, sending another off to college, and several other major life events. . . But, they had to use up this barbecue / music party that they bought with their generosity to Wings of Hope. So they just went for it, without a ton of planning, and it all came together beautifully. They had a great turn-out of friends. The weather was perfect, the food was fantastic, the kids had a blast playing in the pool area and playing water-balloon toss. And Rick & Krys provided the background music for all this family fun. The funny thing is that we played dinner music indoors, but when everyone went out with the kids by the pool, leaving only about eight people inside chatting at the tables, Rick said to Krys, "we can move outdoors with about ten minutes of work". Krystal answered, "let's do it". Todd gave us the go-ahead and helped us drag our speakers and stuff outside. It turned out great. We had a ball singing some lively tunes while watching all the action.
We were honored to be a part of it. Having 7 little grandkids of our own, we are overjoyed when we can be part of kids having fun, especially outdoors under beautiful clear skies. And you couldn't ask for a more friendly bunch of people. We got lots of compliments, including one our favorite compliments; "we love the variety of your song selections". That's our goal; a wide variety of tunes for all ages and tastes.
Thanks so much to Todd & Betsy and The River Church friends for a wonderful Saturday evening.


---
August 24 - Krystal & Rick at VanderMill Cider Mill & Winery, Spring Lake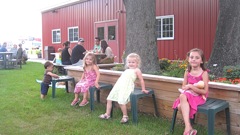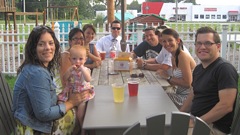 Little ones enjoy the live music ... the Apple Train is always a hit ... Great family fun at VanderMill
We always love bringing our K&R Tunes to the beautiful VanderMill Cider Mill, Winery, Gift Shop, Deli, Bakery, ...
They have a lot going on at this little place just east of Spring Lake. Now that summer is waning, it's getting to be prime season for cider mills that specialize in treats for Autumn. Deli sandwiches and specialty pizzas are very special, along with ice cream and bakery treats. Several varieties of Cider are on tap, and the gift shop always has interesting things to buy. Every Friday is live music night during dinner hours, between 6 and 8. This Friday we had absolutely gorgeous weather for our outdoor live music with Rick & Krystal. The pictures tell most of the story. Check this place out some time soon. They are constantly making improvements and additions to the menu.


---
August 18 - Krystal & Rick at Moorman Wedding Party, Lawton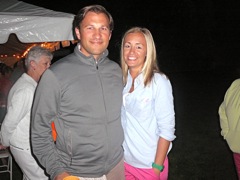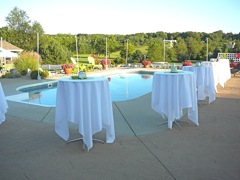 Eric & Sara, the Bride & Groom from Boston ... Great big crowd of people .... Super nice lay-out with beautiful gardens ...
Krystal's work friend Dina got this wedding party gig for us down south of Paw Paw, near Lawton. We've been looking forward to it all year long. Eric & Sara were married in Boston, and they came back home to Michigan to celebrate their marriage with family and friends. What a beautiful back yard party place. The party was hosted by Dave & Deb, who are uncle and aunt to the happy loving couple. Dave and Deb know how to put on a party. The pictures tell the story. Check out the gardens, the pool, the beautiful yard, the food, and most unique of all; they had a small motor home powder room that was air-conditioned, like a mobile bathroom. I've never seen that before; but what a great idea in lieu of the usual "porta-potties". Check that out in the pics.
We had dancer right when we started playing, for about the first half hour or 45 minutes. After that, people wandered away to the bar area or the pool area, or the picnic table area. The party was really spread out, and since the couple is from out of state, there was more focus on socializing and chit-chatting, rather than dancing. But we got lots of compliments from people who were enjoying us for background music. We reailze that the band can't always be the center of attention. After singing in the lonely big tent by ourselves for about an hour, we got a group of the ladies interested in dancing, so we finished the night with some great dancing fun for the last 6 or 7 songs.
We feel honored to be part of this great family occasion. And we hope to come back for some party in the future. This is a great party place. We talked with Dave the owner as we packed up, and he apologized for the lack of many dancers. But we told him we know that everyone needed to have a reunion, because there were so many family and friends there who don't see each other very often. We complimented Dave on the beautiful backyard party layout, and he said, "we like to have our parties". And he said he'd like to have us back to play at one of their parties again, real soon. We're looking forward to it.


---
August 17 - Krystal & Rick at Odd Side Ales, Grand Haven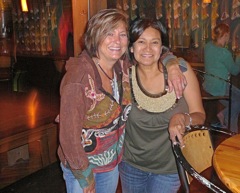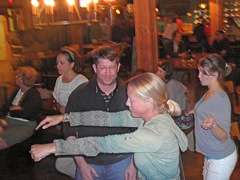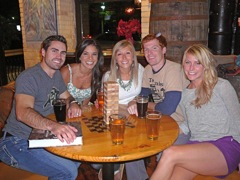 Lots of friends showed up this Friday ... Lots of crazy dancing action all night ... Lots of fun party people
We decided to start calling our Krys & Rick duo "KaRTunes", short for "Krystal And Rick Tunes". We'll see how that flies. Krys made up some business cards with nice graphics, so you'll be seeing all of that very soon. It's cumbersome trying to juggle 4 or 5 band formats and names, without getting everyone too confused. We have the big Tricks band, which has always been our primary music group. But, we also do "Tricks Lite" for very small set-ups for backyard parties. When our drummer Steve can't do a gig, we have Band X, which is Tricks with a different drummer. And, for acoustic gigs, we have Rick Doogie solo, and more often we have the husband & wife duo of Krystal & Rick - "KaRTunes". We've also been known to do acoustic gigs with our bassman Ozzy, so that turns out to be either "Doogie & Ozzy" or "Rick, Krys, & Ozzy". It's all so confusing.
No matter what name you want to give it, we sure had a blast at Odd Side Ales this weekend. An extra energetic crowd. You wouldn't have known it when we first got there around 8:30 to set up. The place was looking pretty empty, with most of the action outdoors on the street. Grand Haven was having some kind of street-sale week, with street blocked off and lots of tents and vendors set up in the street. Once we started playing at 9, people came wandering in, and we got lots of good heckling and cheering. And we had more dancing that ever before at Odd Side Ales. We made a special effort to bring in some songs that we don't always do at Odd Side Ales, so that kept it challenging for us.
Like usual, we want to give a special thanks to our bar tenders Malan & Erik. Thanks to Chris the owner for keeping up with the demand for adventurous brews and advenurous live tunes. Talking with Erik the music manager at the end of night, he told us that he likes the solo and duo live music shows because they fit the size of the room, and the 3-piece or larger bands "get to be a little much". I think he said they were "kinda clangy" for the little room that is Odd Side Ales. All I can say is "I coulda told him that" when he started having bigger bands in there. I appreciate his adventurous spirit, and it's always good to try everything once or twice, but I hope this means that we have more Krys & Rick Tunes at Odd Side Ales. We love the crowds, we love the place, we love the room, we love the ambience, ... and the brews are dang good too!

---
August 4 - Band X at Carly & Joe's outdoor Wedding in South Haven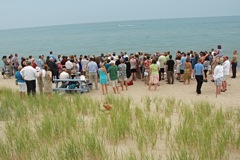 A Wedding ceremony on the beach ... then the party with great food and drinks ... and lots of dancing fun
First of all, what is Band X all about? We just started Band X earlier this year to fill in the gaps when Steve isn't available to drum for a Tricks gig. We hired Skip Herrema to play drums, and the rest of the band is the usual Tricks front line of Rick on guitar, Krys on vocals, and Ozzy on bass. We mostly do the same songs that Tricks plays.
Anyway, what about the wedding? First of all, the wedding on the beach was great. It was sunny and very hot while Rick & Krys set up speakers and mikes so we could be heard over the wind and waves on the beach. But by 5 o'clock wedding time, there was a nice haze that gave us a break from the sun. So that was a big help for everyone, especially the people who were all dressed up for the occasion.
After the wedding, we quickly tore down our music gear and hauled it up to the tent, to get ready for some dance band action. While we were setting up, there were rumbles of thunder over the lake, and just as we started playing at 7, we had a brief downpour. That actually cooled things off a bit, but the humidity was very high. So, you can see lots of sweaty faces in our pictures. Rick & Krys learned a few new songs for Carly & Joe; "Stand By Me" for the wedding ceremony, Iron & Wine's "Flightless Bird" and Dave Matthews "You And Me" for the Bride & Groom special dances during the reception.
There was dancing in the grass under the tent from the first down beat, and every song had plenty of dancers. That really made us comfortable for our 2nd ever Band X gig. The band was pretty tight, and we had a great time playing for all those dancers. That always makes the band play better.
Thanks so much to the hosts of the wedding & reception: Joe's parents Dan "Moondog" & Donna Hartmann, and Carly's parents/step-parents Tara & Tommy Phelps, Dave & Lori Gaarde. You people really put on a bash for Carly & Joey. We played at plenty of weddings and receptions, and this one really stands out as a classy and fun event. The rehearsal dinner on Friday was also very cool, hosted by Moondog and Donna, with authentic Mexican dinner cooked by a few of their hired hands from their blueberry farm. Yummy! All in all, just a fantastic wedding to remember. Band X feels a great honor to hvae been a part of it all. Thanks to everyone who danced with us all night long. Cheers!


---
Doogie Blog - July 2012
July 27 - Rick & Krys at Rhino's in Plainwell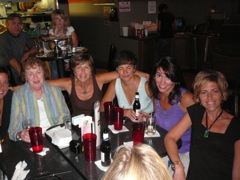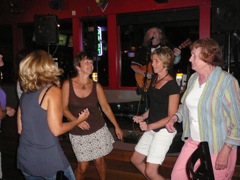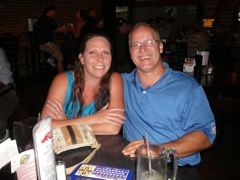 Krystal brought her kayaking girls . . . Turns out they are also dancing girls . . . Happy 10th Wedding Anniversary!
The weather is just beautiful this weekend. I'm surprised anyone showed up at Rhino's to party with us. Krystal made sure we had a guaranteed lively crowd by setting up a date with her lively girlfriends. These girls all went kayaking way up north last weekend, and they stayed at Rob's mom Jacque's cabin on Mullett Lake. To thank Jacque for her hospitality, they took her out to dinner at Rhino's. They stayed and partied and danced with us until after midnight. What a hoot! There's no dance floor at Rhino's, and we sometimes get a couple people dancing in between the tables. But last night we had 8 or 9 dancers in front of us for a few of our rocking tunes. We also had a couple who were celebrating their 10th wedding anniversary, sorry we didn't get your names. But, Rick did James Taylor's "You've Got A Friend" for them to dance to - a fitting song for ten years of being married and remaining friends.
After our big table full of lady fans took off after midnight, the crowd really dwindled. Good thing Mark & Paula stopped in to keep us company for a while. A nice surprise, driving all the way from Dorr just to see the little ol' Rick & Krys Show.
Thanks to Rhino's for having us again for your Friday Live Music. Thanks to all the gals who came out for a night of eating, drinking, and dancing with Rick & Krystal at Rhino's. Thanks to the wait staff and cooks. Thanks especially to Dave for being the nicest bartender you could ever want. We really like playing at Rhino's. I know I keep saying that.
Rhino's Friday

---
July 20 - Rick & Krys debut at Black River Tavern, South Haven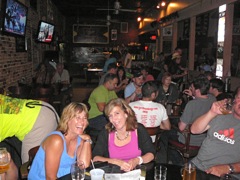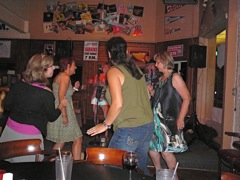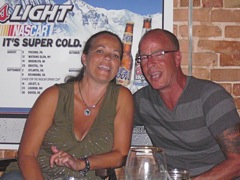 Nice Friday night crowd, with our pals Tara & Angie ... Dancing in the aisles ... A surprise visit from Rhonda & Todd.

If it's summer, you can expect to find crowded streets in South Haven, Michigan. People crowd the streets all day shopping in all the cool little stores. In the evening, you can barely find a parking spot because so many people are having dinner at the various restaurants downtown. At night the party crowd is bar-hopping and going down to walk by the water. Right where the Black River meets Lake Michigan, you can find the Black River Tavern. They are "the last place on the right" when you are driving through downtown on Phoenix Rd. One of the best views around is right out the window on the stage. We were a little distracted while we were singing. There were all kinds of people walking by and checking us out through the big window. And there was also this fantastic view of the South Haven pier and lighthouse.
This was our first night at BRT. About a year ago, we heard from our South Haven friends that a new restaurant/bar was opening downtown, so we went there to check the place out. We don't want to play any venue that is too dumpy or too glitzy. We want a nice down-home atmosphere for our down-home music show. We had dinner there last fall and really liked the remodel job. Our waitress was very friendly and said, "yes, Scott the owner is booking live music for Friday and Saturday nights". She assured us that Scott would probably call us within a few days. . . Well, it was more like a few months. But Scott has plenty of musicians banging on his door, and I don't blame him. We set up this trial gig, and here we are. We expected it to be more packed than it was, but there are dozens of places in downtown South Haven. Scott has plenty of competition. The place was full all night long, and it was a pretty wild bunch. It reminded us of Rhino's in Plainwell, with a great party atmosphere, sometimes a bit over the top.
We played 3 long sets to fill our 4 hour show. Since it was mostly new fans, we could concentrate on our more popular "hits", and we didn't try to get too adventurous with our set list. Next time, I'm sure we will get adventurous, with a more avante-garde setlist.
Thanks to our pals who showed up to support us, especially Rhonda & Todd who drove from Grandville. Thanks to Tara and her crowd for hanging out all night with us, and instigating the dancing. Thanks to the bartenders and wait-staff for keeping the party running smoothly. And thanks most of all to Scott the owner for bringing the Rick & Krys show back to South Haven. We really feel like the BRT fits well with the R&K music show. I hope we'll be back soon.

---
July 14 - Rick & Krys double-header - Indian Shores Picnic ... & ... Odd Side Ales

We had a fun time with all our neighbors at the annual Indian Shores meeting / picnic. Forgot to bring a camera, but trust me, it was quality time with our best Carp Republic comrades. We sang from around 1:30 to about 4:30, while people sat under the trees eating, drinking, and chatting at our community park overlooking Lake Allegan.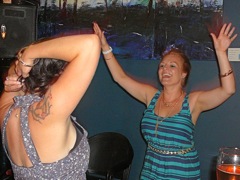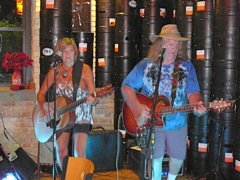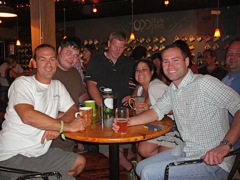 Girls gotta have fun . . . We love playing at Odd Side Ales . . . There is always a good-looking crowd of party people

I always say the same thing about Odd Side Ales - "It's a great place for adventurous brews, and our adventurous song list fits right in. They have brews with names like "Fussy", "Weed Party", "Mayan Mocha Stout", ... We have songs with names like, "Story In Your Eyes", "I'm Just A Girl", "And She Was", ... It seems like a natural match to me. We had two good-looking gals who danced the night away with us. Sorry I didn't get names, but you really made our night. In addition to the enthusiastic dancers, we had lots of positive and fun feedback from the crowd. There really is a cozy feeling here at Odd Side Ales. It's like you're in someone's living room. People are encouraged to bring in their own food, so you also get a bit of a pot-luck atmosphere. Everyone is out to get some stimulation for their bold and gutsy appetites. I gotta keep saying it; this is not your typical "Bud Lite" crowd mentality. Not that there's anything wrong with the Bud Lite crowd; there's plenty of cool people who have mainstream tastes. But, Odd Side Ales is not where you find a lot of folks from the mainstream. That ends up being good for our Rick & Krys show, because we don't want to play all the songs that you hear on every street corner in every town. We want to do songs that people recognize and say, "hey, I remember this song, what a great song". We want to do songs that spark something in the brain, not just in the emotions. We gotta do songs that tell a unique story and take you on a little trip.
Thanks to our two dancing girls. Thanks to Karen & Scott for driving from Holland to spend time with us. Thanks to Erik for booking us. Thanks to our bar tenders Malan & Erik. Thanks to Chris the owner for having the coolest place in town. Keep on brewing!
Sat night Odd Side Ales

---
July 7 - Rick & Krys at Ted & Patty's Wedding on the River / Party in the Woods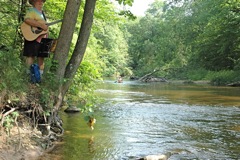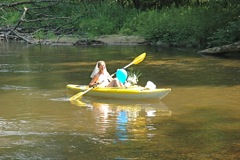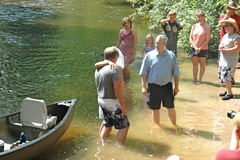 Rick gets ready to sing . . . Here Comes The Bride Patty, down the river "aisle" ... The minister gets in the river as well
I don't think words or pictures can tell the story of this wedding day. I wish I could show you all the pictures while I narrate everything that happened between 9am when we got there and 11pm when we had to return to Allegan. The main thing I want to say is this; Patty and Ted know how to throw a party. They have their act together when it comes to entertaining friends and family.
First of all, they invited everyone to come 4 days early to camp on their property. And they provided food, beverages, camp facilities, and fun activities for several days before their wedding day. When we got there early Saturday morning, it was like driving into a campground. There were a dozen motor homes and a whole bunch of tents scattered all over. There was a big fire-pit with stacks of firewood. There was a Slip & Slide set up to keep the kids cooled down. There were two big tents sheltering tables and chairs for eating and playing cards and such. They had a big board with everyone's names on little kayaks, I guess to keep the schedule organized for multiple trips down the river. At the top of the sign-up board it said, "Have A Nice Flip"!
We got there at 8:30 am, just in time for the bridal party that was leaving with kayaks for their launch at 9am. There were about a dozen girls with kayaks accompanying the bride Patty as she took a trip down the "river aisle". The boys were left waiting back at the home "campground", under Ted's direction as he tried to organize canoes, trucks, and additional guests arriving. We had an hour and half to kill before we left for the actual wedding site, which was the next launch point, several miles down the river from where the girls went in at 9. We all got to "Pine Point" about a half hour before the 11am wedding time. We got situated at the launch site, because that was the "altar" where the wedding was taking place.
The boys got their canoes and kayaks ready, because after the wedding everyone who wanted to join in was invited to canoe or kayak down the river with the "Just Married" Ted & Patty canoe. They even had several big rental canoes for those who did not have their own boats.
The trucks and trailers headed out to pick everyone up further down the river. It was a good two hour boat trip down the river for the after-wedding flotilla. They also stopped for a luncheon of grilled hot dogs and grilled shrimp. There was a matching luncheon back at the house for those who opted out of the river action. Rick went back to the house to set up the music set-up.
The river boaters started showing up back at home base around 3pm. We cranked up some recorded party music and sipped beverages as the canoes and kayaks got unloaded.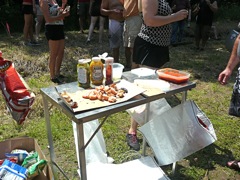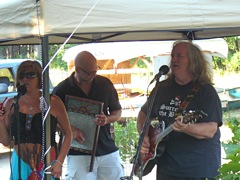 Stop the bridal flotilla for lunch . . . . . . Done with the boating part of the day . . . . Eat, drink, dance, . . .
After the boats were unloaded, and everyone changed their river clothes, things settled into a more normal party mode. There was lots of playing games, drinking, dancing eating, wedding cake (a Canoe wedding cake, naturally), first dance for the Bride & Groom, a dollar dance with jello shots and pudding shots, family pictures, laughing, singing, hugging, kissing, ... We had the car packed around 11pm and were ready to go, but we were told we had to stay for one more surprise. So, we wandered back over to the campfire area, just in time to see about a dozen Chinese Lanterns getting launched. What a site! A few more hugs and kisses, and we were on our way back to Allegan. A remarkably wonderful day from beginning to end.
Morning

- bridal party kayak ride and wedding -
Afternoon

- river ride after wedding, lunch, back home for food, drinks, dancing
---
Doogie Blog - June 2012
June 29 - Rick & Krys at VanderMill,

Spring Lake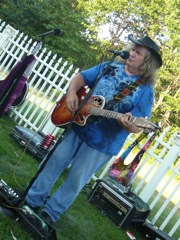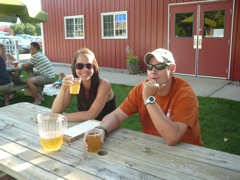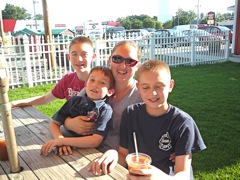 Rick sings his tunes while people hang out and sample the ciders. . . - Our friend Lynsey and her 3 boys

We love this charming cider mill a couple miles east of downtown Spring Lake. The VanderMill has all kinds of stuff. For the kiddies, they have a little playground, Apple Train rides, and cider & donuts & ice cream. For the adults, they have live music, a gift shop, hard ciders, and apple wine. For food they have a bakery and a deli; pies, cookies, donuts, and sandwiches made with local ingredients as much as possible. Their real busy time is the fall, as you might imagine. But there were about 20 people hanging out with us while we did our Rick & Krys music adventures. Thanks a lot to Paul and his staff for having local live music on Friday nights for dinner time. Paul says he is thinking of expanding the live music to both Fri & Sat nights. He also is planning his annual big festival in the fall, when he brings in a big stage and lightshow for a bunch of great bands.

---
June 16 - Rick & Krys at Spring Lake backyard party for Heritage Festival Days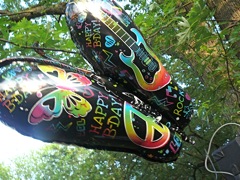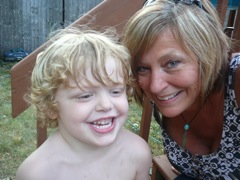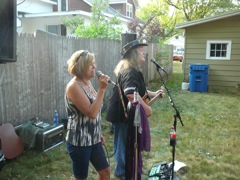 Thanks for the balloon, Karen & Scott - Happy Heritage Days for Spring Lake party people.
We met Emma and her friends at Odd Side Ales. We gave her a card when she expressed interest in having us play for a party some time. About 10 days ago, Emma called and asked if Rick & Krys were available to play for a backyard party on June 16. It is Spring Lake's big summer festival called "Heritage Festival", and Emma has a party every year during the Heritage Fest. I told Emma that we probably couldn't do her party, because it was Krystal's birthday and we planned on going to Bell's Brewery to see the "Strange Arrangement" band with a gang of Krystal's friends. I told Emma I would check with Krys and call back. I was amazed when I asked Krys if she wanted to do a gig instead of going to Bell's, and Krys said, "that's a no-brainer, we can either have fun at Bell's and spend money or have fun in Spring Lake and make money". I called Emma back and confirmed the gig. Emma said that they would make Krystal's birthday a fun time.
We got to Emma's around 6:30 and set up. The forecast was for scattered thundershowers, and it actually rained at our house as we were packing to leave. It rained a little bit in Spring Lake an hour before we got there. All that scattered and possible rain must have scared off many of Emma's "was gonna" party people. We ended up having a good time playing and singing for about 20 people. We were supposed to play two hours, but we couldn't stop and had to keep going for over three hours without taking a break. There was some excellent party food and lots of cold drinks. Kevin cooked up some dogs on the grill. Randy had a b-day so we all sang the Beatles Birthday song. Little Tyler was dancing along with us. There were fireworks going off right as we finished our few songs. Drew got up and sang a couple CCR songs with us for an encore, and he sang very well, I might add.
Krys was in a party mood for her birthday and even grandpa Rick joined in with some indulgence. A fun time, even though it was just a small group. We never really care about the size of the crowd, as long as a few people are enjoying our music. A small crowd is more intimate and friendly, and we like that. We hope to see Emma and her friends and neighbors at Odd Side Ales when we play there July 14. Thanks Emma for the fun little party. We had a great time.


---
June 15 - Rick & Krys at Rhino's - Krystal's Birthday with girlfriends, and surprise Kayak present.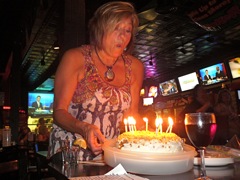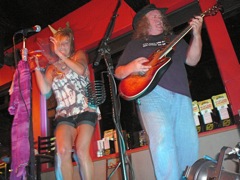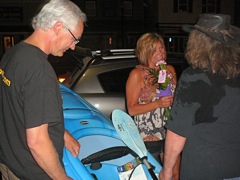 Thanks so much to all Krystal's gal-pals who chipped in for the kayak surprise.
Krys had no idea that we were conspiring for several weeks to give her a kayak for her birthday. Rhino's was filled with Krystal's friends and family, and we were rocking the night away. Never mind the whole broken mic cable frustration for the first set or so. (We had to share one mic until Rich & Vince made an emergency run to get a mic cable for us - Thanks!) Anyway, where was I? Oh, yeah. Just before midnight we gave Krys the b-day card that had the names of all her friends who put in $$'s for the kayak. The card said, "Your present is outside; All these friends chipped in to buy this present". You should have seen the look on her confused face. We all took her outside, and with about 20 friends looking on, Krys laughed at Rob struggling to pull her blue kayak out of the back of his truck. She sat down in the kayak right on the sidewalk, to check if her skinny butt would fit the kayak seat. (It did.) Then she cried after realizing how much her friends loved her. We all went back inside and had carrot birthday cake.
What a fantastic night to remember. Thanks so much to all the Krystal friends who showed up to make it a real birthday bash for Krys. Special love and thanks to Dina for instigating the whole kayak idea with Rick. Special thanks and love to Karen for the birthday cake. Special thanks and love to Rob & Jamee for sneaking the kayak over to Plainwell. Thanks to those who traveled a long way to be here tonight. Thanks to the Rhino's staff for giving us a great party venue and a regular Rick & Krys gig. Thanks to Dave our bartender for keeping those drinks flowing. Thanks to Jen for the booking. Thanks to Phil the owner for a classy joint.


---
June 2 - Rick & Krys at 5th Annual Laraway Memorial Ride Benefit, Cheshire Clubhouse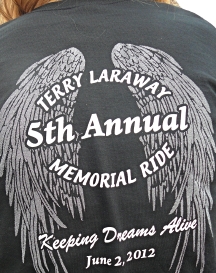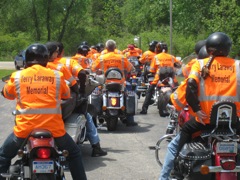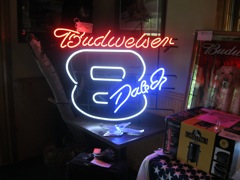 Many thanks to everyone who participated in the Benefit, especially SPONSORS & DONORS.
Where to begin? This is an annual Bike Run raising money for the Terry Laraway Memorial Fund to benefit the Lee Township Youth Athletic Sports. This is in memory of Terry Laraway, a very good friend of this motorcycle community who was killed in a snowmobile accident in 2006. Terry was very active in sports programs for kids. Thanks to the hard work of Bob & Vicki Lindsey, over $40,000 has been raised in the past 4 years. I don't have the totals, but this year will be about $10,000. This year, the Terry Laraway Memorial Fund is also sponsoring four $500 scholarships to highschool graduates.
It's always amusing to me that Bikers are portrayed as these tough-guy party animals, when nearly every biker I've ever met actually has a big heart and a fierce loyalty to family and friends. And yes, they like to eat, drink, and be merry. The saying is, "Work Hard, Play Hard"!
There was some great chicken Bar-B-Q for dinner, cooked up by Grill-Master Tom Harrington. The weather wasn't too bad. It could have been a little less windy for the ride.
Rick & Krys planned on playing music from 7 to 10pm, but there was a big raffle and auction that took over an hour and a half. That was pretty fun, but I felt sorry for Bob Lindsey, because he was at the mic for the whole time directing the raffle and doing the auctioneering. I was surprised that he still had a voice left when he was done.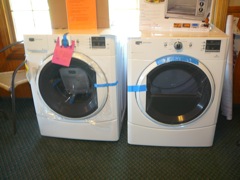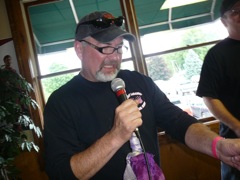 The top raffle winners (sorry for misspelled names):
• Grand Prize: A $1300 Maytag Washer & Dryer to Becky Beerthuis
• 1st Prize: $500 Cash to Ann Sackett
• 2nd Prize: Propane Patio Heater to Bruce Cook
• 3rd Prize: George Foreman Rotiserie Grill to Jeff Eggemoy
Also, there were dozens and dozens of people who bought donated items in Bob's auction; huge gift baskets full of all kinds of goodies, lots of fancy mirrors with Harley logos and such, a very cool "Budweiser / Dale Jr." neon light, an outdoor ceramic fireplace, see the photos for auction action.
For now, here's the pics - we were kinda busy playing music and having fun, so these are mostly pictures of the raffle drawings and auction. It was great to see our Sidetrack pals. It was also nice to have some people who were in a dancing mood. We did our best to keep the dancers happy.
Thanks so much to the event organizers for having us. We're honored to entertain such a fun, friendly, and generous crowd for such a great cause. Thanks to the Cheshire staff for keeping the party rolling. Great Job. Thanks to all the volunteers who helped with the Bike Run, Dinner, Raffles, and Auction. Extra Special and Heartfelt Thanks to the businesses who sponsored the run, generously donating items for the raffle, dinner, bike ride, and auction.
Thank you so much.
Krystal Pics

| Bob & Vicki Pics

---
Please sign up for Rick Doogie / Tricks e-mail News



Music News Only! - No Spam!
---
June 2 - Rick & Krys at Steve's Kielbasa Cook-Out, Dick's Market, Dorr

Steve's Top 10 Kielbasa Moments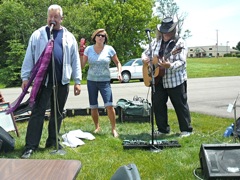 Fun & food for all ages at Dick's Market annual Dorr Community Kielbasa Cook-Out.

We were looking at rain in the forecast all week long. Turns out it wasn't too bad of a day. A little cool and little breezy, but no rain storms. We started serving up grilled kielbasa at 11am, and the people just kept coming in for more and more. Rick & Krys were suppposed to play until 1pm, but we kept going until almost 2, because there was a constant flow of kielbasa-lovers. Hopefully, we'll get a few comments from Steve. It's always better to hear what the boss has to say. Speaking of Steve, we got him up to sing "Once Bitten, Twice Shy" acoustic R & K style. Check out the photos. And, there are several cute kid pictures.
Kielbasa Cookout Photos

---
Doogie Blog - May 2012

May 17 - Rick & Krys at Parks Alive event in Holland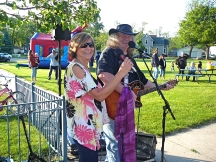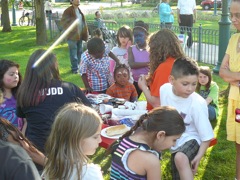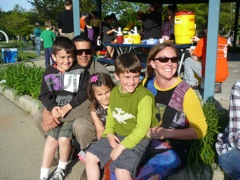 What a great day to sing in the park for a family event.
I can't tell you what a fun time this was for families and kids; you had to be there. It was a free event hosted by the good folks from Cornerstone youth outreach, along with the City of Holland, The Holland Police and Fire Department. Free hot dogs donated by Boarshead. "Galactic Jump" for kids to bounce around in for hours. Face painting. And games. Oh, I almost forgot; and some lively music from Rick & Krystal. We did this same event last year, and it seemed like this year was even better. The weather was picture-perfect. And there were plenty of folks grabbing the free hotdogs and lemonade. We really connected with our music a little better this year; there was a great sense of friendship and community. As soon as we got there and started setting up, several little kids came up and said, "you were here last year, weren't you"? And, "What songs are you going to play"? They were all excited. So, we tried to do our most "kid assessible" tunes. We ended up playing a good two hours, and we weren't ready to stop until the volunteers were packing things up. It was such a beautiful to be outside playing and singing. A good time was had by all. Check out the pictures. Thanks to Sue Harder for hiring us. Thanks to Cornerstone and all the volunteers. Thanks to the City of Holland and police & fire dept. Thanks to our Rick & Krys friends who showed up to hang out with us in the park. And especially, thanks to all the neighbors and kids who came out to the park to have a very nice evening of family fun.

---
May 4 - Rick & Krys at Odd Side Ales, Grand Haven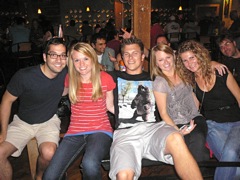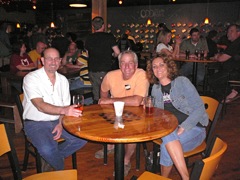 Always fun crowds at Odd Side Ales

Should I start out again with "We love this place"? Have I worn that out yet? Well, how about "This place loves us". Actually, we just seem to be a good fit here at Odd Side Ales. The adventurous brews and our adventurous tunes, . . . I've said it all before. This is not your typical "Bud Lite" crowd. These people do not settle for just anything that the masses consume, they have epicurean tastes; they search out the best. While they sample quality Odd Side brews, we try to match that quality with our tasty tunes, done with Rick & Krys flair. We love singing and and jamming together. It's a major portion of our life. If we're not playing in our band Tricks, we are doing acoustic show, and if we're not performing ourselves, we're traveling somewhere to see live music.
Our last two shows here were in the middle of snowy weather, and we had decent crowds, but nothing very wild. This Friday's springtime crowd of parties was much more energetic than the bundled-up people of February. When we pulled into town, we saw that the downtown sidewalks had lots of people out and about, going to dinner, strolling around, or headed for the bars. Lots of live music around here. It was good to hear one couple tell us, "we've been to every place on the street, but you guys were the only ones with lively music going on, all the other bands we saw were just standing there, putting us to sleep". I have to admit, it's all because of Krystal. If I had my Doogie way, I'd stick to my usual play of "slow song / fast song / slow song / fast song / ...". Krys kept urging me to do the rockers; "do Magic Carpet", "Why don't you do Ants Marching", "Let's do Radar Love". "Do Indigo Girls". She's so bossy. But some guys need a little push now and then, or they'll stand there with a dumb look on their face.
To our new friends, you know who you are: "Nice to meet you, hope to see you again some time."
Thanks to Eric for booking us at Odd Side Ales. Thanks to Chris the owner for having the coolest place in town. Thanks to the bartenders for keeping the party rolling. Thanks to our friends who drove a little to support our music adventure.

---
Back to DoogieBlog Early 2012
(Jan-Mar)


Forward to DoogieBlog Late 2012
(Sep-Dec)