KaRTunes Blog - June 2013
June 21 - KaR Tunes at Spectators, Saugatuck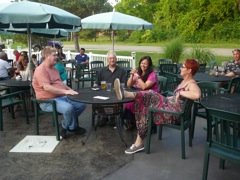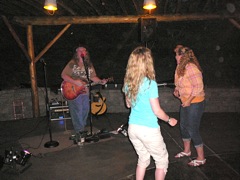 This was another last-minute booking from Kevin Viilo. We put the word out to all our friends in the Saugatuck / Fennville / Allegan area, and we had pretty much a full house for our Friday evening show. The manager and owner had great things to say about us, and they talked about having us back to play indoors. They said that a lot of groups are way too loud for playing indoors at Spectators, and that our acoustic show would go over really well during the indoor months of winter time. Thanks to everyone for coming out and making us look good at a new venue.


---
KaRTunes Blog - May 2013
May 25 - KaR Tunes at Fran B-day Party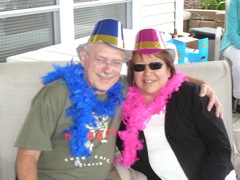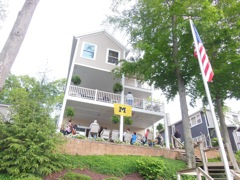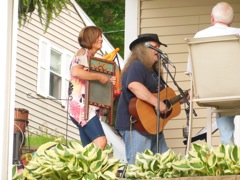 This is where our relationship with Fran & Tom started. Back in March at one of the "Doogie Solo Sundays" at Hilliards, Fran asked if we could play for her 60th birthday party. I had a small group of friends show up for dinner and Doogie tunes. Deb Peck spoke up and said, "you need to take a break, there's a lady back there who wants to talk with you about a party on Memorial Day Saturday". I said, "you're the ones with the smart phones, why don't you look at my calendar to see if I'm open that day"? About three people grabbed their phones and started checking the Doogie schedule. "Nope, you're up in Irons, at Kim & Duane's party that Saturday". When I finally took a break, I talked with Fran. I told her if she changed her party to Sunday of Memorial Day weekend, we could probably come back early from Irons. That's exactly what happened. If Krystal & Rick look tired in these photos, it's because we stayed up past midnight at Kim & Duane's party in Irons, then we had to sleep on the couch at Phelps Cabin #1. Not the best rest. Then we drove home and turned right around to go play at Fran's party. It was all worthwhile though, since Fran & Tom have been our best fans ever since. One memorable part of this party was when Tom showed Rick the guitar they got from Willie Nelson's bass player, with whom they were longtime friends. Rick decided to put new strings on that Willie guitar right there and then. And we used that Willie guitar for part of our show on the porch. How cool is that?
This is the beginning of an era. Thanks to this party, we've really got close to Tom and Fran. Tom is a great photographer and you'll see his pictures all over this website, for KaR Tunes shows and Tricks shows. They like their live music and they like going out to dinner. So, Fran & Tom hardly ever miss a Tricks or KaR Tunes show. It also turns out that Fran knows a lot of people in the Dutkiewicz family circle, since she went to Hopkins High School and graduated the same year that Rick graduated from St. Joseph's Seminary. Lots of early Tricks fans were from Hopkins around those early 70s.
Thanks to Tom & Fran and your family and friends. We're glad to be part of your inner circle of friends.


---
May 18 - KaR Tunes at Bluewater Grill, Grand Rapids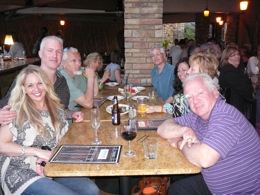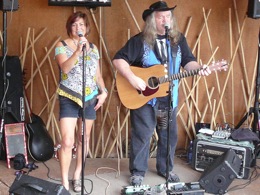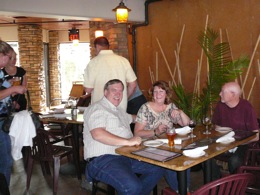 This was a last-minute booking from Kevin Viilo, a Grand Rapids booking agent who does a ton of booking along the lakeshore and all over Southwest Michigan. Bluewater Grill is on the Northeast side of Grand Rapids, so we put the word out to anyone within range of that area. We pretty much filled the downstairs bar with friends and fans. A little bit too cramped for dancing, but we had a great time. Thanks for the suppport, everyone.


---
May 17 - KaR Tunes at Oddside Ales in Grand Haven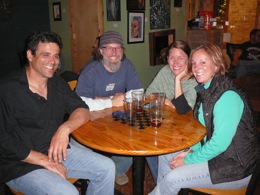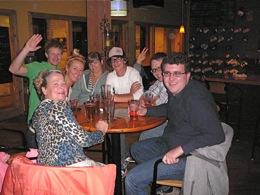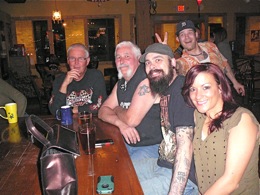 Another great night at Odd Side Ales in Grand Haven. Our KaR Tunes repertoire really goes over well with the micro-brewery gang. Nothing but great compliments from everyone. We usually keep it low-key because people like to chat over their brews. We are asked to play 9pm until 11pm, with the option to play until midnight if there is a lively crowd. We always play that extra hour, because we always have a great crowd, and we keep them going. By that last set, we usually are getting into the acoustic rock tunes that we do, like Golden Earring's "Radar Love", Steve Miller's "Swingtown", or Steppenwolfe's "Magic Carpet Ride". These people love that 70s and 80s rock done acoustic style. That's part of why we love this place. Besides the lively crowds, the room is very nice, with wooden floors and tables. They also have dart boards and lots of board games.


---
KaRTunes Blog - April 2013
Apr 20 - Band X at KKF 2013 Party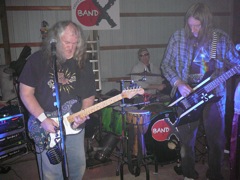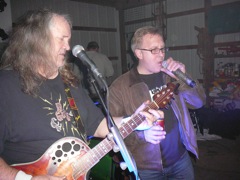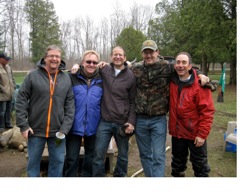 Last year's Band X trio with Ozzy, Rick, & Skip was such a hit with the KKF bunch, we're repeating it this year with Krystal. This is an annual reunion of best school buddies. We hooked up with this bunch because or Rick's pal Tom Lademan in Allegan. Very small party, very fun party. We love being part of these special get-togethers with family and friends - I repeat myself because it's so true. Thanks to Tom for hiring us. Hope we can do it again another year.


---
Apr 19 - KaR Tunes at Rhinos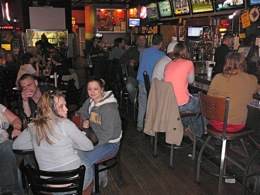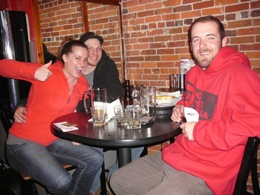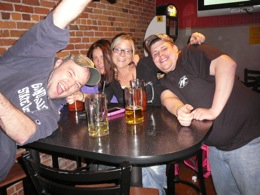 Downtown Plainwell is always hopping on Friday nights at Rhino's. For such a small place, they sure have a lot going on. The food is very good, especially the brick-oven-fired pizza. Lots of people walk here from their homes, so they have no problem drinking excessively. There are always lots of shots going down at last call. Work hard, play hard! It's always packed and loud.


---
KaRTunes Blog - February 2013

Feb 16 - KaR Tunes at Eric & Shelly's Wedding Celebration, 5th Street Hall, Grand Rapids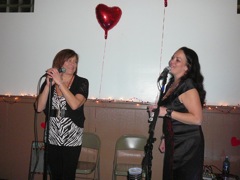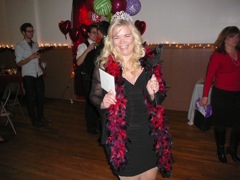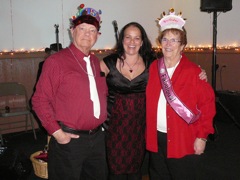 Rhonda was the Hostess with the Mostest - She did a great job creating a warm fun time with family & friends
This one was booked way last year by our good friend Rhonda. The shy Eric & Shelly did not want to have any kind of wedding reception, but Rhonda weezled and cajoled until she got her party. One way that she talked Eric & Shelly into the party was that this would also be a celbration of her dad's and here sister's birthdays. Rhonda and Todd did a great job decorating the hall and pulling everything together. We were honored to be a part of this fantastic family occasion. We provided some Krys & Rick love songs for dinner music, and after dinner we kicked in the dance tunes. Very fun time. Thank you Rhonda for having us as part of this celebration of love.


---
Feb 15 - KaR Tunes at Rhino's Hometown Bar, Plainwell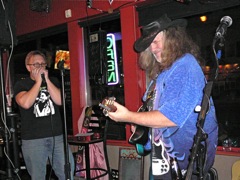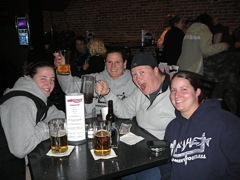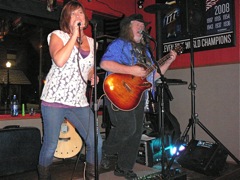 No matter what the weather, there's always a great little crowd at this great little bar. We love playing for the cool people at Rhino's.
It's getting repetitious when I keep saying "what a great bunch of party people", "what a great place", "what a fun time", and so on. But, I ain't lying. For such a tiny place, Rhino's packs a big party punch. Some Fridays are busier than others, but even when things are a bit slow, we seem to find some characters who are interested in our Krystal & Rick music show. We always feel the love here. Last year there was a bunch of construction in downtown Plainwell, and lately the weather has been nasty and icy cold. But, we still get our share of party people who know that Rhino's is always a good place to find great food, drinks, and friends.
This night we had our friend Tom Lademan play some blues harp for a few songs, just to spice things up a bit.


---
Feb 8 - KaR Tunes at Odd Side Ales in Grand Haven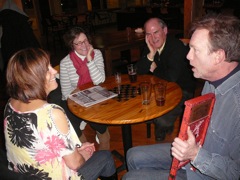 The place was packed with party people . . . Out to cure the cabin fever blues . . . Cousin Steve came to stir it up
A prolonged winter storm for the past couple weeks had us wondering on the drive to Grand Haven; "Will people snuggle in and stay at home, or will they venture out to shake off the winter blues?" As soon as we pulled into downtown Grand Haven, the answer was obvious; people wanted to get out and warm themselves up with some socializing at Odd Side Ales. This is the best little microbrewery in SW Michigan. The people are always the coolest. This Friday night we had hardly any Krystal & Rick friends show up. The notable guests of honor were Rick's work buddy Lynsey from Trendway, and her husband Dave. We also got a boisterous surprise when our cousing Steve showed up, especially when he dragged in his bass guitar and amp to play along the last few tunes of the night. Although we had very few regular fans, our music got a very warm and friendly reception. The stand-out crowd response moment of the night was after Rick did Dave Matthews "Ants Marching"; one heck of an uproar at the end of that tune. And even when the crowd wasn't screaming and cheering for us, we could see lots of people singing along and be-bopping at the tables. Great place, great people, great brews. We really like finding a good match for our adventurous music repertoire. Odd Side Ales has always felt like a good match for Krystal and Rick Tunes.


---
KaRTunes Blog - January 2013

Jan 11 - KaR Tunes at Rhino's Hometown Bar, Plainwell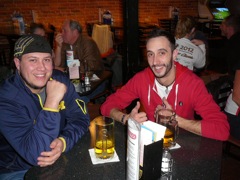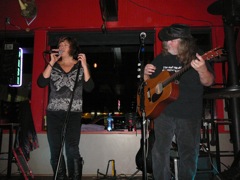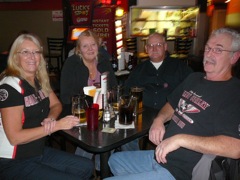 We love this place. The atmophere at Rhino's is warm, friendly, hometown fun! Plus, they have great food..

Another Great night at Rhino's - Friday night jams.

---
Doogie Blog - December 2012

Dec 7 - KaR Tunes at Rhino's in Plainwell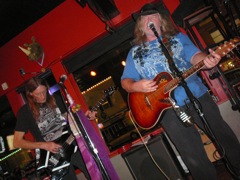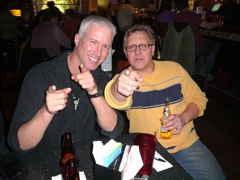 Tim Clifford came over from East Lansing ... Ozzy drove from Hudsonville ... A fun night of drink, dance, and laughs.
Another special night at Rhino's. This time we had special guests on stage. It all started when Tim Clifford (Bassist for Tricks, 2004 - 2007 ) posted an RSVP to our Rhino's event page for the night. Rick already had a "maybe" from John "Ozzy" Bosscher, our current Tricks bass man. So, we decided that if Rick would bring a bass amp, Ozzy and Tim would both bring bass guitars. We tried to get Dylan to bring his Djembe drum, but he has carpal tunnel in one wrist, so he only had one good hand for raising his beer glass. But, we don't need no steenking drummer.
We got Tim to play several old Tricks tunes with us, including "Ants Marching", "Sugar Mice", "Every Day is a Winding Road", "Long Train Running", "Waitin' For The Bus/Jesus Just Left Chicago". Like Tim said the next morning on his Facebook page, "Where else can you play some Dave Matthews, Sheryl Crow, ZZ Top, Doobie Bros, and Marillion all in one set but with Rick and Krys! Had a blast!". We also were happy to meet Tim's girlfriend Kelly. Thanks Kelly, for letting Tim come out and play with us. We all agreed that we need to get together more often and play music.
Ozzy played a bunch of our current Tricks songs with us. "No Such Thing", "Behind Blue Eyes", "Allright Now", "Kryptonite", "Hard To Handle", "Black Horse & Cherry Tree", "And She Was", "Suitcase Full of Blues / Crossroad", "Time After Time". All great tunes.
There wasn't the big crowd that we expected after doing our best to publicize a special night with Tim and Ozzy. But, we at least had Whitey, Jamee, Rob, and Dylan there in our cheering section. Plus a couple dozen regulars. So, it was a slow night in the bar, while we had a fantastic night onstage. That's show biz. A small crowd doesn't keep us from having a great time. So, if you missed this one ... well, you missed a good one. I'm sure the crappy cold rainy weather kept lots of people home on the couch and under a blanket. But, even though winter weather slows down the crowds, we'll soon see that "cabin fever" syndrome, where people just gotta get out and shake off the winter blues.
Thanks so much to Jen for booking us. Thanks to those who drove a long way to jam with us and party with us. Special thanks, of course, to Tim for driving a hundred miles to play his new Warwick bass with us. Special thanks to Ozzy for driving down from Hudsonville. And thanks to everyone else who drove a while to get to Plainwell. We appreciate the support from everyone who was there. Last but not least: Thank you dancers!


---

to DoogieBlog Late 2012 (Sep-Dec)


to KaR Tunes Late 2013 (Jul-Dec)