KaRTunes Blog - February 2013

---
Feb 16 - KaR Tunes at Eric & Shelly's Wedding Celebration, 5th Street Hall, Grand Rapids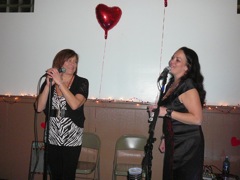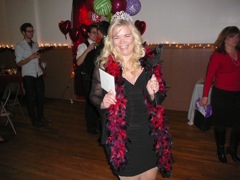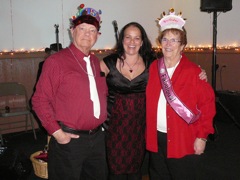 Rhonda was the Hostess with the Mostest - She did a great job creating a warm fun time with family & friends
This one was booked way last year by our good friend Rhonda. The shy Eric & Shelly did not want to have any kind of wedding reception, but Rhonda weezled and cajoled until she got her party. One way that she talked Eric & Shelly into the party was that this would also be a celbration of her dad's and here sister's birthdays. Rhonda and Todd did a great job decorating the hall and pulling everything together. We were honored to be a part of this fantastic family occasion. We provided some Krys & Rick love songs for dinner music, and after dinner we kicked in the dance tunes. Very fun time. Thank you Rhonda for having us as part of this celebration of love.


---
Feb 15 - KaR Tunes at Rhino's Hometown Bar, Plainwell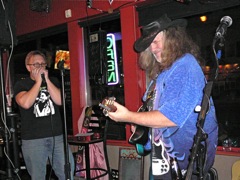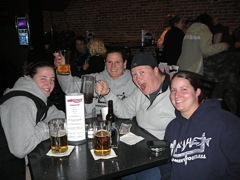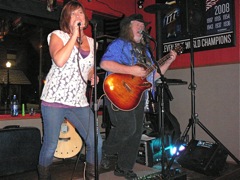 No matter what the weather, there's always a great little crowd at this great little bar. We love playing for the cool people at Rhino's.
It's getting repetitious when I keep saying "what a great bunch of party people", "what a great place", "what a fun time", and so on. But, I ain't lying. For such a tiny place, Rhino's packs a big party punch. Some Fridays are busier than others, but even when things are a bit slow, we seem to find some characters who are interested in our Krystal & Rick music show. We always feel the love here. Last year there was a bunch of construction in downtown Plainwell, and lately the weather has been nasty and icy cold. But, we still get our share of party people who know that Rhino's is always a good place to find great food, drinks, and friends.
This night we had our friend Tom Lademan play some blues harp for a few songs, just to spice things up a bit.


---
Feb 8 - KaR Tunes at Odd Side Ales in Grand Haven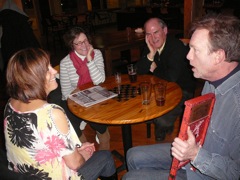 The place was packed with party people . . . Out to cure the cabin fever blues . . . Cousin Steve came to stir it up
A prolonged winter storm for the past couple weeks had us wondering on the drive to Grand Haven; "Will people snuggle in and stay at home, or will they venture out to shake off the winter blues?" As soon as we pulled into downtown Grand Haven, the answer was obvious; people wanted to get out and warm themselves up with some socializing at Odd Side Ales. This is the best little microbrewery in SW Michigan. The people are always the coolest. This Friday night we had hardly any Krystal & Rick friends show up. The notable guests of honor were Rick's work buddy Lynsey from Trendway, and her husband Dave. We also got a boisterous surprise when our cousing Steve showed up, especially when he dragged in his bass guitar and amp to play along the last few tunes of the night. Although we had very few regular fans, our music got a very warm and friendly reception. The stand-out crowd response moment of the night was after Rick did Dave Matthews "Ants Marching"; one heck of an uproar at the end of that tune. And even when the crowd wasn't screaming and cheering for us, we could see lots of people singing along and be-bopping at the tables. Great place, great people, great brews. We really like finding a good match for our adventurous music repertoire. Odd Side Ales has always felt like a good match for Krystal and Rick Tunes.


---
KaRTunes Blog - January 2013

Jan 11 - KaR Tunes at Rhino's Hometown Bar, Plainwell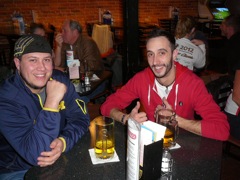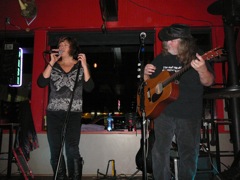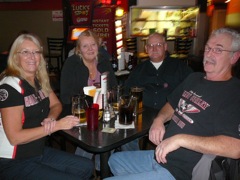 We love this place. The atmophere at Rhino's is warm, friendly, hometown fun! Plus, they have great food..

Another Great night at Rhino's - Friday night jams.

---
Doogie Blog - December 2012

Dec 7 - KaR Tunes at Rhino's in Plainwell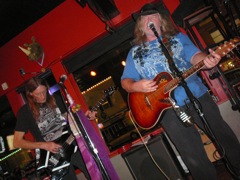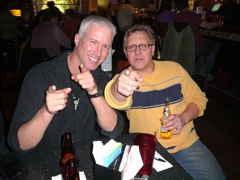 Tim Clifford came over from East Lansing ... Ozzy drove from Hudsonville ... A fun night of drink, dance, and laughs.
Another special night at Rhino's. This time we had special guests on stage. It all started when Tim Clifford (Bassist for Tricks, 2004 - 2007 ) posted an RSVP to our Rhino's event page for the night. Rick already had a "maybe" from John "Ozzy" Bosscher, our current Tricks bass man. So, we decided that if Rick would bring a bass amp, Ozzy and Tim would both bring bass guitars. We tried to get Dylan to bring his Djembe drum, but he has carpal tunnel in one wrist, so he only had one good hand for raising his beer glass. But, we don't need no steenking drummer.
We got Tim to play several old Tricks tunes with us, including "Ants Marching", "Sugar Mice", "Every Day is a Winding Road", "Long Train Running", "Waitin' For The Bus/Jesus Just Left Chicago". Like Tim said the next morning on his Facebook page, "Where else can you play some Dave Matthews, Sheryl Crow, ZZ Top, Doobie Bros, and Marillion all in one set but with Rick and Krys! Had a blast!". We also were happy to meet Tim's girlfriend Kelly. Thanks Kelly, for letting Tim come out and play with us. We all agreed that we need to get together more often and play music.
Ozzy played a bunch of our current Tricks songs with us. "No Such Thing", "Behind Blue Eyes", "Allright Now", "Kryptonite", "Hard To Handle", "Black Horse & Cherry Tree", "And She Was", "Suitcase Full of Blues / Crossroad", "Time After Time". All great tunes.
There wasn't the big crowd that we expected after doing our best to publicize a special night with Tim and Ozzy. But, we at least had Whitey, Jamee, Rob, and Dylan there in our cheering section. Plus a couple dozen regulars. So, it was a slow night in the bar, while we had a fantastic night onstage. That's show biz. A small crowd doesn't keep us from having a great time. So, if you missed this one ... well, you missed a good one. I'm sure the crappy cold rainy weather kept lots of people home on the couch and under a blanket. But, even though winter weather slows down the crowds, we'll soon see that "cabin fever" syndrome, where people just gotta get out and shake off the winter blues.
Thanks so much to Jen for booking us. Thanks to those who drove a long way to jam with us and party with us. Special thanks, of course, to Tim for driving a hundred miles to play his new Warwick bass with us. Special thanks to Ozzy for driving down from Hudsonville. And thanks to everyone else who drove a while to get to Plainwell. We appreciate the support from everyone who was there. Last but not least: Thank you dancers!


---

to DoogieBlog Late 2012 (Sep-Dec)


to KaR Tunes Late 2013 (Jul-Dec)