KaRTunes Blog - March 2019
• Mar 22 & 23 - Allegan Cabaret Band Show

- Weekend #2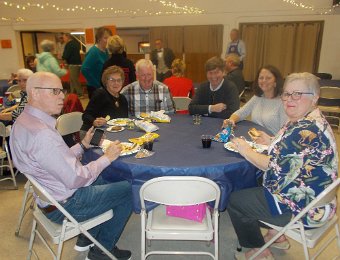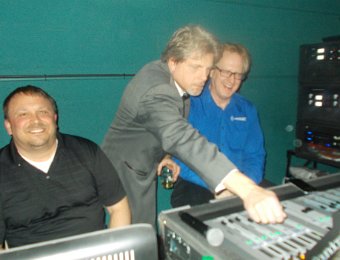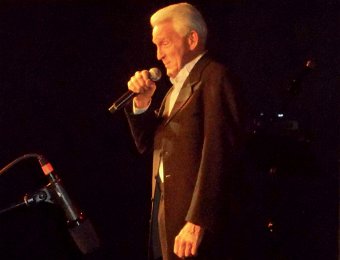 Weekend number two was no let-down. Friday I think the band was at its best. The smaller crowd on Friday was very lively and vocal. We were confident and aggressive - just what is needed in a band performance. Every night is a pre-party "Meet and Greet" downstairs, and the entire night is like a big happy family reunion. Thanks so much to Allegan Area Arts Council for doing the food and drinks. That's lots of work. Rick is on the AAAC board, so he had to make cookies both weekends. I saved a few for myself at home, for that late-night snack after getting home.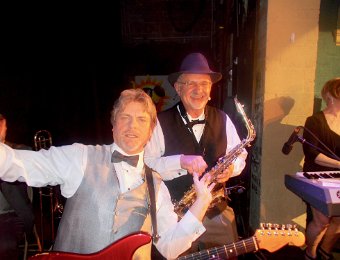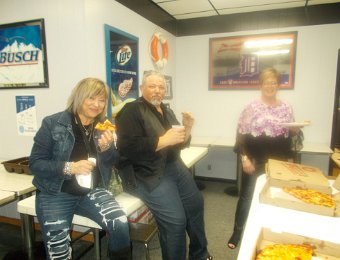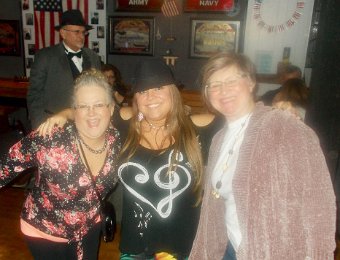 As expected, the final Saturday was a packed house, nearly sold out. The balcony had to be hot. Dean turned on the air conditioning for the 2nd half of the show. I think the band was better on Friday, because we're getting tired and worn down. That said, Saturday had lots of great moments. During a few of the songs the band was feeling exceptionally tight and dynamic - gotta love it. The singers really came through. We finally got this show figured out, and now it's time to leave it all behind. We had a wrap party with pizza and dancing over at the Eagles. Thanks to Mike Villar for the pizza. Thanks to Dean Michaels for bringing this benefit show to Allegan - for 34 years.
---
• Mar 15 & 16 - Allegan Cabaret Band Show

- Weekend #1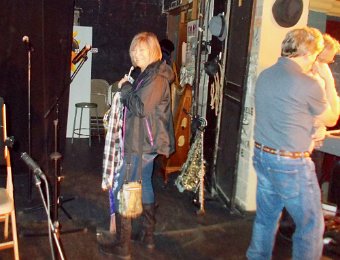 Rehearsals actually started in November at Krystal & Rick's living room, with just the core band. Greg and Rick on guitars, Jeff on bass, Dean on keyboards, and Bill on drums. Bill is the newest member of the Cabaret Band Show. Rick and Bill have been in several bands over the years, starting when they were teenagers. We consider Bill to be one of the best drummers in West Michigan. After a couple living room get-togethers, we moved to the Catholic Church basement in Allegan. Those rehearsals included most of the singers in the cast. In February we moved to the Griswold Auditorium for the full stage set-up where the show takes place. At the same time, Krystal was hard at work designing and laying out the program. She also did that cool Cabaret sign for the backdrop. Lots of work to go around for everyone.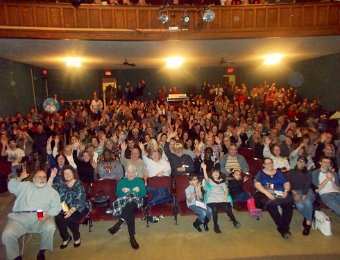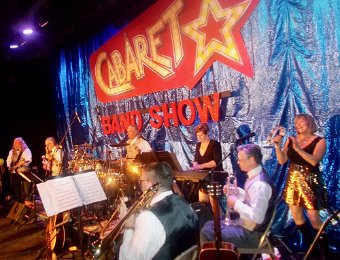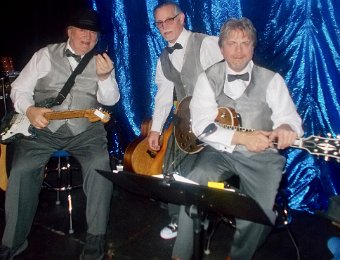 Cabaret always brings out the town, like a big block party or family & friends reunion. Everyone comes to support Wings of Hope Hospice and Allegan Area Arst Council. Many cast members have their own cheering section, and everyone seems to know everyone else. Friends and family come from out-of-town for this annual celebration of music and love. There has always been a "Meet the Cast" party on the final night of the show. But this year, we have a pre-party each night. The Arts Council sells food and beverages and the lower level of the Griswold Auditorium turns into a fun party.
Add up the food, beverage, and ticket sales, with local business purchases of commercial spots in the show and ads in the program, and several thousand dollars are raised for Hospice and AAAC. Everyone knows this fun show is all for a good cause. The music covers many genres, from 1940's "Boogie Woogie Bugle Boy" by the Andrews Sistes to 2019's Grammy Song of the Year, "Shallow" by Lady Gaga and Bradley Cooper. And everything in between. Tricks members Rick & Krys were featured in several numbers, including "The Heart of Rock n Roll", "Pinball Wizard", "Locomotive Breath", and "Shallow". In between the feature numbers, there are hilarious song parodies advertising local businesses - raising lots of money for Hospice and AAAC.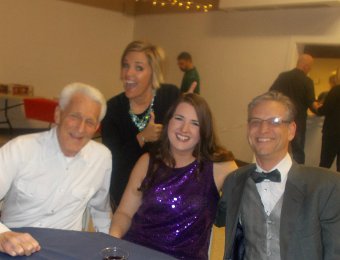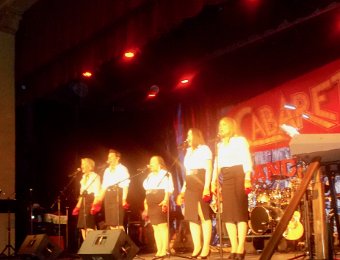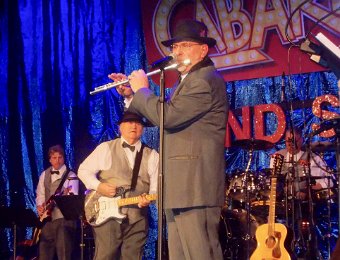 There is way too much going on in the Cabaret Band Show to describe in a few paragraphs. The eclectic mix of songs and parodies keeps the band members on their toes. We're switching instruments as fast as we can. The singers are switching costumes and juggling props for the funny commercials. It's a two and a half hour work-out that leaves us all weary, hungry, and thirsty. Most of the band, singers, and stage hands go out to a local bar after the show to eat, drink, and laugh, recounting the little adventures that go along with such a large stage production. Special thanks to all of our sponsors who paid for ads. Thanks to everyone who bought tickets in support of Wings of Hope and AAAC.
Thanks most of all to Dean Michaels, our producer, Emcee, keyboardist, saxophone / flute player, all-around errand boy, complaint department, and stage hand. Without Dean this would not happen. This is Dean's 33rd year directing and driving the Cabaret Band Show. One weekend down, one to go.
---
• Mar 2 - Tricks RKO Trio, Iron Bridge, Allegan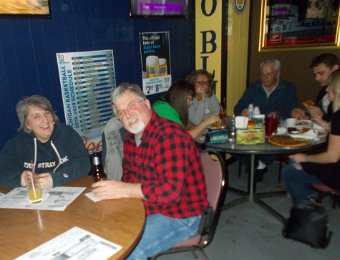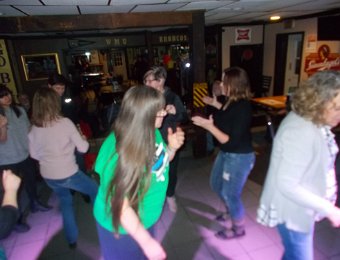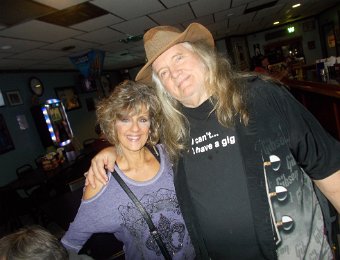 Rick, Krystal, & Ozzy love rocking with our mighty Alesis drum machine. Steady beat, takes up little space, never argues, and doesn't want pay. We love playing with drummer Steve, but when Steve can't make it for one reason or another, we gotta keep on keepin' on. You know the drum machine uses actual digital recordings of real drums, right? That's why it sounds pretty dang good. And it's good enough to jam and dance to. Next best thing to the real thing. We are talking to owners Rich and Melissa about bringing our party rock music to the Iron Bridge every First Saturday of the month. We already have a couple conflicts with that, but we'd like to make it a general rule so everyone knows that "First Saturday" = "Time to Rock with Tricks Trio". This first Saturday show turned out quite well. Not a packed bar, but we had a couple dozen people, and lots of them wanted to dance. Most of them had dinner and drinks, so that helps make the owners happy. Thanks to everyone for coming out on a bitter cold night, we love helping you heat up with dancing and jamming, eating and drinking. Thanks to Josh for cooking. Thanks to Melissa and the rest of the Iron Bridge staff for tending bar and waiting tables. Thanks to RIch for having the goal of having regular live music every weekend in downtown Allegan. It's not an easy task, and we appreciate you and Melissa for all you do to give this old town a place where young and old can eat, drink, dance, and make merry.