KaRTunes Blog - May 2014
May 31 - Joann & Bill Chaney Deck Party for Joann's b-day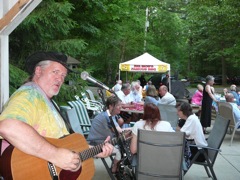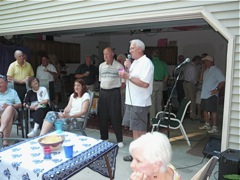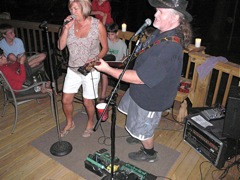 Dinner Music for Barbecue feast ... Bill tells about the wonderful family ... Cole, Krys, & Rick dance-music on deck
This started out as a request for just an hour or so of dinner music. But it turned into something like the party of the year. Krystal wasn't going to participate, but she knew this was going to be a big Allegan event with the funnest people around, so she went out of her way to be there for a couple sets during the back deck portion of the party. We started with easy-listening Rick dinner music up in the garage & driveway. The dinner was catered by Big Moe's Bar-B-Q, a famous Allegan celebrity from way back. Big Moe himself came out of retirement to work on this dinner gig. So, dinner was an event in itself. Bill got up and told all about his kids and grandkids, and their marvelous jobs and school work. Very entertaining, listening to Bill. Then Bill made Big Moe give a little speech as well. After dinner we took our speakers and guitars to the very comfortable back deck. Lots of fun, with plenty of dancing.
Turns out, Bill & Joann's grandson Cole is a drummer. So, Rick went early on Thursday afternoon to get set up in the garage and rehearse with Cole. Chaney's neighbor Marty Hesse has a small electronic drum kit that we used. Turns out that Cole knew how to play Joan Jet's "I Love Rock & Roll", which we just learned with Tricks a few months ago. Cole didn't know any of our other songs, but figured out a version of Cream's "Crossroads" and Shania Twain's "I'm Outta Here" for Cole to drum along with us. It really went well on the back deck.
Our friend Ellen wrote about the party in her blog.

And she has a few more photos to add.
Doogie Story Time: An interesting side story. Bill & Joann live right across Lake Allegan from Krys & Rick's house. Only about a half mile as the crow (or sound wave) flies. When Rick was setting up and rehearsing with Cole on Thursday, we chatted about the lake community life. Bill said, "for many years, during the summer, there was someone having a loud band party just across the lake from us". Rick asked him to point which way the music came from, and Bill pointed right in the direction of Krys & Rick's house. You know, the place were we had lots of big jam parties on our patio since the mid-80s. (Pics from our most recent K&R patio jam in 2008

). . . One final laugh in this story: On Monday, two days after the acoustic jam party on Bill & Joann's back deck, Rick talked with our neighbor Julie. She said, "did you guys play across the lake on Saturday night"? Rick said, "yes, how did you know about that"?
She said, "because we could hear you here, and I recognized Krystal's voice". That made me realize how loud our big electric jams must have been across the lake - and we usually played way past midnight. HA!
Party Pics from K&R's camera

KaRTunes Blog - March 2014

Mar 14 - Lynx Clubhouse Grill, Krystal & Rick return for another fun night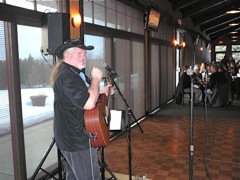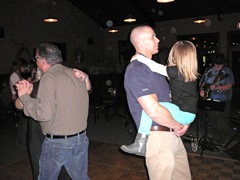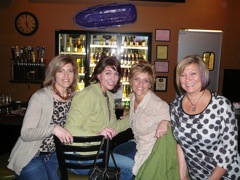 Our 2nd "Live Music Friday" at Lynx . . . Lots of dancing action . . . Lots of socializing, eating, and drinking
We're really starting to feel at home here at the Lynx, and it's only our 2nd gig at the Clubhouse Grill. They moved the dancefloor around to make a better arrangement for dancers, and it seems to be working. See the pics for some wild dance-floor action from the kids early in the night, and then the adults came out to dance when the kids finally calmed down and ran out of energy. We had a birthday celebration for our daughter-in-law Gerah, and she brought along grandkids Niko and Kyra to lead the acrobatic dancing display. That kept everyone smiling. Kyra also helped take some pictures for us; thanks Krya. We also were happy that Rick's son Jeremy brought along his Djembe drum to play along with the last few songs of the night. That was special.
We had some very good friends show up to party with us, and some came from as far away as Dorr and South Haven. Thanks so much, everyone. We appreciate having the friendly faces there for our music show. Jim the new owner wanted us to be sure and credit the entire staff for helping to create a great family-friendly entertainment facility. Spcial thanks to Kim the manager. All of our friends are commenting on how nice the "new" Lynx is. Great kitchen and wait-staff, good bartenders and all-around ambience. We're proud to be part of the Lynx team, serving up warm smiles and happy times.
Lynx Friday Live Music

---
KaRTunes Blog - February 2014

Feb 14 - Valentine's Day, Krystal & Rick debut at Lynx Clubhouse Grill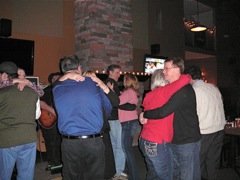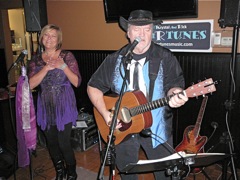 Our first gig at Lynx - Valentine's Day . . . Dancing cheek-to-cheek . . . Great food and musical ambience

We've been giving our name and number to the Lynx for several years now. They never took the music thing very seriously. After all, they are pretty busy with a big golf course and a club house that is both restaurant and bar. Now the Lynx has a new owner, Jim Szilagyi. Jim bought the Lynx in early 2013, and has been working on improvement ever since. His plan is to improve the greens, improve the restaurant, and improve the bar. The parking lot is already improved. One of his ideas is to have cross-country ski trails, with a 5-mile loop, starting next winter. Another part of his improvement plan is to have regular entertainment. His first step is to have Friday live music. Once Lynx Fridays become known for good live music, he'll move on to possibly having music on other nights. Lots of people have been telling Jim that he ought to contact these Krystal & Rick people. He called a few weeks ago, and we decided that Valentine's Day would be a great debut night where we could show off our romantic song repertoire. It was to be a trial gig, but Jim got so many reservations and positive comments, he called Rick in a few days before Valentine's Day and we firmed up six additional Friday shows for 2014.
For Valentine's Day, the Lynx was offering a special 4-course dinner for two and bottle of wine for $50, and they had a full house. Thanks to our friends, fans, and family who came out on a very cold night to give us a warm welcome for our very first Lynx show. We hope to keep bringing the party people out to the Lynx every time we play. This evening was especially laid-back because we made the promise to do "only love songs", a promise that we stuck to except for one or two non-lovesong requests. Jim the owner is thinking about changing the music hour to 7 to 10, so we might be able rock out a little more on our return engagements. Our fans usually want to dance and get a little wild with us, and the Lynx is a bit more formal than most of the bars we usually play. We'll meet them half way with our wildness and their formality. And I know we're going to have some fun nights, so close to our home-town Allegan crowd.
Thanks to Jim for giving us a try. Thanks to manager Kim and her great kitchen and wait staff for all the hard work. Lots of our friends have commented on the improvements at the Lynx, and we're proud to be part of it all.

Valentine's Day