KaRTunes Blog - November 2014

---
• Nov 22 - KaR Tunes, The Lynx, Otsego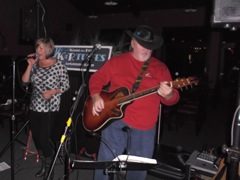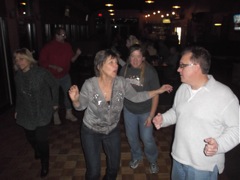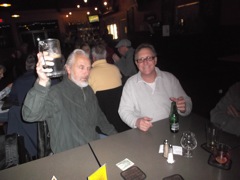 Krystal & Rick are working it hard . . . . . . Lots of wild action on the dancefloor . . . . . Friends turned out in droves, ready to party
Compare this night to just a few weeks ago on Oct 18. That October show at the Lynx was quiet and intimate and less than ten people. This night every table was filled. That last gig we didn't take many pictures because there wasn't that much action to photograph. This night we didn't get many pictures because we were so dang busy keeping up with the crowd. Holy moly! All the Allegan people came out for a party night. Everybody seemed to be in a drinking and dancing mood. What a hoot!! Yeee-ha!!! You had to be there. The whole place was a big party scene. I gotta repeat myself; we don't need a huge crowd to have fun. We make do with what we have at the moment. But, a big crowd like this makes the owner happy because it helps pay the bills. What I'm trying to say is, "thanks for supporting local live music". Without nights like this, we wouldn't be able to continue. Looks like we're safe at the Lynx for a while. The bosses Jim and Kim were busy with the staff, keeping this party crowd lubricated and well fed. We appreciate the staff's excellent work. And thanks to everyone for coming out for a fun night with Krystal & Rick.


---
KaRTunes Blog - October 2014
• Oct 18 - KaR Tunes, The Lynx, Otsego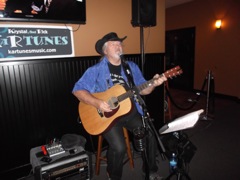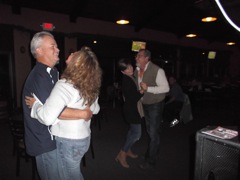 Rick plays his eclectic mix of tunes . . . . People just feel like dancing somtimes . . Cozy little group at the bar, friends & neighbors
This was a slow night at the Lynx. This place is usually packed, but you never know when people are gonna feel like staying home. Maybe we didn't get the word out, or maybe there are too many other activities. Who knows? That's show-biz. We had a handful of neighbors from Lake Allegan show up, and that was fine with us. We don't need hundreds of people in order to have a good time. In fact, when we have a small intimate crowd like this, we usually take that opportunity to try out some new songs we've been working on at home. We also like to add some rare songs that we don't usually do for the masses. After all, we're among friends. So we can relax a bit. No pressure.
Thanks to Jim the owner and Kim the manager. Thanks to the Lynx staff for your friendly attitude. Everyone loves the food here, we always hear about it even though we don't eat while we're singing.


---
• Oct 16 - M89 Acoustic Doogie Jam, with Greg Howard & Pat Harrison, ... and Krystal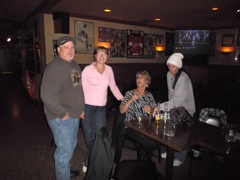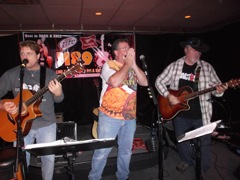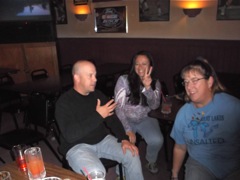 Starting the weekend early on Thursday . . . . .Greg . . . . . . Pat . . . . . . . Rick . . . . . . . . . . . Small group of close friends
It's autumn and the leaves are falling and the pumpkins are getting carved. We happen to know one of the best gourd-carvers in the state. Pat Harrison went to school with Krystal and Greg, but he now lives up around Traverse City. He comes down this time of year to do pumpkin-carving gigs all over the place, at libraries, apple farms, corn mazes, etc. Pat also happens to be a great singer-songwriter and blues harmonica player. Even though he was pretty tired after a 4-hour carving gig near Kalamazoo, he still had a spark of energy to share with us at M-89. With Greg Howard on guitar, we can't go wrong. Greg is one of the best guitarists in these here parts. Rick and Greg took turns suggesting songs, and we plowed through a whole bunch of fun songs that we had never played together before. With the help of Krystal, we rustled up a small crowd of Thursday party people. Thanks to everyone who came over to watch our little jam session. Thanks to Pat and Greg for putting up with my Doogie ways (as much as I hate to say it, I'm used to being boss onstage, although I was never elected to that position). Thanks to Tim and Linda the owners for supporting local live music. M-89 is one of the best rock / country bars between GR and Kazoo.
Pat, Greg, Krys, & Rick

---
• Oct 12 - KaR Tunes + Ozzy at Kara & Dan's Wedding, Hopkins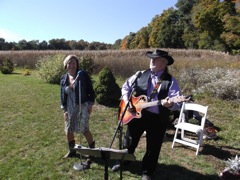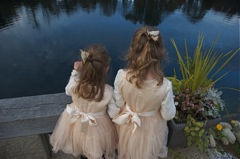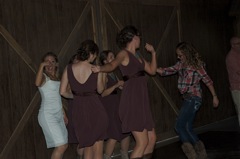 Outdoor wedding, our favorite! . . . . . . . . . . . . . . . . . Flower girls . . . . . . . . . . . . . . . . . . . . . Dancing Girls
Krystal's niece Kara gets married to Dan at a beautiful place near Hopkins; "The Barn at Monterey Valley".

Another great day of nice weather for an outdoor wedding at their Gazebo near the barn. The wedding theme was Western, so everyone was dressed up in boots, with lots of flannel shirts and levis. Krystal, Rick, & Ozzy played live music after dinner was finished. When we took a break, we put on the hip-hop and country dance tunes and things really got lively. Dan & Kara had a specially rehearsed dance number that was simply awesome. We feel honored to be part of this special day. Thanks so much for having us, Dan & Kara. Thanks to the Monterey Barn people for being so nice and inviting us to their open house later in the week. Krys & Rick ended up coming back here on Wednesday evening to play "sample" music for a whole bunch of brides-to-be who were sampling wares at an open house featuring cake-bakers, caterers, decorators, photographers, and KaR Tunes. We like doing wedding enough that we decided to put our name out there for future wedding gigs. It's an early night, mixed crowd, and we like being part of these special days. Nothing compares.
Photos from Kara & Dan Wedding Day

---
• Oct 11 - KaR @ Grace & Bill Wedding, Hamilton


Beautiful October Wedding Day . . . . . Cruising the Indian Shores neighborhood a bit . . . End of long happy day with friends
Our good friends Bill & Grace finally are tying the knot. They picked a good day; Krystal & Rick's 33rd wedding anniversary day. The wedding was with closest friends and family at the Hamilton Apple Blossom Chapel

. While the Bride and Groom and minister lady did their little processional into the small chapel, Rick sang "Trouble" by Little Feat. It's a song Grace & Bill picked out because it talks about the comfort of a relaxing evening with your friend and lover after a long hard day. At the end of the cermony we sang "Devoted" by the Everly Brothers as the small group exited the chapel into the bright sunny October day - just like the day that Krys & Rick had on Oct 11, 1981.
We all met for dinner over at Bill & Grace's house. And we sat around drinking beer and enjoying the company of friends. No loud reception. Instead, a serene and lovely day. We are honored to be part of your special day. Thanks Bill & Grace. We love our life, we love our friends.
Grace & Bill Wedding Day

---
KaRTunes Blog - August 2014
• Aug 30 - KaR Tunes + Ozzy at Kim & Duane's Party, Irons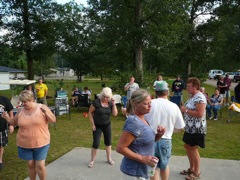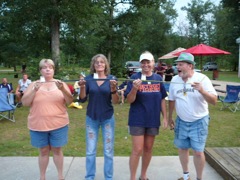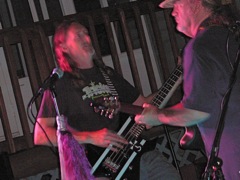 Dance all day in downtown Irons . . . . . . . . Duane gets the girls to do the "shot-ski" . . . . the musical action is intense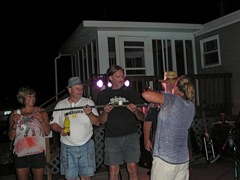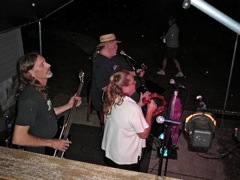 The band does the Shot Ski - no Tequilla please .... Linda is always helpful ....... A little sprinkle, but the party goes on into the night
Tricks played earlier this year for Kim and Linda's b-day at the Hilton "Double Tree" in Holland.

We thought that party might take the place of the annual Kim & Duane party in Irons. But, the party must go on. It's the "Up North" frame of mind. Party on!
This is, hmmmm, the 3rd year we've done a party for Duane's birthday in Irons. Actually, this is the 5th annual party for this gang of Irons friends and family. The first year was 2010 for Val & Brian's 35th anniversary party in the backfields of Kaleva. Then in 2011 we did another party for Tommy & Virginia, at the same place in Kaleva, which is 20 miles north of Irons and no electricity, so we need a generator. It's fun roughing it, but some of us are getting too old for that stuff. Duane and Kim built a pole barn at their Up-North place in Irons. In 2012 we broke in the new "man cave" with a Rick & Krys show, and we danced until midnight. Last year we managed to scrape together a full band, with Skip Herrema and Ozzy making it "Band X". This year Skip has a new band "Raker", so he's too busy. We made it just a Rick, Krys, & Ozzy show, and it was as fun as ever. I think the party crowd was bigger this year than last year when we had the whole Band X thing. No matter what, it's a fun time, and Kim & Duane make sure of that.


, Irons

---
• Aug 23 - KaR Tunes, Brat Cook-Out at Dick's Market, Dorr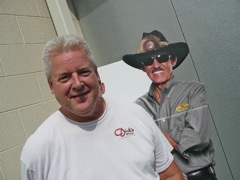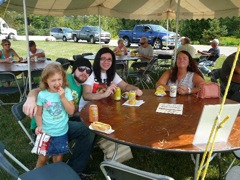 Steve is the Brat Boss . . . . . . . . . . . . . Another family outing for Krystal & Rick . . . . . . Dancing in the grass is what we enjoy
Steve has a Kielbasa Cook-Out every June and a Brat Cook-Out every August. He gives us the choice of which one we want to play music for, and we pick the one that doesn't conflict with our schedule too much. The one I like picking is the one with the nice weather. But not too hot, please. It can get pretty hot in the Dick's Market parking lot during August. Rain is never good either. But, we've always been lucky. If it's too hot or threatening rain, Steve and his crew usually sell out of Brats before the weather does any serious damage. Thanks to Dick's Market for hosting such a great community and family event. And tasty too! Yummy Brats at a good price. You can see in the photos how people are lining up to get some of the goods. Some people come and grab a bag full of Brats on a Bun, and take them home to their hungry family for a lunchtime treats. But, you can see that lots of people hang out with friends and family, enjoying the good lunch and listening to our Krys & Rick Tunes. It's a blast!
Dick's Market Parking Lot

---
• Aug 16 - KaR Tunes at Kingma family & friends party, Richland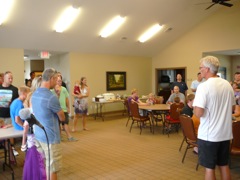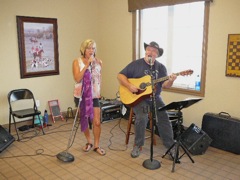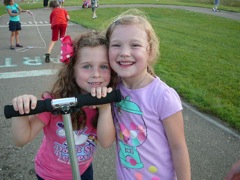 Todd says grace and has a few words . . . . Krys & Rick keep the tunes coming . . . . . After dinner, kids play outside
For the 2nd time in 3 years, Todd and Betsy Kingma were the top bidders for a 3-hour KaR Tunes show and Barbecue buffet. For the past 4 years Krystal & Rick have been donating a 3-hour show for the annual Wings of Hope Hospice Auction. Most bands get coupled with a caterer, and we always get teamed up with a barbecue-on-wheels service. We were a bit shocked to hear that KaR Tunes brought in the highest $$ amount from several bands who donated shows. Maybe it's the barbecue caterers who brought in those high bids. Whatever! You can't dwell on that back-patting stuff. We're happy to help raise money for Hospice. And this was extra nice to have repeat business from Todd and Betsy. The same as in 2012, they had a party for their "River Church" friends from Kalamazoo. It was a very laid-back family affair, so we arranged our song list accordingly. I love doing all-ages parties like this. It's quite a challenge to make everyone happy with our musical show in such a situation of mixed ages and tastes. But, this was such a nice group of folks. They liked everything we did. The kids did a little dancing, but we mostly did background music for dinner. It was a bit colder this year, so we couldn't bring our music outside while the kids played after dinner. And there was no pool fun or running through sprinklers this time. Too chilly. Thanks so much to Todd and Betsy, your family, friends, and church group. Thanks for supporting Hospice. And thanks for the extra tip which is above and beyond your dollars to Wings of Hope.


---
• Aug 15 - KaR Tunes at the Lynx, Otsego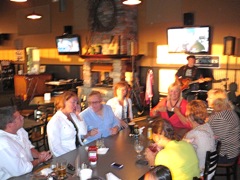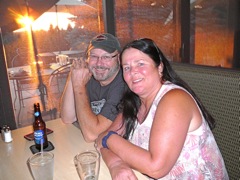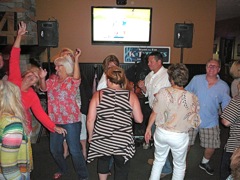 Our pals. . . . . . . . . . Eating. . . . . . . . . . . . . . . . . . . Drinking. . . . . . . . . . . . . . . . . . and Dancing . . . . . . . . . . at the Lynx
Normally the Lynx probably won't be having Saturday night music during summer. They have plenty of golf-related activities. But this gig was booked way back in winter, before Jim decided to drop summer Saturdays. Jim let us keep the date, and we brought out a bunch of friends to make it a party night. Thanks to everyone for coming out to eat, drink, and dance with KaR Tunes. Thanks to Jim, Kim, and the staff. Everyone raves about the good food.


---
• Aug 1 - Rick Doogie at Grillhouse (no pics)
Although I had no camera and Krys was out of town, I have a few words about this fun solo gig. Krys and I have played at the Allegan Grillhouse two or three times in the past, always with a good crowd turn-out, but they seemed shy about calling us back. We always thought we were too wild for them. The Grill House is famous for the "grill your own" expensive steak dinners. Very good stuff, but the crowd tends to be too formal for us old hippy rockers. In fact, Tricks even played on the patio once, many years ago.
Anyway, I get a call from Marsha the owner a few weeks ago, and she said, "I've been meaning to get you and Krystal to play here". Now she has an opening on Aug 1, but Krys will be gone out west for her hiking vacation with girlfriends. I told Marsha that I could do a solo acoustic show, and she gladly accepted.
I was a bit nervous playing for Krystal's hometown Allegan crowd with no Krystal. But the patio was packed and everyone stayed until I was finished. I had dozens of people dancing in the grass, thanks mostly to Krystal's Allegan girls who showed up to suppport me. Anyway, it was such a fun night for everyone. I'll be sitting at home waiting for the phone to ring. Hopefully this wasn't just a flash in the pan.
---
KaRTunes Blog - July 2014
• Jul 26 - KaR Tunes + Ozzy at the annual "Phelpstock" party in the woods, Irons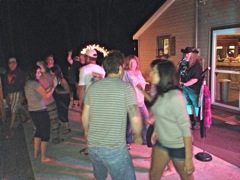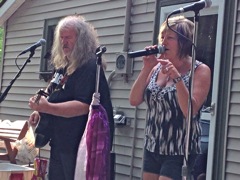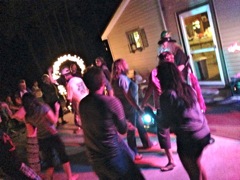 We probably had more Krys & Rick friends than Tommy & Tara family and friends. But it's a Free For All in the woods
Sadly, we forgot the camera, so there are only a few poor iPhone pictures to testify to the good time that was had by all.
Photos from the Irons backwoods

---
July 12 - KaR Tunes + Ozzy at Indian Shores Annual Picnic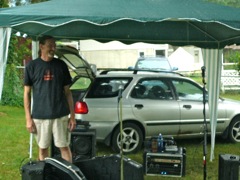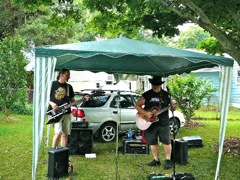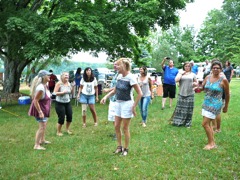 Setting up in the rain - Ozzy thinks it's funny ... Good thing we had the awning ... Rain went away long enough to have some dancing
July is always time for lots of outdoor music events. One thing we've been doing for a few years is the Indian Shores Property Owners Association Annual Members Meeting and Picnic. Rick & Krys are members since 1981, and we love living on beautiful Lake Allegan. Many retired neighbors disappear in the winter to go south. Many other neighbors have their primary home in Ann Arbor or Chicago, etc. And this is their "Up North". This is their weekend get-away place to relax and party. Rick & Krys have played for all types of parties here; weddings, birthdays, anniversaries, and "just because" parties. We've added Ozzy for this particular annual event to make it more fun and danceable. This year it decided to be a drizzly day. Even though it was drizzling, we said "the hell with it" and proceeded to set up. We said, "if we set up, the rain will go away". And that's just about what happened. The party people by the lake had their picnic with umbrellas and under cover of the large maple tree, and then it cleared and there was drinking and dancing for the rest of the afternoon. Thanks to Ozzy for coming out to join us. Thanks to all our neighbors for being the coolest ever. Thanks to the association for having us. We really love playing on the lake.
Lake Allegan Party Pics -