Annual Party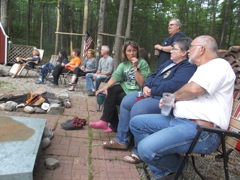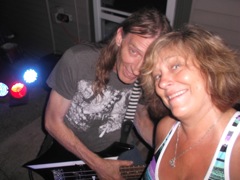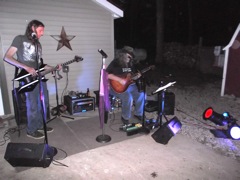 Always a small intimate family and close friends affair, I think the last couple years our RKO friends have outnumbered Tommy & Tara's friends and family. We should pay them for all the fun we have. Between the Oak Grove gig on Friday and the Phelpstock gig on Saturday, we only repeated about 3 songs. That makes it an adventure for our musician memories. We had fun doing lots of our new Tricks repertoire "unplugged" style, with acoustic guitar.
Thanks to Tommy & Tara and all the friends and family who made this a great campfire jam party.
Krys, Rick, & Ozzy Saturday Campfire Jam

• June 19

- (Phelpstock Eve) KRO at Oak Grove Tavern, Irons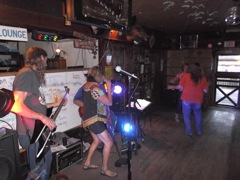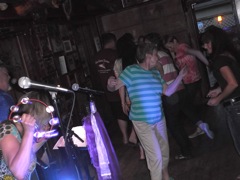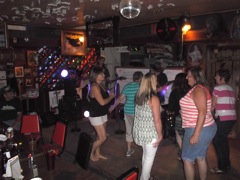 This turned out to be a big "Up North" party. Tommy paid for food and the band. His goal was to bring our Tricks fun to the Oak Grove Tavern, so his buddies there would see what he was always talking about. Turns out, there were lots of people there from Wayland, Dorr, and Allegan area, so we kept hearing "where's your brother Steve?" and "I can't believe Tricks is playing here in Irons". I don't think Steve could have fit his drums into the small corner we had at Oak Grove. We had to leave room for plenty of dancers, because Krystal invited a bunch of her dancing girlfriends along for the "Up North" fun weekend. Altogether, I think the Allegan County party people were in the majority. And we showed them how we party when we're Up North in Irons. Thanks to Tommy for having this great idea and for paying the tab. Thanks to Rick the owner of Oak Grove; at the end of the night, Rick the owner came up and said, "what are you doing in October". He wanted us to play at their big annual Quad Run. We were already booked solid for October, but we said, "we're gonna be up here again for a party on Labor Day weekend Saturday". He said, "how 'bout you play here on Friday night to kick off Labor Day weekend for us"? Rick followed up with a phone call a couple weeks later. "Are we all set for Friday of Labor Day weekend, and are you going to send me some flyers like you said you would"? Dang, I love it when a bar owner is on the ball and enthused about following through on the band plan. You don't see that every day.
Tricks Unplugged Friday

---
May 2015
• May 16 - KaR Tunes + Ozzy, John & Lyndsey Fick wedding, Old Wooden Barn, Hudsonville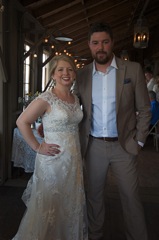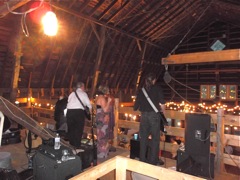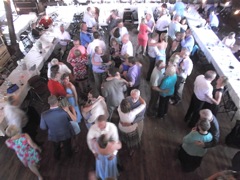 Lynsey has been a Tricks fan since she was about 8 years old. Krystal & Rick had several fun "sing around the campfire" weekends at Muskegon State Park campgound with all our Hudsonville & Grandville friends and fans. They booked K&R early last year, and we suggested that we add Ozzy on bass, because we knew they were a group that loved to dance. We had to have that Ozzy thump to make for better feeling on the dance floor. Very interesting and cool old barn that was renovated a couple years ago to accomodate parties and weddings. Although we toyed with the idea of setting up down by the dancers, we had to set up in the hay loft because it was the biggest crowd they had hosted yet. What a fun time. Great pictures of all the reception festivities.
Wedding Band action, from the loft

---
April 2015
• April 26 - Sunday Rick Solo - Mini-memorial to Bassbeast, Hilliards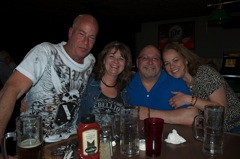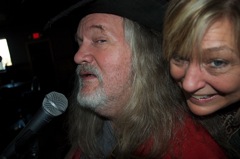 From Rick - When I noticed that my Solo Sunday was exactly one year since the day that Dave passed away, I decided that I would keep Dave in my mind while I was singing songs in his honor. (Dave liked some) When I mentioned that idea on facebook, a few Bassbeast friends showed up, including Debbie, Mrs. Bassbeast. I miss Dave and think of him very often - he and I shared some common interests and opinions about history and politics.
A few iPhone photos

---
March 2015
• March 22 - Sunday Jam session with Greg Howard & Pat Harrison, Hilliards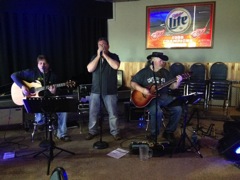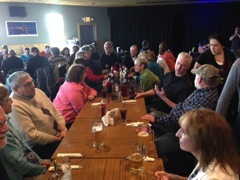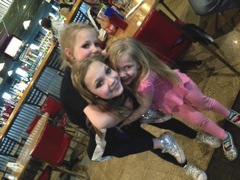 This was like an after-after-party for a few of the Cabaret performers, and a bunch from the Cabaret crowd
When Rick posted an invite to Cabaret on Facebook, our old pal from Traverse City area, Pat Harrison said "I'll be there on Saturday night for the Cabaret Band Show". A lightbulb went off in Rick's head, since the following day was his regular Solo Sunday at Hilliards Corner Loungs. After messages were exchanged between Rick & Pat, Greg & Pat, and Rick & Greg, we managed to put together an informal jam session for Sunday, the day after the final Cabaret Show. We also invited lots of people from the crowd, and so we had a full house at the Corner. We also had Alva get up and sing a couple numbers, including a fun acoustic version of her Cabaret Band number, Tina Turner's version of "Proud Mary" - Greg and Rick tried to do the backup singer parts, and ... Let's say that it was fun. Nearly the entire Allegan Arts Council board of directors was there (Rick is an AAAC board member). Another highlight for Rick was Eric Boeske, his wife and 3 little girls, who were coming home from a dance show. Eric has been Rick's guitar student for a while, and is responsible for getting Rick interested in learning a couple Dwight Yoakum songs. Thanks to everyone for making this a great fun "hangover day" afternoon. Thanks especially to Greg and Pat; I never realized how burned-out we would be after all the Cabaret shows, but we were hurting - getting through on pure adrenaline.


Pat Harrison (harmonica) | Greg Howard (guitar)
---
• March 13 & 14, 20 & 21 - Krystal & Rick at the Allegan Cabaret Band Show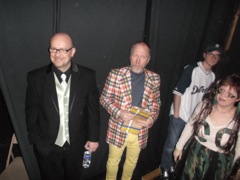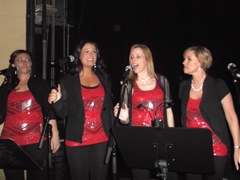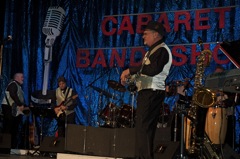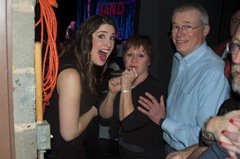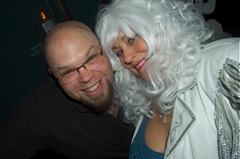 . . . Lots of photos from rehearsals, backstage, showtime, and after-party
For years and years, many Allegan folks have suggested that Krystal & Rick perform in the annual Cabaret Band Show. Since 1984, this benefit show has always featured some of Allegan's most talented and popular musicians. So, everyone assumed that we would be interested in participating. But, we already have plenty of musical adventures, playing at bars, parties, and all kinds of events. We always turned down the offers to join Cabaret. We just didn't have the time for all the rehearsals and multiple shows.
Late last year, Rick ran into Dean Michaels and they talked about the Cabaret Band Show. Dean is the director of the Show, and Rick & Krys have a history with Dean. We worked with Dean at several Allegan Scholarship Pageants, back in the 90s. Dean is also a partner in a duo with our friend Greg Howard. Greg plays guitar and Dean plays harp, and they provide instrumental music for weddings and Christmas parties, etc. Anyway, Dean told Rick that they needed a second guitarist to play alongside Greg in the Cabaret band. The rehearsal times in February would be during the same time-frame as Tricks winter work in the basement, so it would mean double the musical work. Rick went home and talked with Krys about the pros and cons, and Krys tipped the scales in favor of doing Cabaret.
As we expected, Cabaret turned out to be a lot of time and work, but very much fun as well. Rick is accustomed to being a guiding force in the musical decisions, so it was a strange world to work in. Dean asked Krys & Rick to do one number together as a duo, and we immediately decided to do "Islands In The Stream" by Kenny Rogers and Dolly Parton. Krys also sang lead and co-lead in a couple number, and she sang back-up vocals for several others. She also helped out with props and costumes backstage. Rick had a full plate of guitar work, but Greg and Rick worked well together as a guitar team. Each guitarist had plenty of lead guitar parts and other important guitar duties. The band features 2 guitars, bass, drums, 2 keyboardists, a trumpet player, and perscussionist. Many of the band members double on other instruments. There are 4 girls who are the primary background vocalists. There are about 10 lead singers with a fantastic range of styles, allowing us to pick some pretty challenging tunes.
Each night after the 2 Friday and 2 Saturday shows, the entire cast met at the Cove to toss a few down and talk over the show. One thing I mustn't fail to mention is the top-notch sound system and sound guy.
All during February rehearsals, the dress-rehearsals in March, and during the 4 nights of shows, Dean repeatedly told us that R&K brought new life to the Cabaret, and a new professionalism and postive attitude. We hope to live up to that when we return to Cabaret in 2016.
I could go on and on about how good the show was, but here are some comments from friends who attended, from the Facebook page:
• Joy Richmond: Last nights show was so far beyond entertaining. It was an exciting night of being entertained by some musicians and singers that used their hearts & souls along with their talents. After all of these years for this show to continue transitioning and become this good says alot of the leader of the band & musician Dean Michaels. He has a fine talent of recognizing people that delight us with their musical skills. This show clearly demonstrates that there is some fine talent around us but it needs a venue like Cabaret to let it shine. Thanks to all of you fine people for coordinating your efforts for a worthy cause and one heck of a great show!
• Carol Doeringer: I could not have said it better, Joy. We went on Friday, and I kept thinking how proud I am to live in Allegan, and how glad I am that we moved here. I was stunned by the caliber of the performances, as in the past few years that we attended. Congratulations to everyone who made this happen.
• Gerah Dutkiewicz - Went to Cabaret last night. Had an absolute blast! So much talent! I grinned from ear to ear, sang, clapped, cried a little, and drank too much wine! Dean Charles Michaels your saxophone playing gave me chills it was so great... And I don't know what kind of magical dust you sprinkled on your daughters when they were born but you created goddesses! And finally, a shout out to my very own family Rick and Krystal Dutkiewicz, the most rockin granny and grandpa ever! Wow, just wow.
One big extra that Krys & Rick brought to the Cabaret was the photography. We took lots and lots of photos to document this great musical event.
Mar 20 & 21 -

Fri

|Sat

|Crowd


Mar 13 & 14 - Rehearse

|Backstage

|Showtime!

---
KaRTunes Blog - January 2015

• Jan 24 - KaR Tunes, The Lynx, Otsego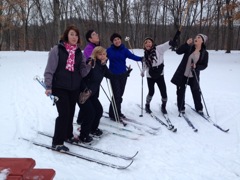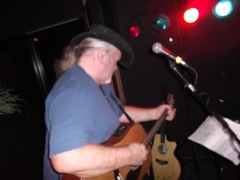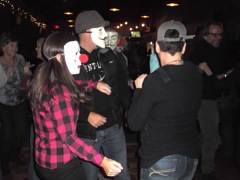 First some skiing with Krystal's Girls . . . . . Then some Krystal & Rick Tunes . . . . . And, eventually some dancing with Clowns
We always say that we have to invite 100 people to get 10 people to show up to our show. But this Saturday was some kind of perfect storm for bringing in a major party crowd to the Lynx. Combining factors include everyone's cabin fever at this time of year. It's been a few months since we've done a KaR Tunes show. Krystal planned a couple weeks ahead to get some girls to go skiing at the Lynx before our gig. Rick was involved with recent meetings for the Allegan Area Arts Council and the Allegan Cabaret, where he invited people to this night at the Lynx. There was a birthday party booked for dinner that same night. The b-day party was for someone who was afraid of clowns, so all the friends had clown masks on. What a hoot that was! All these factors played into making a great big packed house at the Lynx. It's a good thing they had the portable dance floor set up, because there was plenty of dancing going on. Everyone really had that party attitude. You gotta figure; since K&R played from 6:30 until a bit after 9:30, and since more than a dozen people showed up to ski with Krystal at 4pm, that's a six-hour party. Kudos to those who came early and stayed late.
Another thing that we always say is that we'll play for 4 people or 400 people, and it all can be just as much fun. What matters isn't the Quantity of people, but the Quality of people. A crowd of 400 chit-chatters doesn't do us any good. On the other hand, a table of four people who are giving us some friendly heckling, hooting, and hollering, and who want to dance and head-bang with the band, ... now that's my idea of a fun little crowd. But, this Saturday was the best of both worlds; we had both Quantity and Quality with this crowd. We saw lots of people who we hardly ever see at our live music shows. Mostly Allegan and Otsego friends, but also some from as far away as Borculo and Grand Rapids. I can name names if you like. Thanks Doug and Darcy for coming from Borculo. Thanks Fran and Tom for coming from GR. Thanks to all our friends who came out to this big wild night at the Lynx. Thanks to the Dancing Clowns for bringing your b-day party to the Lynx on our KaR Tunes night.
Speaking of "thanks", we are so grateful to owner Jim and manager Kim, and their hard-working staff. After seeing those people working so hard from the start of the party until the finish, I was inspired to put a review on The Lynx Facebook page

, with 5 Stars, Here's my review:
"My wife Krystal and I played our KaR Tunes music to a full house at the Lynx Saturday Jan 25, 2015. I quizzed several friends at the night's end to see how the service and the food was. I was worried that the staff might not have been able to keep up with the big crowd. Every single person I talked to said that the service and food were excellent. All I can say is, "Good job Jim, Kim, the kitchen workers, bartenders, and wait staff". The Lynx crew made our party crew happy. A memorable winter's night. The x-country skiing was excellent as well."


---

to K&RBlog Late 2014 (July - Dec)


to K&RBlog Late 2015 (July - Dec)