August 2015
• Aug 29 - KaR Tunes 2nd Gig for Hospice, Halloran Party, Dorr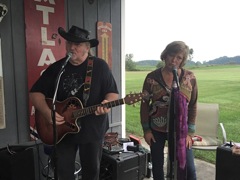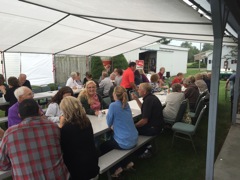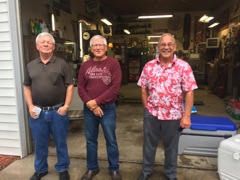 When the Hospice Auction bidders were going at it bidding for the Krystal & Rick music with Michael's fish fry party combo package, Dean Michaels told the 2nd highest bidder that they could also have that party package if they made good on their final $$ bid. That 2nd highest bidder was Doug & Marsha Halloran. So, here we are doing another freebie in the name of Wings of Hope Hospice. Marsha and Doug Halloran are longtime friends of Rick's family. She was the Deli manager at Dick's Market for many years. She also started the Bridal Lane formal-wear shop with Rick's ex-wife Sherry. Rick & Krys also worked with Marsha for several years when she was the organizer of the Allegan County Scholarship pageant show. Marsha and Doug had a large hand in planning and running the Dorr 4th celebration for the many years that Tricks played and Rick provided PA system. Most recently, Rick & Krys worked in the Allegan Cabaret Band Show with Marsha's two daughters who are excellent singers, Shannon and Dina. This was a small dinner party with closest Halloran family & friends, at their home just east of Dick's Market in Dorr. Doug has his barn all decked out with antiques. It was slightly rainy, but they had a tent. So, we all had a fine time. Thanks to Marsha and Doug for your generosity supporting Wings Of Hope Hospice.


---
• Aug 22 - KaR Tunes Gig for Hospice, Oetman Party, Dumont Lake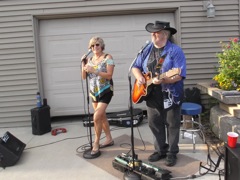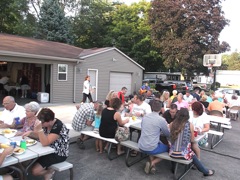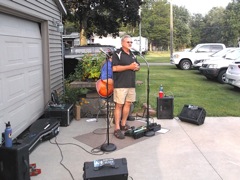 A double-header day for Krystal & Rick. Here's the story: Every year, we donate a KaR Tunes 3-hour party show to the Hospice annual spring auction. Hospice always pairs our 3-hour show with a food caterer, and it brings in big bucks for Wings Of Hope. We usually have been paired with a BarBQ party caterer. But this time we were paired with a fish fry by Dean Michaels. Dean happens to be the director of the Cabaret Band Show, and he is the MC & Auctioneer at the annual Hospice Auction. A few days after the auction back in May, Dean called us to tell us that our donated show went to Marsha & Doug Halloran in Dorr. But Dean explained that the bidding went very high, and there was a last-minute duel between two families competing for the KaR Tunes / Fish Fry party package.
When Hallorans won the top bid at the auction, Dean immediatly went to the second highest bidder and offered a 2nd party if they wanted to match the top bid. That was the Oetman family, and they agreed to the deal. So, on the phone a few days later, Dean said, "if you don't want to do that 2nd party, I'll get someone else to do music". We said, "it's no problem doing a 2nd party show, but let's not schedule it on a date that we already have a Tricks gig".
Well, guess what. The 2nd party was scheduled for the day that Tricks was playing at AJ's in Dorr. Rick & Krys had to pack the car full of our acoustic sound gear, and get to the party place by 5, play for 2 hours from 6 to 8. Then we had to tear down and head to Dorr. Then we played 4 hours with Tricks from 9 to 1. That was a long day, but very fun. At AJ's, we were lucky to have a decent crowd, and a very energetic bunch of youngsters who came in during last set, right when we needed some energy.
Thanks to Dean, Hospice, and the Oetman family and friends. Maybe we can do another party some time, when we're not in "hit and run" mode.


---
• Aug 8 - Rod & Maribel Wedding Celebration, VFW Club, Holland
Krystal was out west for 3 weeks, but Rick still has a couple gigs to play. This wedding party changed a few times in the planning stages, but that's normal for weddings, and we are used to it. We deal with last-minute changes all the time, no problem. The final plan ended up being the best plan. With no formal reception, Rod & Maribel went out to dinner with the immediate family. After dinner, Rod & Maribel hosted a "meet & greet" open house at the VFW. Rod wanted Rick to play for an hour or two, but I think it ended up being almost 3 hours of solo Doogie tunes. Rod's kids, Malorie & Matt, are both big music lovers like their dad. They gave a lot of support and we had a great time together. Lots of Trendway pals showed up, almost like a reunion for Doogie. Lots of long lost buddies. Rod & Maribel did some dancing with friends and family. It was a great way to celebrate their wedding day. I thought it was better than a formal reception; it was a warm and friendly get-together. Festive!
Sorry, no camera.
Thanks to Rod & Maribel for letting me be a part of this special day. Thanks to all the family, friends, and TW buddies who showed up to make it a fun Doogie Solo show. Thanks to the Holland VFW management and staff.