---
• June 26 - KaR Tunes debut at Boatwerks, Holland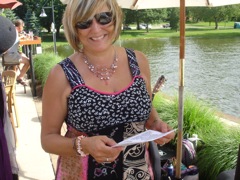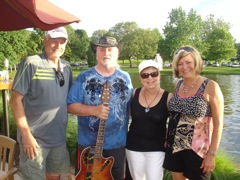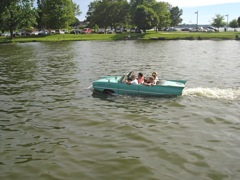 The weather was perfect out on the Boatwerks Deck. Possible rain was in today's forecast, but it rained a little in the morning and was done. Rick has played here on the deck twice so far, but this was our first Krystal & Rick duo show. We met lots of new fans, especially Judy & Phil who are from Byron Center and who say that we'll be seeing them again at future KaR Tunes shows here, and maybe at some other venues as well, including Tricks shows. It's always nice to find some new friends who appreciate and support local live music. That's a big help to us starving artists.
This was only the second time we were trying out our new JBL EON ONE Linear-Array PA System. Rick was looking at that system in an online catalogue, and told Krystal, "we need to save our pennies and get one of these sometime next year". Krystal didn't bat an eye; "we should buy it now, if anything was ever worth putting on the credit card, this is it. We'll use it a lot this summer." Well, twist my arm! We had to wait a few weeks because JBL just started making these things, that's how new they are. The JBL tower system ended up working perfectly for our show with Ozzy in Irons, and then this Boatwerks show was a good outdoor trial. I added a couple small speakers to shoot our sound off to the sides, because the Boatwerks deck is so huge. Everyone raved about how good it sounded. After our third song, a man came up to us urgently as if he was going to ask for some Bob Seger or Jimmy Buffett, but he just wanted to say, "you guys sound so good, that first band was so loud, we couldn't even talk". We had our man John Fredericks there, who is a professional DeeJay, so he was checking it out with his critical ear. We also had good reviews from two of our best regular listeners, Tom Pratt and Bill Peck. All gave a thumbs up to the new JBL system. What did we expect? It's JBL, for godsake. American-made loudspeakers since 1946!
We really appreciate all the friends, family, and fans who came out to support our very first KaR Tunes show at the Boatwerks Deck. Special thanks to the Boatwerks staff; you folks are exceptional. It's almost as if Boatwerks staff likes their jobs. Everyone has a professional but chill attitude, which is NOT easy when you have a demanding dinner and party crowd. Thanks so much, wait staff and bartenders. Also, thanks to management; we appreciate the clear communication by e-mail and phone, to keep all of our dates and times straight. Boatwerks is a top-notch venue, and it's more than just a pretty view.


---
• June 17 - Tricks Trio - Krystal, Ozzy, & Rick at Oak Grove, Irons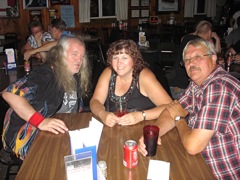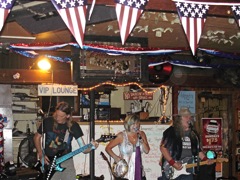 Last year, we played our acoustic Tricks Trio show at the Oak Grove two times. Both of those nights last year, we played to a jam-packed house at the Oak Grove. Not so much this year. We had a fun crowd who were there to have fun drinking and dancing, but the place never got over half full. Rick the owner explained that usually mid-June is the big start of summer, with kids out of school and weather turning nice. But, this year we've had several awesome weekends of perfect weather, so Rick the owner said the summer crowds have been coming up early. So what gives this weekend? The next upcoming weekend is the famous Irons "Flea Roast & Ox Market" weekend-long party, which is Iron's biggest summer festival / block party / town bash. Well, that's nice. It turns out that one of the main guys on that Flea Roast planning committee was there at the Oak Grove. So, we told him to keep our Tricks Trio in mind for next year's Flea Roast weekend. Maybe we could even talk brother Steve into coming up to Irons for that one.
Anyway, we had the funnest night at Oak Grove. You know what we always say, "we'll have a blast with two people, two hundred, or two thousand people". We were surprised by some of our best Tricks fans walking in the door; it's "Free-For-All" Jane and Pete Post. It was Jane's birthday weekend. (See Jane's b-day barn party with Tricks two summers ago.

) Irons is a favorite get-away for lots of Allegan County friends. You'll see the pic of the Fifelski shirt; that family goes way back in Dorr history and Tricks history. We also had some Krystal girlfriends up for some kayaking and partying in honor of Krystal's birthday. Tommy & Tara were there - the two poeple who started our Irons connection with their annual party-in-the-woods, "Phelpstock". Duane & Kim were also there at Oak Grovea - two people who have expanded our presence in Irons with their own annual party.
The main happening for the KRO Tricks Trio was the FIRST ever electric show. Rick has borrowed a small Fender "Acoustitronics" amp from a guitar student, and is using that amp to add electric guitar to the Trio on an experimental basis. It turned out so well, I think this will now be a regular part of the Tricks Trio - we'll do plenty of acoustic tunes, but we are now adding the electric guitar capability. That opens up lots of song possibilities. Rick is shopping for a small Marshal amp, with the money we are making from all these party gigs and Boatwerks gigs this summer. The Marshal amp will give Rick the rocking sound that he is used to with his big Tricks guitar rig.
Thanks so much to everyone who came to our Irons first gig of summer 2016. We have two more coming up later this summer. Thanks to Rick the owner and the Irons locals for having that friendly party attitude.


---
• June 7 - Rick Doogie solo Tuesday indoors at Boatwerks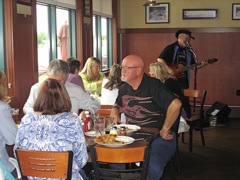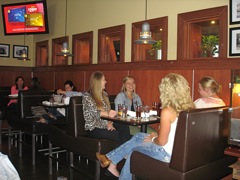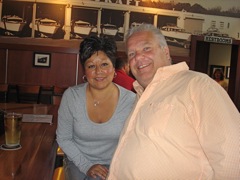 It was very windy and quite chilly out on the deck, so my second solo evening at Boatwerks was indoors. I had a few of my old Trendway buddies (Bill, Kevin, Rodney & Maribel) show up, as I feared. Just kidding. Although, I always hear from my Trendway and lakeshore pals, "how come you don't ever play over by the lakeshore?" Well, I'm sure they want Tricks over there, but this is the next best thing. My hope is that playing at Boatwerks helps me make a few connections for Tricks gigs at the lakeshore. Parties would be a great gig.
Just like last Tuesday, I had several Boatwerks "regulars" (I assume) come up and tell me how much they enjoyed my music. - Now I better get my butt to practicing, so I can live up to all that praise. Again, I thought the staff was extra nice. At some other venues, it seems like the wait-staff is too busy to treat us minstrels very well. Maybe they think we take some of their tip money, because we do. But we also bring people in, and keep people sitting there longer. At least, that's the theory.


• June 4 - KaR Tunes at Steve's Kielbasa Cook-Out in Dorr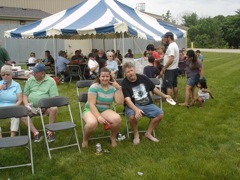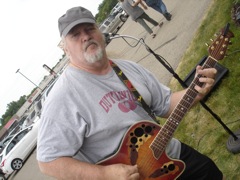 This is the 23rd annual Kielbasa Cook-Out at Dick's Market

in Dorr. Our Tricks drummer Steve is the owner, and his main baby is the Sausage Shop. Steve has been doing Kielbasa Cook-Outs in early summer and Brat Cook-Outs in late summer, even since anyone can remember, like the early 90s. Steve had the Sausage Shop make up 900 bun-sized Kielbasa for this 3-hour tour. Even though a broken propane regulator on their big grill decided to go bad at peak-hour 12-noon, they still managed to sell over 800 of those sausages. Steve had to rush home and bring in his brand new shiny Charbroil 4-Burner Infrared Gas Grill. They had about 50 Kielbasa browning up on there at one time, and Steve's new grill isn't so shiny any more. A good trial by fire, literally I'd say.
Thanks to the entire crew who made the Kielbasa Cook-Out a success. Beautiful day. Seems like half the town of Dorr shows up for this community get-together. Krystal & Rick have our funnest times when we are part of a speical "family & friends" event like this one. Love playing and singing outdoors.


May 2016
---
• May 31 - Rick's Solo Debut, Tuesday at Boatwerks, Holland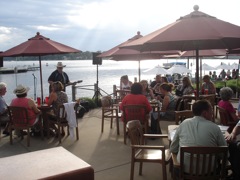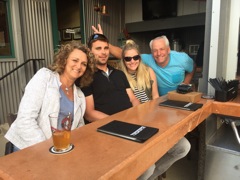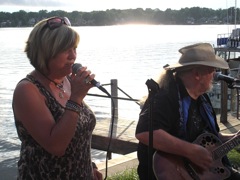 "When it rains it pours." Or that thing about God "opening a door...". After seeing two regular Tricks venues shut down (Jake's in Dorr and Hilliards Corners), we've heard lots of concern from our friends and fans. 'What are you going to do?" We've been around long enough to know that live music venues come and go. That's just part of show biz. Rick actually went through the Tricks history pages to tally up all the regular venues we've played at over our 40 Year history of Tricks. We sent that out in a Tricks e-mail and it's right here

.
The new venues we booked in the past month are Tricks at Allegan Eagles (including New Years Eve), Rick Doogie solo at AJ's Sunday, Rick Doogie solo at Boatwerks, and KaR Tunes at Boatwerks, as well as three gigs at Oak Grove Tavern up in Irons (with Ozzy and KaR Tunes making a Tricks Trio). In other words, we're not missing Jake's or Hilliards at all. We still have plenty of Tricks gigs in Dorr at AJ's and in Wayland at the Hotel. Plus, Tricks is doing fine at Woody's in Wyoming, with no hint of those gigs letting up any time soon. Our 2016 schedule is plenty full.
This first solo night at Boatwerks had another great show of support from Doogie friends, fans, and family. Thanks to all! The important thing is that the staff was very friendly, and the regular Boatwerks deck people were super receptive. Several groups stopped on their way out to say, "thanks for the great music, we really love your music, we'll be back". To make things even better, Krystal came along and got up to sing a few with me.
And then the black cloud. . . About halfway through the Doogie show, around 7:30, we saw this strange cloud coming across Lake Macatawa. It looked like a sideways tornado. Strange. It was clear, 85º and sunny. Hardly windy at all. Suddenly, we got a blast of wind that must have been 60mph, and steady for just a couple minutes. Some of the staff later said that they thought it was 100mph. I doubt it, but they said they couldn't get the door open, the wind was blowing so hard. One of my speaker stands blew over, and the small Kustom speaker grazed our friend Tom's head and smashed his hand into the table. They had just gotten their dinner, and tableware went flying in every direction.
Everyone, especially the staff, was freaking out about Tom, who was standing there with a bleeding hand, and rubbing his head. The manager lady gave Tom a white napkin for his bleeding hand, and that looked terrible. They brought Tom & Fran a paper to sign, agreeing to go get checked out at Holland Hospital ER. Krystal followed them over to the hospital and phone to say (over two hours later) that Tom was okay, no concussion, no broken hand bones, no stitches, and no pain meds because he said it didn't hurt any more. Later when I was packing up, I was chatting with the manager, waiters, and bartenders. I said, "don't worry, I'm sure that Tom and Fran will be back here when I play next Tuesday". And I added, "at least the injured person is someone who I can apologize to for the next two years". If it was someone I didn't know, I would have to go without knowing how that person felt the next day or so, after the accident.
Despite the scary bloodshed, it was a great debut. The crowd and the staff were all top-notch in my book. Thanks to everyone who came out to support my opening night at Boatwerks. Thanks to the Boatwerks staff and management, for letting me get my "foot in the door" at Boatwerks. I have 9 gigs on the deck this summer, and I hope to get some more Boatwerks gigs either for late 2016 or for summer 2017. Oh, by the way, did I mention that I'm NOT going to use speaker stands on the deck ever again?


---
• May 1 - AJ's Sunday Music Debut with Tom & Rick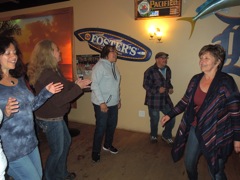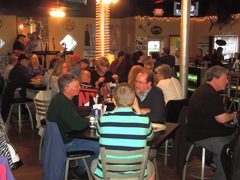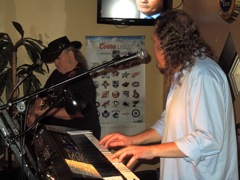 What a great bunch of friends, fans, and family turned out for the Showcase debut of Sunday Music at AJ's, with Tom Northrup and Rick Doogie. After playing solo Sundays at Hilliards Corner Lounge for nearly 7 years, we are trying it out at AJ's in downtown Dorr.
Sit back and listen to grandpa Rick's story: I was "downsized from Trendway Corp June 25, 2009. Hey, the same day that Michael Jackson and Farrah Fawcett died, as a matter of fact. That was the end of Rick's factory career, spanning 15 years at Dean Foods in Wayland and 20 years at Trendway in Holland. After freaking out for a few days after my termination, Krystal said it right outloud, "why don't you just do music for a living"? Rick answered that question the same way he had been answering it for 35 years, "because I don't want my music to be a job, I want it to be a hobby". Krystal pressed on, and so it was decided that Rick could work on some websites, give some guitar lessons, find solo weekday gigs, play weekend gigs with Tricks and our Rick & Krystal duo, "KaR Tunes".
In looking for solo weekday gigs, I contacted and visited many Southwest Michigan bars and restaurants. I was sure that I could get a solo gig around the Dorr/Wayland/Hilliards area, the heart of Tricks country. I ended up chatting with Eric Lauritzen, the owner of Hilliards Corner Lounge, where Tricks played many weekends. I told Eric, "you ought to have a live solo guy doing music on Thursday nights, the way they do at McDuff's in Wayland." Eric said, "I don't need music on Thursday, but you know when it might be a good idea? On Sunday, when I get lots of bikers in the summers, and lots of snowmobilers in the winter." And so it began.
I told Eric that he might not want to have the same thing each Sunday, so I offered to find another musician to trade off every-other Sunday. I ended up getting Tom Northrup, the piano man. He has a huge repertoire, just like me. Tom lost his job around that same time, and he was starting to get bookings for solo piano and dueling piano all over West Michigan.
That takes us up to April 10 of this year, 2016. Rick played his last solo Sunday that day. There was no indication from Eric that anything strange was about to happen. Not a clue or hint from good ol' Eric. The very next day, Monday the 11th, we had to pack up the Tricks band from our Fri & Sat at AJ's in Dorr. Driving past Hilliards on the way to AJ's pack-up, Rick noticed a completely empty parking lot at Hilliards, and the marquee sign was blank. As I walked into AJ's, Amanda the owner and Dave our soundman were leaning on the bar talking. They both looked at me coming in the door and said, "have you heard?" I said, "it depends on what you're talking about." They said, "Hilliards is locked down." I said, "I just played there last night, Eric was acting a little funny, but he said nothing about closing."
Amanda said right away, "what's your deal there for Sunday nights? Maybe I should take that over?" So, that's how we go the Tom Northrup show and the Rick Doogie show doing alternate Sundays at AJ's in Dorr.
So, here we are doing our debut Sunday. Our first Sunday was a Rick & Tom duel, with each doing a couple short sets, and then a long set of songs we rehearsed at Rick's on Saturday. What a fun time. Thanks to everyone who came out to support our first night.
Debut Sunday

---
February 2016
• Feb 13 - KRO at Lynx Valentines Dinner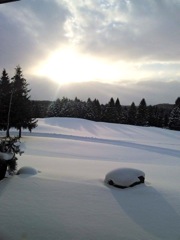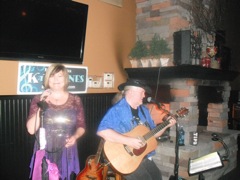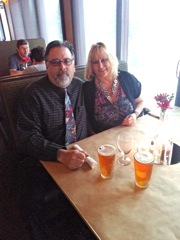 Correct me if I'm wrong, but I think our first Krystal & Rick show at the Lynx was for a Special Valentine Dinner. We usually pack in the crowds at the Lynx, but this year's Valentine Dinner crowd was only about ten couples and a few single stragglers. I guess we can blame it on the weather. You'll see in the pics that we got dumped upon by Old Man Winter. One of our last big winter blasts of this season. The crowd we ended up with was mostly Krystal & Rick's close friends. So, we had the most intimate and special Valentine imaginable. We tried to stick to just our best romantic songs for this special evening. We were told by the diners that the food what fantastic. Nothing but 5-star reviews all around. After we were done and packing out, we had a few friends hang out chatting with us for nearly an hour afterwards. The staff was trying to clean up and set up for Sunday morning breakfast, so we eventually had to get out and go home. If you missed this night, you missed a great romantic evening. If you were there, thanks for being there. We had the best time with our little group of special friends.


---
January 2016
• Jan 30 - KRO at Lynx 3rd Annual Beach Party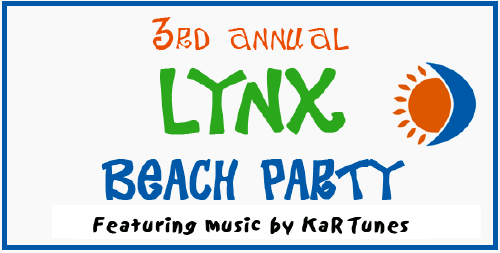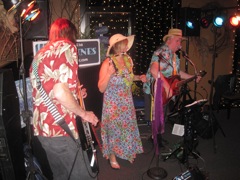 The Lynx owner Jim Szilagyi called us in December to fill the bill for his annual Beach Party at the Lynx Golfcourse Clubhouse. This is only the 3rd year that Jim has owned the Lynx. With the help of his wife Pam and manager Kim, Jim has made big improvements to the overall quality of the golf course, the bar, and the restaurant. One recent new offering that has been a stuggle is cross-country skiing during the winter. Last winter was the first attempt, and the skiing has to be coordinated with the maintainance of the greens. That's not an easy task, especially with this year's warm winter temps and low snowfall. So far, the Lynx has offered free skiing when the weather permits. Last year had many great weeks of skiing. This year, Krystal and some girlfriends went skiing at the Lynx last week, and they said it was a blast. But now we're back to rainy days and skiing may be finished for this year. Better luck next year.
Anyway, how was the Beach Party? Because of the big dance floor set-up, they had to limit seating to 100, by reservation only. We ended up with about 80 people. What was especially nice was that most of that crowd was in the mood for dancing. Besides great decorations, the Lynx had an awesome Fajita Buffet, a Tiki Bar, Jello Shots, Free Door prizes like t-shirts and sunglasses, and most everyone dressed up in some kind of beach garb. For the occasion, Krystal & Rick spent the last few weeks working on some beach and summer songs: Sheryl Crow "Soak Up The Sun", Johnny Rivers "Summer Rain", Frank Sinatra "Summer Wind", Lind Ronstadt "Heatwave", Drifters "Under The Boardwalk", Jimmy Buffet "Margaritaville", Beach Boys "Surfin USA", and Eddie Cochran "Summertime Blues". One large table-full of people were from a dance studio, so we had dancers who knew what they were doing. It's always fun to watch "real" dancers showing their craft. They danced the Mamba to "Under The Boardwalk" and they danced the waltz to "Time In A Bottle". Most of our regular dance crowd wouldn't know the difference. I know I had to ask about the Mamba - I call it "Ricky Ricardo dancing". I hope we see that bunch again.
A large heart-break we had to deal with was the passing of Krystal's mom Loretta just two days before this Lynx event. Because of that energy-draining event, we called upon our Tricks bass man John "Ozzy" Bosscher to help supply extra energy to the show. We wanted to leave Krystal with the option to sing only when she felt up to it. It turns out that Krystal's dad Don wanted to come along for the Fajita dinner and a couple beers. It was a good thing for Krystal and her dad to get out and do something uplifting, after spending the last week at Loretta's bedside. Rick dedicated the Louis Armstrong song "Wonderful World" to Loretta.
Thanks so much to everyone who came out to party and dance with KaR Tunes plus Ozzy. What a blast! Special thanks to those who drove a long distance. Thanks to John for helping take pictures. Thanks to Jim and Pam the owners for having us. Thanks to manager Kim and your great staff - you guys did a great job decorating, setting up, and keeping the party rolling along happily. Lots of people raved about the great Fajita Buffet. Thanks for the left-overs; what a bonus! We'll be back at the Lynx for a special Valentine Dinner night.
Beach Party Pics

---

to K&RBlog Late 2015 (Jul - Dec)


to K&RBlog Late 2016 (Jul - Dec)