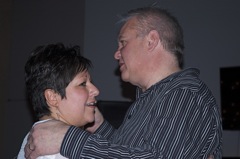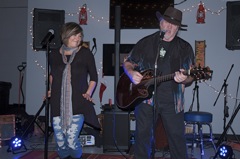 We always say that our favorite gigs are parties for those special "family & friends" occasions, like birthdays, anniversaries, grad parties, weddings, ... That goes double when the event is for one of our good friends. Rodney Overway worked with Rick at Trendway for 20 years. Rod has always been a big Tricks fan, traveling from Holland to come and see us in Dorr, Wayland, or wherever. Rodney had his 50th birthday party at the brand-new Fireside Brewing Company

. Tons of fun playing KaR Tunes for old Trendway pals. The Fireside Brewing owners say our type of music is a good fit for their brewpub, so we'll be back here on a regular basis. Thanks to Rod & Maribel for giving us the job of entertaining for this milestone event. We are honored to be part of it all. It was such a blast. Thanks to everyone who came out in the snow stormy weather to help Rod celebrate. Thanks to the Fireside owners and staff for the great brews, and good wine as well. Everyone loves this place. Great location, great ambience, plenty of parking, friendly service, ... you guys have it all going on - you are doing it right!


---
• Dec 9 - KaR Tunes @ Art Hop, Downtown Allegan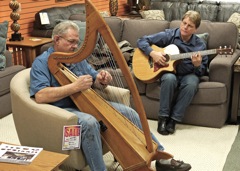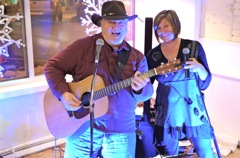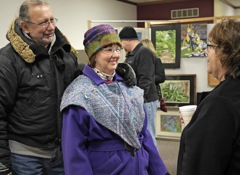 This was an evening full of comraderie with Allegan neighbors, friends, and families. All ages were out and about for the 9th Annual Allegan Art Hop, sponsored by Allegan Area Arts Council and the Allegan Chamber of Commerce. Rick & Krys sang and played from 5pm until nearly 9pm. There were over 30 artists set up in about 20 venues in downtown Allegan. We were lucky to be right at the center of the action, with 5 artists set up with us in the old deserted Orlo's Deli building. The horse-drawn wagon rides were loading and unloading right in front of our building, so we got lots of traffic from people waiting for the wagon ride with their kids. It was a constant stream of people coming and going. Santa was just down the street from us. And there was free hot cocoa and cookies here and there. We weren't the only venue with live music. There were three or four other music groups playing, spread out in various stores and shops. The two other duos we got pictures of here are our friends Dean Michaels on harp and Greg Howard on guitar playing comfortably at the furniture store, also Jeff & Sheila Clearwater - not sure where they were plaing. Krystal went off a couple times down the street, taking pictures here and there. It was quite a scene. The snowfall was just perfect for this event, just a couple inches, and not too cold or windy. A perfect Christmas scene outside on the city streets. We were happy to donate our musical services for such a great family-oriented community event to support local artists who were selling their wares to the Christmas shoppers. We hope to be back next year. This year was actually the very first time we didn't have a Tricks band gig booked on the same date at Art Hop. So, we'll try and keep our schedule clear for Art Hop.


---
September 2016
• Sep 2 - RKO Tricks Trio @ Oak Grove Tavern, Irons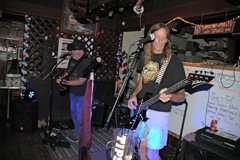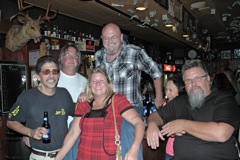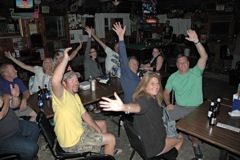 Here we are back in Irons; our 5th and final Tricks Trio show in Irons for the summer of 2016. Rick, Krys, and Ozzy made the trek to Irons again, just for this "Labor Day Weekend Kick-Off" party at the Oak Grove Tavern. This time we didn't bring along any die-hard fans and there were none of Krystal's dancing girls, so we had dang little dancing action. That left us dancing with ourselves. But, as you can see from the photos, it was a mighty fun time. The bar was nearly full when we started at 8pm. Then, with such magnificently beautiful weather, the crowd slowly dwindled as people headed back for their cabins and campsites. No matter, the big table full of Fifelski family from Dorr (that's them waving) was there hanging and banging with us right until our last song. You might wonder why we have some dude singing with us in a couple of the pictures; you know we don't normally allow sitting in with Tricks without rehearsal. Well, that dude singing is the owner, Rick. He always asks us to let him sing "Knockin' on Heaven's Door", and we always have said "no" until now. But, we let him get up there with us, just to make the owner happy. That's always a good policy. The song turned out pretty rough, but we were having fun. That's all that counts. Rick the owner says we're inked in for next year's Cowboy Festival in September. They would like the entire band, so we're gonna have to get Steve talked into a couple trips to Irons next year, or we'll need to ask our buddy Skip Herrema or some other stand-in drummer. A real drummer is a lot more entertaining than the "boom, chunk, boom-boom, chunk,..." of our little drum machine.
Thanks os much to Rick the owner for having us. Thanks to the Fifelski family for being a good crowd for us. Thanks to all the Irons locals and summer residents for partying with us and rocking it hard with us. This summer of 2016 had us rocking Irons, but it looks like 2017 is going to be an even more exciting time for the Tricks band in Irons.
Friday night in Irons -

---
August 2016
• Aug 27 - RKO Tricks Trio @ Kim & Duane Party, Irons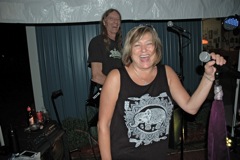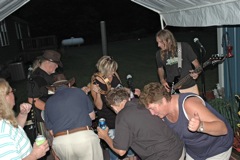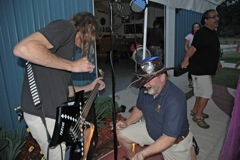 Not sure where we are counting this annual party for Kim & Duane Lewis, in honor of Duane's b-day. This started with the Phelpstock party, with Kim & Duane bringing a bunch of dancing friends to the campfire jamming party east of Irons. They branched off into their own separate party about 7 years ago. Not sure; I'll have to check my Tricks history pages when I get time

. The first two years were just Krystal & Rick playing in Kaleva, in the middle of nowhere, north of Irons. Then the party moved to Kim & Duane's place in the town of Irons, just a block south of the Oak Grove Tavern (you'll see Rick the owner of the Oak Grove in these pics). We added Ozzy to make it a trio, and we even had Skip Herrema play drums one year. Now we've settled into this electric Tricks Trio, since Rick recently acquired a brand new Marshall combo amp. This is always a small party of family & friends, with just 15 or 20 die-hard dancing, drinking, eating, laughing, party fanatics. We can't help but have a blast when there are a dozen or so dancers who won't quit. Duane has the "shot-ski", which is a snow ski with 4 shot glasses attached. This is the "Play hard" time for these folks who work hard all week. In case you don't notice in the pics, I gotta mention that Duane is an extreme Michigan Wolverines fan, and he never lets you forget it.
We started playing at 7pm, with a threat of rain. So, we had some tents set up for the music and dancing. We only took a couple short breaks to change sweaty shirts and do some shot-skis. We finished up when the dancers started to die out on us, around midnight. Notice in the pics, Duane buddy Chuck brought along his 97-year-old mom, Martha, who says she "loves people and loves to dance". Let's take our inspiration from Martha; as long as you can still walk, you can still dance. Even when you need a walker and some loving hands for assisatance.
Thanks to Kim & Duane for all the hard work putting on this party. Thanks to everyone who brought a dish to pass and drinks to share. Thank you Ann for coming up all the way from GR just to dance with your Tricks brother and your new Irons pals. Thanks to Tommy & Tara Phelps for giving us a cabin for Fri & Sat night. MOST OF ALL - Thank you Dancers!
Saturday night in Irons -

---
• Aug 22 - KaR Tunes @ Boatwerks, Holland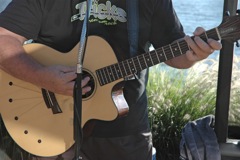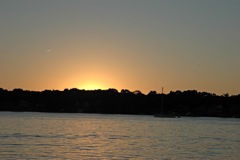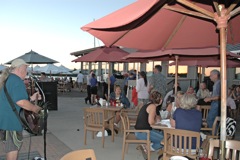 After a big hard-rocking weekend in Dorr with the Tricks band, it's nice to kick back and do some acoustic tunes on the deck. This was Rick's final of 7 summer shows on the Boatwerks Deck (there were 2 other shows with Krystal). Rick made an extra effort to draw up a setlist of songs that were off-the-beaten-track. The theme was "songs I don't always do every night". The crowd was extra supportive, even though there were darn few "hits" coming their way. I gotta list a few of my favorite "neglected songs" that got played this evening;
John Sebastian "You're a Big Boy Now" and "Younger Generation",
Neil Diamond "Thank The Lord for the Night Time",
Michael Penn "No Myth" and "Cupid's Got A Brand New Gun",
Joe Satriani "I Believe",
Louis Armstrong "Wonderful World",
Pete Townshend "Pinball Wizard",
Mott The Hoople "Sweet Jane",
Rolling Stones "Sway" and "Wild Horses",
Cat Stevens "Father and Son",
REO Speedwagon "Music Man",
Jim Croce "Operator" and "Time In A Bottle",
Jethro Tull "Locomotive Breath",
Pink Floyd "Fearless" and "Comfortably Numb",
Gary Myrick "The Party".
It was all too fun for words. Here I am playing all these obscurities, and the crowd is cheering me on. At the end the crowd cheered for a couple encores. I had to end with my favorite "love you people" song, Peter Gabriel's "In Your Eyes", which is a tribute to the friends and fans who come out to support live music shows.


---
• Aug 13 - KaR Tunes @ Boatwerks, Holland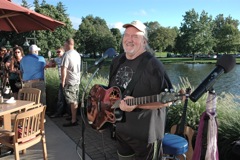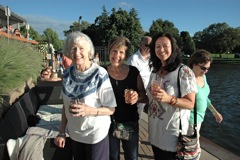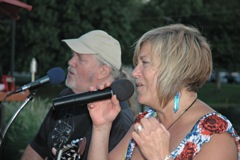 After the big debut of the Marshall amp last weekend, you wouldn't think it could get any better. But we had a broken guitar emergency at our house, so Rick traveled to Fort Wayne to visit Sweetwater Sound

to pick up a new Ovation Celebrity Elite. This Ovation replaces the broken Ovation that has been Rick's main acoustic axe for around 2,000 shows.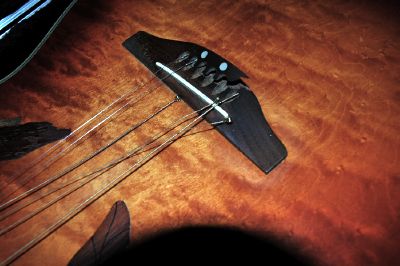 That old-faithful guitar has seen many a Tricks show, KaR Tunes show, RKO Trio show, and solo Doogie show. Many "Auld Lang Synes" at many New Year's Eve parties. Many birthday and wedding parties. That Ovation even helped stir up some tears at a few wedding ceremonies. Our Saturday evening show at Boatwerks was well-attended by family and friends. Everyone wanted to get a look at the new Ovation, and there were plenty of compliments on the sound of the new guitar. Many years ago, Jane Bykirk dubbed the old Ovation "The Fun Guitar" because she said, "you always play the fun songs with that guitar". Well, Jane was on hand, and she says this Ovation is "The Funner Guitar". A few people wanted to name it "Fun Guitar Two" or "The More Fun Guitar", but Rick says he likes nice short names - after all, the band is called "Tricks" for that very reason. So, "The Funner Guitar" it shall be.
Thanks so much to everyone who came out to support us on this beautiful Saturday night. Thanks to the Boatwerks staff for being so friendly and helpful. Thanks to Boatwerks Marketing for hiring us. We really love this place for the people who hang out here as well as the people who work here. What a nice surprise. I have to admit, I thought such a big place would be full of politics and drama, but there is a conspicuous absence of such negative vibes. It's all very chill, very classy, and very professional.


---
• Aug 6 - RKO Tricks Trio @ Phelpstock, Irons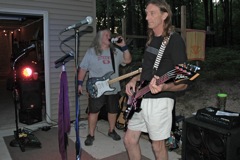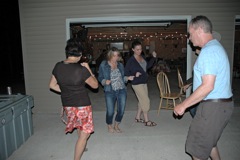 "Phelpstock" is a big name for a small party. We typically have a couple dozen Phelps family and friends show up for the weekend get-away event to celebrate Tommy's birthday. We do Oak Grove on Friday, kayaking early Saturday, rocking around the campfire late Saturday, breakfast at Irons Cafe Sunday morning, and more hiking and/or kayaking on Sunday afternoon for the die-hards who can't get enough (you know, the Krystal types, and Tara, and Karen). This was the big debut of Rick's Marshall amp, and this outdoor rock show really worked out well for that electric guitar jamming fun. Only about 20 people hanging around, but the goal is QUALITY not quantity. Family and friends who can't make this party weekend are missing out. Plenty of great food and drinks. Another highlight of this year was the lighting decor in Tommy's mancave. Thanks to Harold for helping Rick with that project. Thanks to Denise & Rich for chopping a lot of wood. Thanks to John for grilling a lot of chicken. Thanks to everyone who brought a dish to pass. What a fun time. I gotta confess, Rick (that's me) kept going after the band stopped around 1am. Harold kept saying, "all right, one more", so I had to keep saying, "okay, just a couple more". After a while, Krys came up and whisperd in my ear, "honey, it's 3:17 - you need to stop, you've gotta save your strength for Boatwerks on Monday." When I shut everything down and saw beyond the lights in my eyes, there were only about six people sitting around chilling to the campfire tunes. Everyone had retired to their tents and beds, especially those tired kayakers. I guess I got carried away. It was Harold cheering me on that made me go so late. I was especially happy to try out my newest tune, Harry Chapin "Taxi" - a not-so-easy tune that I've always liked.
Thanks to Tommy & Tara for being the great hosts. You treat our friends as your own. What a blast we had for the three days (I know some were there even longer than that). Next year we are going to beg and plead with drummer Steve to come up for the 10-year anniversary of Phelpstock - the very first one was in 2007. Krys says she's going to make t-shirts for the occasion.


---
• Aug 5 - RKO Tricks Trio @ Oak Grove Tavern, Irons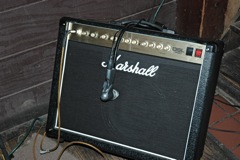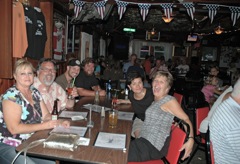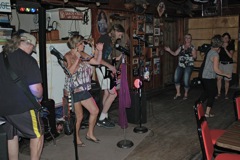 Irons has become our "home away from home" for Ozzy, Rick, & Krys gigs. We have 5 shows up here this summer. This was our 2nd Irons show this year. The debut of Rick's new Marshall combo amp means we rocked it hard with lots of electric guitar songs. We were happy to bring along a couple of Krystal's best buds from Allegan, Karen & Judith - dancing, hiking, & kayaking maniacs.
Our friends and top Tricks fans John & Peggy came along for the weekend camping adventure, even participating in Saturday's kayaking misadventure (John had to give up early, and it's good that he did, half the kayak group missed their ending-point and the two-hour kayak trip turned into nearly five hours.) A big surprise was when our best Tricks friends Tom & Fran walked into the Oak Grove. They had not planned on coming, but Fran said "let's go" at the last minute. How's that for spontaneity? This Friday party was sponored and hosted by Tommy & Tara Phelps, for their local Irons friends. The Saturday night Phelpstock party is mostly for family, so they also host this bash at the bar. Rick the owner is more than happy to accomodate the Phelps party crew.


---
• Aug 2 - KaR Tunes @ National Night Out at Kollen Park, Holland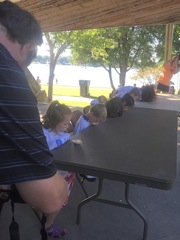 Each year around this time Holland participates in the nation-wide event to promote neighborhood safety and goodwill for police and fire departments. It's called "National Night Out", sponsored by Holland City. Lots of fun stuff for kids; face-painting, pie-eating contests, karate demonstration, food booths and information booth for many civic organizations. Very fun day in the park. We're so happy to provide some music for this annual event that brings neighbors together. Thanks to Holland


---
July 2016
• July 30 - KaR Tunes @ Steve's Brat Cook-out, Sandy Pines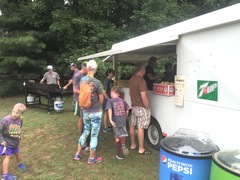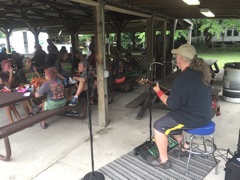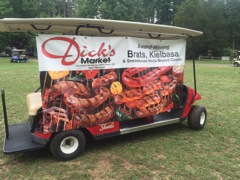 Steve wasn't there, he was busy back at home base running the Dick's Market show. Steve's wife Tammy was running the show with the help of the Grillmasters, Pat Kacz and Casey Merren, along with several of Steve's offspring working the booth. The occasion at Sandy Pinds was their annual benefit "Color Run". You'll notice that lots of people have the t-shirts from the run, and they are covered with paint. Don't ask me who originally came up with the idea of onlookers throwing paint at the runners, but it's a huge thing with these benefit runs nowadays. To round out the day's fesitivities, Tricks played a couple sets later that evening. A long hard day of work for the music-makers, but very fun and lots of happy Sandy Pines people. Notice the ubiquitous golf carts, hundreds of them everywhere you look. Sandy Pines was so happy with the successful day, we have been asked back next year for the same deal - Steve's Brats at noon, and Tricks at sunset.
Cook-Out

| Tricks

---
• July 25 - Rick Doogie solo at Boatwerks, Holland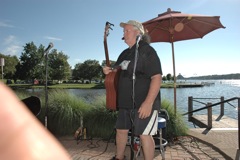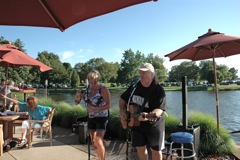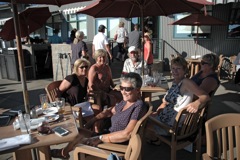 This was solo Doogie Boatwerks deck gig number six. Each time has been a fantastic fun time. Lots of family gatherings and friend meet-ups here on the Waterfront. You can feel the love and festive feeling in the air. People are here to chill, chat, and laugh with their favorite people. It's only right that we give them some interesting Doogie cover tunes to add to the ambience of the sunset views.


---
• July 10 - Rick Doogie solo at Grillhouse, Allegan
A very beautiful evening with the folks drinking and dining on the Grillhouse deck. Krystal came along with friends and family, so she was gracious enough to get up and sing a few. Another day of neglecting the camera work. But, Grillhouse booked another solo Doogie show here for Sunday of Labor Day weekend, Sep 4. It will be the final live music show on the Grillhouse Deck this year.
---
• July 9 - KaR Tunes at Indian Shoes annual Property Owners lake party
We love getting together with our neighbors here on Lake Allegan. It was an extra busy day, and there was a lot of socializing, so we neglected the pictures taking.
---
June 2016
• June 27 - Rick Doogie solo Monday at Boatwerks, Holland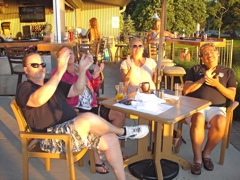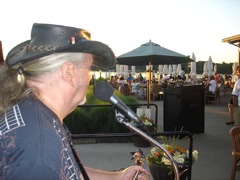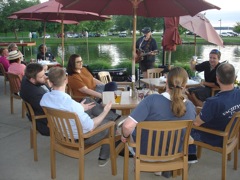 I know you're not gonna believe this, but Rick had a better Boatwerks crowd on Monday than we had with K&R on the deck Sunday. And Sunday was a great crowd. It's just that Monday was a little better. Check the pics if you need proof. I was happy to have my usual friends there, Fran & Tom, Craig & Jane, and our Irons party people Kim & Duane as well. My new JBL system made setting up so much faster and easier than my old-fashioned system. And again, everyone was saying how good it sounded. The JBL EON One System spreads the sound out much more evenly than a "normal" PA system. It doesn't have any hot spots where it's too loud, or dead spots where you can't hear clearly. The sound is all so smooth and even. Nice!
Again, I have to say that the staff is so friendly and not fake like so many places where you feel like the nice waiters and bartenders are simply looking for a big tip. I detect good attitude in the Boatwerks staff. That's something we always try to project when we are playing our music. My favorite compliment isn't about our sound or song repertoire, my favorite compliment is, "you guys look like you are having such a fun time up there". Thus, our motto: "if you're not having fun, pretend you're having fun, and then you'll end up having fun despite yourself". Because that fun attitude is contagious, and it bounces right back at you if you project it to the audience.
I played 6 to 9 without any break, because I don't like losing the adrenaline energy by stopping. At about 8:45 the crowd was starting to thin out, and I said, "I have two or three songs to go; I can do three short songs or two long songs. And I like long songs that tell a good story". It was right then that about a dozen people came in and were asking the wait staff to put some tables together for them. They were pulling tables together right in front of me. Fearing a bunch of chit-chatters who wouldn't want my noise, I actually reached back and turned my JBL PA to the side, so it wouldn't point so directly at that group. Well, I was wrong to be scared. Those folks were my biggest fans of the night, not only giving me applause for my two final long songs, "Won't Get Fooled Again" and "In Your Eyes", ... but they also started stuffing my tip jar. And they started saying, "do one more, do one more". So, it was past 9pm quitting time, but I did a couple more. Then they still were cheering and asking for more, so I gave my set list to the most outspoken one of the bunch, Tiki Tony. I said, "I've done most of the songs from sets 1 and 2, but you can pick anything from sets 3 and 4. I then did some Willie and some Johnny Cash. By then, Tony and his buddies had picked a song from my list. It was going on 9:30. "How 'bout Sweet Emotion"? I replied, "you would go and pick one of the hardests songs, My wife usually helps me sing that one". But they cheered me on, and I did my best acoustic version of Aerosmith "Sweet Emotion". After that, I did a couple more, including Sultans of Swing, which is always a hit. Then I said, "I think this has to be the last one, the bartenders want to go home some time tonight". The bartender came up to me and discreetly said, "you're doing great, I like youre style, why don't you do one more for these people"?
By the time I stopped playing, it was nearly 10pm. I let Tiki Tony put his iPhone through my JBL, while I packed my other gear. They made me sit down and have an Oberon. And they told me that most of their group was from the Detroit area and a few were visiting from Europe. By the time I finally cut off their jams, it was nearly 11pm. It's a lotta work, but I love being part of special get-togethers with family & friends like that.


---

to K&RBlog Early 2016 (Jan - Jun)


to K&RBlog Early 2017 (Jan - Jun)