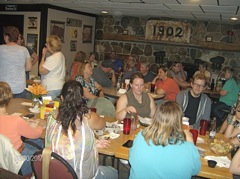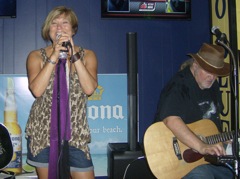 To make up for dropping Sunday music on the deck, Rich the owner has booked us several Fridays and Saturdays on the Iron Bridge Deck this summer. Too bad it rains every time we play there. Well, just twice so far this summer. We brought the party indoors, and what a great Friday night gang. There was a birthday party for our pal Doug Babitz, so that was a drink fest - they kept buying shots for Krystal. There was also a couple dozen people there for a going-away party. They told us that they chose this Friday night for the party because we were playing. That group was all about it, singing along and having a great time. For a "rained out" night, we sure had a great packed house. Maybe next Friday it won't rain on us here. Thanks to our pals Craig & Jane, and Tom & Fran for traveling to support us and have fun on a Friday night in downtown Allegan. Thanks to owners Rich & Melissa Green for having us. We really love what you've done with the place. Everyone has great things to say about the food and the atmosphere and other improvements. Thanks for helping to keep live local music alive in Allegan.


---
• June 24 - KRO Trio at Bishop Family party, Indian Shores, Lake Allegan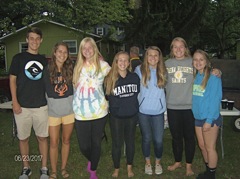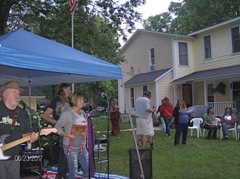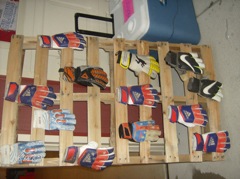 a big all-day party for Kara Bishop's Graduation Open House, which later morphed into a 50th Birthday party for her dad, John Bishop. Cars were parked all up and down the roads. The Bishop family is very popular with Allegan High School, because John is long-time coach of Allegan Wrestling and Penny is long-time coach of Girls Soccer, and I think maybe Basketball as well. In Kara's photo collage, there were all kinds of sports team photos, along with many trophies, and she had a big quilt made of all the sports team t-shirts from over the years. Also a skid laid out with all her sports gloves. Very cool display of talent and spirit.
Krystal & Rick go way back with the Bishop family. We live only a few doors down from each other. But, the connection started way back in the 90s when Krystal and Penny were working out together at Depot Hill Gym. Penny was looking for wedding music, so Rick & Krys ended up singing for the outdoor wedding, at the family homestead down near Hillsdale. We also played for John & Penny's reception that night; one of the earliest times we played a "Tricks Trio", although we didn't know what to call it. It was Rick, Krys, Tom Hudson, and a drum machine. We also did another Tricks Trio for Penny's 40th b-day, at another big neighborhood party back in 2008. That time it was an acoustic, no-drum machine, show with Dave BassBeast, Rick, & Krystal.
Penny contacted Rick about this party way back in winter time. Krys knew she would be up north for her Lake Superior hike trip, so we booked the party as the "Rick & Ozzy" show, with Krys as a maybe. Turns out, Krys got back from the U.P. just as Rick was leaving to set up at the party. Krys said, I'm gonna take a shower and I'll be right over and help you sing some songs. She was pretty low on energy, but she is K-Whizz after all. So, we had the Tricks KRO Trio (Krys, Rick, Ozzy) most of the night. We played from about 7:30 until nearly 11:30. Like usual, just as we were trying to call it quits at 11pm, the dancers came alive and wanted "one more, one more". It was only the 2nd time we ever did "Smoke On The Water" with a drum machine. It turned out really well. What a hoot that was! And then Ozzy started thumping away on the Elvis Costello song "Pump It Up". There was no drum setting, because we never planned on that song. Thankfully, our new Alesis drum machine has a "tap tempo" where you can stomp out the beat on a pedal, and the thing just takes off. Quite remarkable! "Pump It Up" was our big encore for the campfire dancers. Thanks Lex & Pete for your enthusiasm. Thanks to all our lovely party neighbors. Thanks to John Bishop, we love ya man! Thanks to Kara Bishop for putting up with us old farts invading your grad party. Last but not least, thanks to Penny Bishop for all her hard work putting this together. She did all this party planning while she was doing her coaching work, her daughter graduation day preparations, and all that end-of-school-year work that moms and teachers and coaches have to go through. Wow! I'm impressed how well this turned out. How many years until daughter #2 graduates? At least that won't be a double party. Just a great effort form the Biship family putting on the Party of the Year 2017. Lots of happy faces making happy memories. Good times with family and friends. Love love!
Saturday Neighborhood Lake Party
---
• June 4

- KaR Tunes at Boatwerks, Holland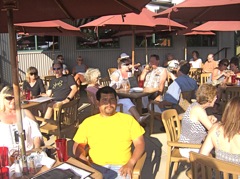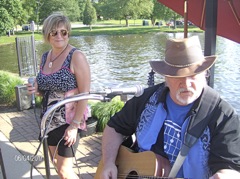 Krystal and Rick have a few shows this summer on the Boatwerks Deck, overlooking scenic Lake Macatawa. This Sunday evening show was our first for 2017. It was a beautiful sunny day on the deck. We played right up until sunset at 9pm, so everyone needed sunglasses at first, and for our last set we had a fantastic lake sunset behind us. This was our first gig where we used our new Alesis drum machine. My Rick attitude about drum machines is "I don't want anyone to say, 'wow, what a great drum machine', I want the drum machine to be nearly invisible". That said, it is really nice to have a better sounding drum machine now. When I started doing solo acoustic music, after being downsized from Trendway in 2009, I went and watched a bunch of YouTube videos of solo acoustic guitar dudes playing in small bars and restaurants. What I learned was that there are lots of great singers out there, but not a whole lot of fancy guitar playing. I resolved to get a set-up that would show off my guitar skills. That meant two things; a drum machine and a loop pedal. Both of those help me do lead guitar bits over the top of some nice acoustic rhythm guitar parts. One thing I also decided at the beginning - I never wanted any effects to dominate my live music show, so we keep it "Au-Natural" as possible. We also eschew guitar stands and computer monitors in our faces. When I go see a live music show, it bugs me when I can't see the guitar player's hands because they have a big music stand in front of them. I don't want to be Karaoke. I can sing the songs from my heart a lot better when I'm not reading words from a music stand. I say, "I want the words in my heart, not on a chart".
Anyway, I digress, don't I? Thanks so much to all our friends, family, and fans who came out to support us for this first 2017 show at Boatwerks. On the way home, Krys said, "you know if it wasn't for our people, the deck would have been pretty empty". That's so true. We had more than 2/3 of the crowd, at least around the bar area. What a great time. This time we mostly played our "usual" tunes, because we haven't been doing lots of acoustic gigs lately. By next time, we're gonna have a few new tunes up our sleeves. We are learning a few songs for some wedding we're going this summer. Plus, we have new tunes from our Tricks winter break that we're still working on acoustic versions. Thanks to Boatwerks for having us. See you again soon. We really feel a great vibe from the wait-staff and bartenders. That's why we play here, and not at some other places that don't have the warm vibe of Boatwerks. The workers seem to enjoy their job, and that's hard to fake. When you're relaxing, dining, and drinking, nothing spoils the fun like cold service. The Boatwerks crew gets all kudos for being warm, friendly, and professional. We heard nothing but rave reports about the food and service.


---
• June 3

- Steve's Kielbasa Cookout, Dick's Market, Dorr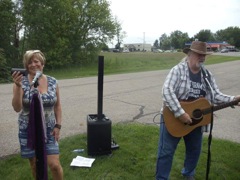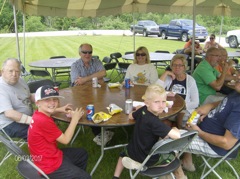 Steve talked our dad into doing a Kielbasa cookout way back in the early 90s. Steve's idea was to popularize the idea of Kielbasa made into a bun size for grilling and eating like a hot dog. Dick's Market is famous for their award-winning kielbasa. During the summer, Dick's Sausage Shop makes bun-sized Kielbasa. A great idea, but Steve thought we needed to have a community cook-out to publicize the idea. Well, I think Steve met his goal. For example, Steve made about 900 kielbasas for this 24th Annual event, and sold out after less than three hours. I asked the crew to save one for the guitar player, but I got forgotten in the rush. Oh well, bun-size kielbasa was on sale in the store, "Ten for $10". Nice price.
Steve does a kielbasa cook-out near the beginning of June, and a brat cook-out near the end of August.
The cook-out with Dick's Kielbasa and Brats has spread, so now he is doing Brat cookouts in the Dorr park during their July 4th celebration. He also puts on a Brat cook-out for Sandy Pines during their annual Benefit Color Run.
That'll teach Steve to come up with more work-intensive ideas. There is also a Dick's Kielbasa Cook-out for the "Kielbasa Idol" competition in West Grand Rapids every June. Another Dick's Brat cook-out event is the "Wurstfest" in Burnips every August.
We love playing music for these events, because it's always a family affair, with all ages enjoying the social get-together. It's a community picnic lunch.
Saturday Lunchtime

---
KaRTunes Blog - May 2017
• May 26 - RKO Tricks Trio @ Oak Grove Tavern, Irons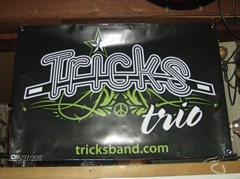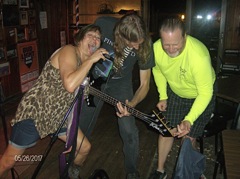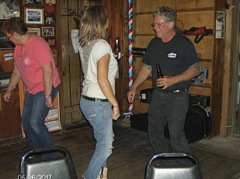 Our first gig in Irons for 2017 was a blast. We didn't get a packed house like we expected, but there was no shortage of fun party attitude. Kinda reminds me of the Sidetrack bar near our place. Not very many shy people in the room. These people like to rock, drink, and dance - not necessarily in that order. And they sure let us know that they enjoy our selection of songs. With Rick's new drum machine, we really can do a good job with most of the Tricks repertoire. This night was the first time we ever played the electric guitar version of these faves; The Cars "Bye Bye Love", Ozzy "Crazy Train", Led Zep "Misty Mountain Hop", Deep Purple "Smoke on the Water", Police "Message in a Bottle", and Guns & Rose "Sweet Child of Mine". All thanks to the mighty Alesis Drum Machine. And the crowd really rose to the occasion with lots of dancing, cheering, and shouting comments. One guy said to bassman Ozzy, "we don't get to hear Deep Purple up in these parts". Lots of other comments and kudos.
Irons? Where's that? Is that up north? We get that a lot. If you know Irons, you don't have to ask many questions. You know it's one of those beautiful and secluded little towns in the north part of the Mitten. Not much phone signal. Just lots of hunting, fishing, hiking, camping, partying, horse riding, quad running, boating, and so on. Irons isn't quite as far north as Traverse City; about an hour south of TC. That makes Irons even more secluded and off-the-beaten-track than those big tourist areas. Thanks to Tommy & Tara Phelps, we got our musical start in Irons back in 2007. We are celebrating our 10-year anniversary here in Irons. It started with just the annual acoustic Krystal & Rick party-around-the-campfire that we call "Phelpstock" - for Tommy's birthday in July.
Previous to 2007, we did our live music at Tommy & Tara's place in South Haven. But the cops always stopped us at 10pm. So, we moved the annual parties to the Phelps cabin, East of Irons, in the deep woods. My ex-Trendway work pals Kim & Linda started coming to the Phelps parties. Pretty soon, they wanted to throw their own musical party for their family and friends. So, we started playing annual music parties at Kim & Duane's place in downtown Irons. Starting in 2015, Tommy introduced us to the Oak Grove Tavern on main street in Irons, just a block north of Kim & Duane's place. So, now we're playing multiple nights in Irons, in and out of the woods.
In 2017 the Tricks Trio with Ozzy, Krys, & Rick is playing twice at the Oak Grove Tavern, that's all we could fit in. Then we play the 10-Year anniversary party for the Phelps family in July, "Phelpstock" with t-shirts; and we're bringing our drummer friend Skip. When we do Tricks Trio plus Skip, we call it "Band X". Then we'll play Kim & Duane's party in August - that's for Duane's birthday. The big new show for Tricks in Irons is going to be the Cowboy Festival in September. We're told that this is a party weekend as good as any biker party weekend. So, we're bringing in the big guns. This will be the very first show in Irons with the "real deal" - the entire Tricks band including Steve on Drums and Dave on Sound.
Thanks to Rick the owner for hiring us, and for setting us up with the Cowboy Festival. Thanks to Kim & Duane for coming over to dance with us ALL NIGHT LONG!! Thanks to Fran & Tom for driving all the way up here just to cheer us on at the Oak Grove. Thanks to Dorr Print Blitz for the new Tricks Trio sign. Thanks to Tommy & Tara for getting us started in Irons, all those years gone by. So many good happy memories with family & friends.
Friday

---
• May 12 - RKO Tricks Trio @ Fidler Furniture Open House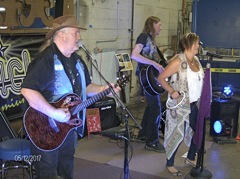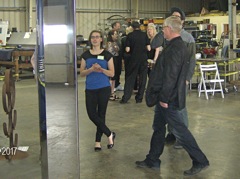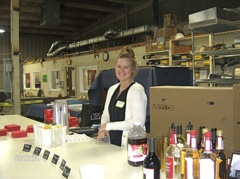 Thanks for our Allegan Area Art Council friend Jay, who works at Fidler Furniture Company. This company is owned by Steve & Laura Fidler, and they make custom lawn furniture, mostly artsy pieces made of stainless steel or other more exotic metals. Steve has even entered Art Prize several times with his stainless steel art

. The Fidler Company is doing well enough that they are moving into a new building on 36th St, a half mile east of Division - only a few blocks from where our soundman Dave lives. Steve & Laura wanted a live rock n roll band for their open house, celebrating their new building. Our friend Jay recommended the Tricks band. After seeing the venue, we talked them into having the Tricks Trio instead of the big loud band with real drums and everything. It turned out to be just the right match for this party. They expected a hundred clients to show up, but there only ended up being a couple dozen. We were told that the important thing was that their top handful of favorite clients showed up. So, we had fun rocking the factory. It's always cool to be part of a special occasion, and this was a special milestone for the owners and the employees. Everyone was super nice to us. We hope maybe Steve & Laura will have us play at another party, maybe at their house next time. You never know. Thanks to much to the Fidler company for hiring us and letting us be party of your special event. We loved the unique experience of playing music in a factory that creates unique artwork for homes and patios.
Open House

---
KaRTunes Blog - April 2017
• April 30 -

KaR Tunes @ Iron Bridge Deck Opening Sunday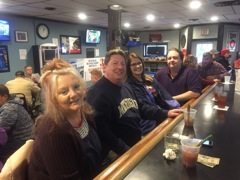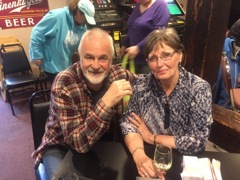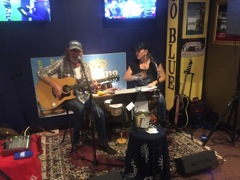 The Iron Bridge Bar used to be the place to go to get into a good bar fight on Saturday night. Tricks played there long ago when the name was "The Stables". And Rick played at the Iron Bridge a few years ago when they were trying to get some Sunday acoustic music going. Now, the new owners Rich & Melissa Green have given the Iron Bridge a second chance at life. They redesigned and cleaned up the interior decor, adding some TVs for sports watchers. They improved the kitchen and the menu, so they are doing good business during the day with business lunches and meetings. This is just what downtown Allegan needed; a nice place to meet up with friends and family, where you don't feel crowded out by the regular bar flies hanging out.
Now, to top it all off, Rich the owner built a bar for the outdoor deck behind the bar. They want to have live music on Fri, Sat, & Sun, with mostly solos and duets, maybe a small band now and then. This is perfect for some Rick Doogie Solo gigs and some KaR Tunes shows with Krystal. We have several bookings here for the summer. It's always going to be on the deck "weather permitting". And on Sunday, the live music is 3pm to 6pm, with a Bloody Mary bar and food available on the deck. Fri & Sat music hours will be 7pm to 10pm.
This Sunday was an all-day Grand Opening of the back deck. Ironically, it rained all day. So the celebration of the deck was not on the deck. But, they have a big tent over the deck, so people could go out there and check out the new outdoor bar, the bloody Mary set-up, and they grilled brats out on the deck as well. The music plan for this Opening Day was Krystal & Rick's KaR Tunes for the first couple hours, then Dave & Connie DeHaan for 3 sets, finishing up in the evening with The Bridge Band. We had a bunch of friends, family, and neighbors come out in support. After we finished out KaR Tunes show, we all hung out to hear from Dave & Connie, and their very eclectic setlist - just the way we like it!
Thanks so much to Rich & Melissa for having us. Thanks to Dave & Connie for the great jams. Thanks to everyone who came out for the occasion, especially those who drove a distance.ki
Iron Bridge Sunday

---
KaRTunes Blog - March 2017
• Mar 24 & 25

- Allegan Cabaret Band Show - Photos from Saturday the 25th only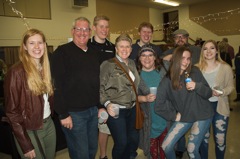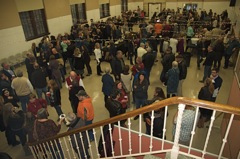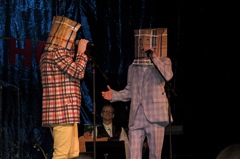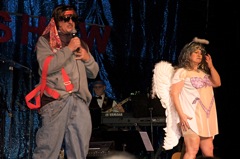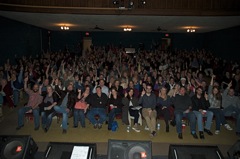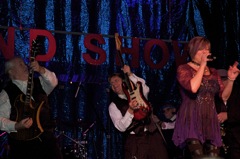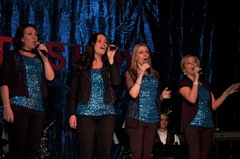 Talk about "work hard, play hard"! Many hundreds of man-hours were involved with putting this show together. Krystal and I each had well over a hundred hours of rehearsal and preparation time put into the Cabaret Band Show project. Krys did the program and advertising graphics work. It's pretty amazing to see all the pieces come together, thanks to the direction of Dean Michaels. Dean says he already has reserved the Griswold Auditorium for the 2018 show. Okay, we're in!
Thank you to the helpers from Allegan Area Art Council, Wings of Hope Hospice, and Children's Museum for doing all the odd jobs, including ushering, ticket-taking, concession & beverage, etc. We really had a smooth and professional show, and that's not an easy thing to pull off. I could fill many pages with stories from rehearsals and shows. With so many people involved, you can imagine the drama, the creativity, the teamwork, the arguments, and everything else that comes with a working family. Reminds me of working in the family grocery store as a youngster. Attitude is everything, and the attitude for Cabaret Band Show is "the show must go one" - no matter what roadblocks and problems pop up along the way.
Thanks to the entire Cabaret Band family; the singing cast, the band, the backstage workers, the artists, the sound crew, the lighting crew, the ushers and ticket-takers, the song arrangers, the photographers and videographers, the sponsors, the concession & beverage workers, the advertisers, and all of our families who took up our slack at home while we rehearsed. Special thanks to Tom Pratt for photos. Special thanks to our excellent sound man, Jerry Dick of Amplified Audio of Grand Haven. I want to encourage everyone to read their program; check out the cast bios and the sponsors - you'll learn a lot. Special thanks to Dean Michaels, of course - without Dean there would be no show, and his life is consumed by the Cabaret for three months. Most of all, thanks to the people who made up the wonderful crowds on all four nights; each night had a great responsive and appreciative crowd.
Now it's time for Krystal & Rick to get back to their Tricks band and KaR Tunes work. Shift gears!
Showtime!

| Pre-Party & After-Party

---
• Mar 17 & 18

- Allegan Cabaret Band Show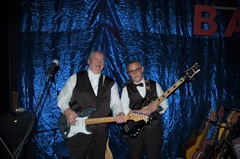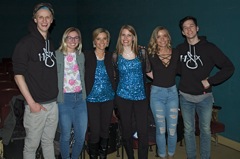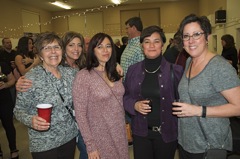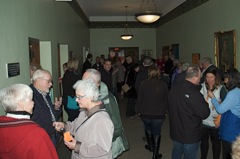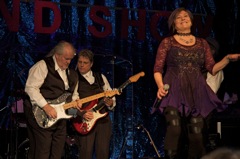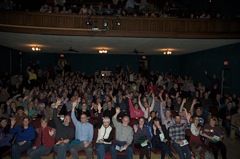 This is the 32nd "Nearly Annual" Cabaret Band Show. Nearly annual because the show was on hiatus last year, 2016.
The band and singers started rehearsals the last week of January. In only about 60 hours of rehearsals, we had to learn 36 songs backwards & forward, inside and out. After so many years of outstanding shows, the bar is set very high, and everyone knows it. Proceeds from the show go to three of the top Allegan non-profits; Wings of Hope Hospice, Allegan Area Arts Council, and Forever Curious Children's Museum.
Let the main beneficiary say a few words:
Wings of Hope Hospice says, "Music is a magnificent gift to humanity. This universal language connects to our hearts and our souls. It can move us to sing, to dance, to cry, ... A melody can take us to other places and times. ... Cabaret is a musical gift to our community. On four evenings in March, we come together to witness the combination of incredible talent and hard work. Hundreds of people grow silent to listen together, then burst into appreciative applause. For a time, we are on the same wavelength, of the same mind".
The Cabaret Band is: Dean Michaels on keyboards, sax, & flute | Greg Howard (former Tricks member) on lead guitars | Rick Dutkiewicz on electric, acoustic, and lap-steel guitars | Dave Swan on Horns, Acoustic Guitar, banjo | Jeff Clearwater on Bass | Don Pabis on drums & keys
The singing cast is: (The Female Quartet) Meghan Daniel, Shannon Dykstra, Dana O'Patik, Kristen Pennington,
soloists Tim Dickinson, Kristen Milbocker, Ross Menhart, Alva Morgan, Kevin Myers, Scott Chenard, Cal Klokkert, Dr. Paul Hodge, Dr. Chris Hodge, Bryan Fisher, and Krystal Dutkiewicz.
I think it's cool that the 4 main backup singers are two pairs of sisters: Meghan & Kristen are daughters to Dean Michaels the Director. Shannon & Dana are daughters to Marcia Halloran (longtime Dick's Market Deli manager.)
Thanks to all the sponsors. Thanks to all attendees. Thanks to all the volunteer workers: Forever Curious and Wings of Hope for ushers and AAAC for Concessions. Thanks to the cast and fellow bandmates. Thanks to Marcia Halloran & Rose Walker for the pre-party food. Thanks to Jerry Dick of Amplified Audio for great sound system and work. Thanks to Tom Pratt for camera work. Thanks most of all to Dean Michaels. Rick and Krystal have worked with Dean since we got acquainted with him in the early 90s, working in the annual Allegan County Scholarship Pageant. Dean approached us to work in the 2015 Cabaret Band Show, so this is just our second year doing this show. It's a lot of work, and we have to share our Cabaret hours and days with our other music work in the Tricks band and our acoustic shows. The show raises thousands of dollars for Allegan non-profits, and that's the reason we continued for this second year. Next year is a strong possibility, but we'll see what happens.
Fri

| Sat

| Rehearsal

---
KaRTunes Blog - February 2017
• Feb 14 - KaR Tunes, Valentine's Day Dinner at Hilliards Corner Lounge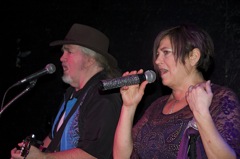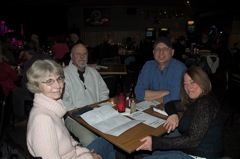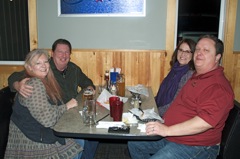 This was our first music show for the "new" owners, the Stein family. Actually, Steins are the old owners; the land-contract reverted to them when the old owner Eric decided to give up the business. We love doing the love songs and the family events. This was a lovey-dovey events for couples, and it matched our expectations perfectly. The food was great, give Steins a big credit for the excellent food at Hilliards Corner Lounge. The weather was pretty good. A nice almost-warm sunny day, with just the slightest snowfall in the cold evening. The crowd was great - thanks so much to all our friends for showing up to eat, drink, and dance to our Krys & Rick tunes. We started right at 6, and everyone was hanging out with us until we finished around 9. We had friends and neighbors from far and wide. Thanks to those who drove a distance to join us on this day celebrating love. We had friends from G.R., Fennville, Allegan, Hudsonville, Grandville, Middleville, and Wayland. We've only had a couple acoustic gigs in the past 4 months, so we were happy that our song memory banks were clicking. We added a few Krystal & Rick song rarities; Bryan Adams' "Everything I Do", Supertramp's "Even In The Quietest Moments", Adelle's "One And Only", Stones' "Sway", Linda Ronstadt "Heatwave", and Indigo Girls' "Closer to Fine". We surprised ourselves by doing a pretty good job on all those rarities, as well as our regular everyday crowd pleasers.
Thanks to the Steins for having us. Thanks to friends for coming out on a weekday night. Thank you dancers!


---
KaRTunes Blog - January 2017
• Jan 28 - KaR Tunes, Lynx 4th Annual Beach Party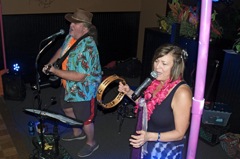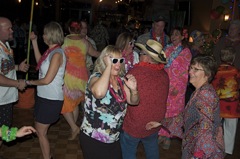 We love this place. The Lynx is close by for us, not too hoity-toity, not too shabby, great food, beautiful golf course with lots of woods, and a staff that is friendly and professional. They know how to do events. They do lots of golf outing benefits, weddings, comedy nights, "art and wine" nights, and lots of other events. This one is a special annual event to celebrate mid-winter. We're halfway through the cold weather, and golf weather is right around the corner. It's a Beach Party. Everyone is encouraged to wear beach attire. What a colorful event. The decorations were over-the-top. There was a great selection of door prizes, indluding t-shirts, hates, sunglasses, drink glasses, umbrellas, ... a bunch of beach-related items. At the night's end, Rick got a pair of Jack Daniels "Tennessee Honey" wrist sweatbands.
Someone told me that they went to the Lynx on Friday to get reservations, and there were only 20-some names on the list. Jim the owner told me during 2pm set-up that there were about 38 names reserved, with a couple regular groups not able to attend. We were prepared for a half-full room, but that's not how it ended up. We had at least 70 party people filling the room. There were several couples there from Sharon's Dance Studio in Kalamazoo, from the bigger group that came last year. We had lots of dancing action for nearly every song. We dusted off the summer / beach songs we learned for last year's party. We are even talking about adding one or two of those songs to the Tricks repertoire. The main candidate for a Tricks addition is Linda Rondstadt "Heatwave".
There were great munchies, including a taco bar and desert table. Lots of Margaritas and Piña Coladas. There was also a photo booth set up, and we had a Limbo contest. I can't think of anything that would have made this night more fun. Thanks to everyone who came out and made it a great party night. Thanks to Jim & Pam and the Lynx staff for your hard work.


---

to K&RBlog Late 2016 (Jan - Jun)


to K&RBlog Late 2017 (Jun - Dec)
Thumbnails