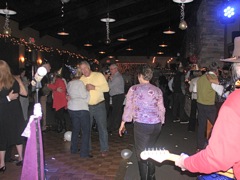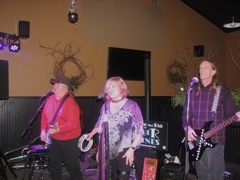 Wow! What a great way to wrap up 2017! Jim Szilagyi (read about Jim when he bought the Lynx just five years ago

) his Lynx staff really know how to put on the ritz. It was a sell-out dinner crowd with about 65 being served a sit-down plate dinner of 5 courses. Jim and his wife Pam had the place decorated to the T, and there were plenty of waitresses on hand to keep all the tables well-served. And the dancing! Wish we had some better pictures. Krystal had the camera and was kept busy rocking out the tunes with Rick & Ozzy. But, you can get some idea from the few photos we have. A big highlight was having several couples from Sharon's Dance Studio in Kalamazoo. Se see them regularly at Lynx dinner/dance events. Those people really set the dancefloor on fire. They have such a fun attitude and they love dancing so much; it really inspires everyone else to get out there dancing as well. Our KRO Trio had all we could do to keep up with all that dancing energy. At many shows and events, we're used to being up there doing all the work. But not this night.
We did an early count-down to 2018 at 9pm EST. We actually had a clock displaying the time zone 3 hours ahead of EST. Oddly enough, it took some doing to find a time zone that is 3 hours ahead of EST time at this time of year. Most southern Time Zones are observing daylight savings time, so that throws things off a bit. We found only one small area in the South Atlantic that is 3 hours ahead of us at the stroke of New Year's midnight. Jim found a clock online that displayed the digital time for King Edward Point, the capital of the South Sandwich Islands. He piped that through one of his big-screen screens near the dancefloor. Just before that clock showed midnight, we stopped the music and let everyone hoot and holler as they counted down to New Year 2018, GST (South Georgia Time in South America). The balloons were flying and the noise makers were squeaking, as everyone hugged and kissed. We sang "Auld Lang Syne", and then went into Allison Krause "When You Say Nothing At All", a suitable love song for dancing in the new year. A beautiful sight to see all those friends and lovers holding each other.
The true meaning of every New Year's Eve celebration is the recalling of all the good and bad of the previous year, with hopes that we will bring forward most of the good and leave behind much of the bad, with a little help from our friends and family. Thanks to everyone for getting together for this highly meaningful get-together. Special thanks to those who had to travel a distance to get here. Special thanks to Jim and Pam for the awesome decorations that provided the perfect ambience for such an occasion. Thanks to the Lynx staff and chefs for great food and drinks, along with fast & friendly service. Thanks to Jim for having us. Thanks to Sharon's Dance Studio dancers, and all of you "regular" dancers. You light up our life. We love all of you and are honored to be a part of such a great event.


---
• Dec 22 - RKO Tricks Trio, Iron Bridge, Allegan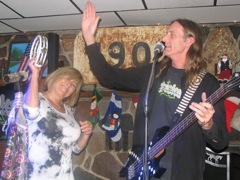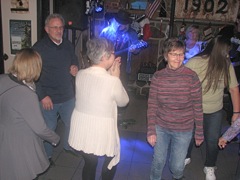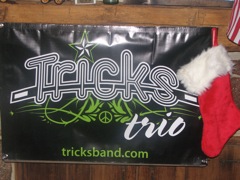 Way back in August, after several fun musical evenings on the deck with Krystal & Rick acoustic style, Rich the owner was looking to book some indoor band-type shows for fall & winter. We had no dates open in Sep or Oct, so we booked one Nov Saturday. Rich wanted us to play Dec 23 Saturday, but Rick predicted that Friday would be a better crowd - Saturday would be lots of family parties, but Friday would be the perfect after-work party night to start the long Christmas weekend. As I like to say, "when you're right, you're right" (That's what philosophers call a "Truism" - "an obviously true statement that says nothing new or interesting"). We had the best party at the Iron Bridge. Just as predicted; Anyone who was anyone showed up for the Tricks pre-Christmas party. Lots of people had dinner along with festive drinks with friends and family. We saw lots of old Allegan pals. As you see in the pics, we had our little group of dancers who made the night more entertaining for the band. Thanks so much to the owners Rich & Melissa, and the Iron Bridge staff. We appreciate that it's a lot of work keeping up with serving a lively crowd like this one. Thanks to our friends who had to drive a bit to get here. Thanks to those good ol' Allegan friends, you know who you are! Thank you dancers! Merry Christmas and Happy New Year! We had a rocking good time here at the Iron Bridge.


---
• Dec 16 - RKO Tricks Trio, Ugly Sweater Christmas Party, Phelps Family, Fennville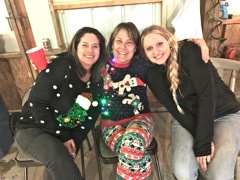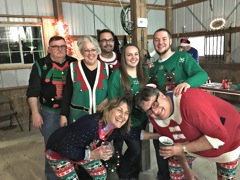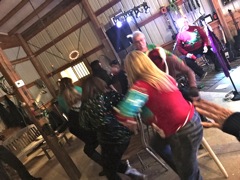 Krys & Rick have been doing live music for the Phelps family for well over ten years now, first at their home in South Haven, later as the annual "Phelpstock" party at their cabins up in Irons. Now that Tommy & Tara Phelps have moved to a new place just south of Fennville, they have a great out-in-the-country place to have parties. Half the reason why we stopped doing parties at their home in South Haven was because we would get the police showing up at 10pm to enforce their city's beloved Noise Ordinance. We know that Noise Ordinance thing well, even pre-Tricks. I recall when (Rick's band) Patchwork used to rehearse at Bill Roelof's place just west of Grand Rapids downtown. We rehearsed every Sunday (we were all around 20 years old, and had odd-hour jobs). Every Sunday precisely at 10pm, we would get the loud knocking on the door from the GRPD officers. Always friendly, always amused, they would say, "you have to stop, the noise ordinance says no noise after 10pm". They always said, "the music sounds good, though". We would say, "did neighbors call in to complain?", because several neighbors would gather on their porch to kick back and listen to our music. The cops would answer, "yes, we got a couple complaints over an hour ago, but we can't enforce the noise ordinance until 10pm".
So, now that the Phelps family has moved far away from any city noise ordinance, we are free to have rock and roll parties at Tommy's Party Barn / Man Cave. The barn is a newly refurbished horse stable with two large horse stalls, one for the wet bar and one for the potluck food. It works pretty well. Nice lay-out. During warmer weather, we can open the large barn door and make a campfire to sit around. This night was way too cold for any campfires, but the barn has a brand new furnace, so we kept cozy warm in our rock and roll party barn. Krystal and Tara came up with a few party games that were a highlight; we played musical chairs - what a hoot!, we played count the candy in the jar, and we had voting for Best Ugly Sweater. All the games had prizes - Tommy won the "Best Ugly Sweater", his daughter Abby won musical chairs, and family friend Gina won the "count the candy". There were about 30 people in all, close friends and family. Several Tricks friends were there as well. This was one of those parties that we always talk about, making memories and celebrating love and friendship.
The Tricks Trio rocked it from about 7 to 11, and we had fun dancing action. All in all, a great Holiday Party. Thanks to everyone for coming. Thanks to everyone who brought food. Thanks to Krys & Tara for the games. Thanks to Harold for renovation work. Thanks to Tommy & Tara for having us. We love you guys! Thanks Dancers! We love you too!


---
• Dec 8 - Ozzy & Rick Duo at Schaendorf Employees Holiday Party, Hopkins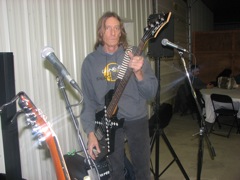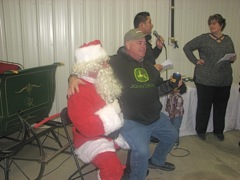 Every year for the past six years, Krystal & Rick have donated a 3-hour show to the Wings of Hope Hospice Auction in the springtime. The Auction people packages our music show with a caterer, to make it a "Music & Food" party package. And we usually bringing in around $2,000, since the whole idea is to give money to Hospice. This year, we were coupled with Bill's Smoking Pit, specializing in Barbecue beef and chicken. Our party package was won by the Schaendorf Family Beef Farms in Hopkins. We've seen many e-mails flying back and forth between Bill and Krystal, trying to nail Schaendorfs down to a party date. They finally decided to use us for their annual employee Christmas Party. We told them that half of the music duo would be out-of-state on that date, but they didn't care if we did a Doogie Solo show or an Ozzy substitute duo thing. I thank Ozzy for stepping up and giving his time for the Hospice cause, and for the Schaendorf family. It turned out to be a very warm and cozy party. About 80 people, with plenty of little kids along, since Santa was making an appearance. Just a week before the party, Bill the caterer passed on the request for some "Hispanic Christmas music", since about half of their employees are Spanish-speaking immigrants. Rick went on Amazon and bought an mp3 album of Hispanic Holiday tunes, and that worked out just fine for our breaktime tunes. Anyway, check out the pictures, the Ozzy & Rick show was background music for their nice party and dinner. We always love playing live music for these family events. Thanks to Schaendorfs for supporting Wings of Hope Hospice.


---
• Dec 7 - Ozzy & Rick Duo at Village Inn, Holland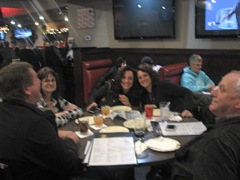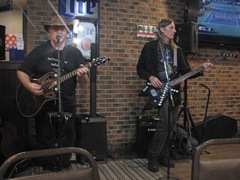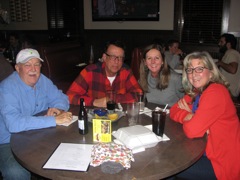 With Krystal gone for a week to help her dad move to Florida for wintertime, we made it an "Ozzy & Rick" show for our First Thursday at Village Inn. The day conincided with our first snow accumulation of the season. Roads were slippery and people were learning how to drive all over again. Considering the couple inches of snow and ice on the roads, I can't blame friends and fans for not coming out for our special Ozzy & Rick jam session. We still have about 15 friends show up for the fun, but the place was not as packed as it usually is. Thanks to Jane & Craid for bringing a crew out for pizza and jams. Thanks to Bev & Steve for bringing your friends out. We appreciate the support from everyone. Thanks to Michael the owner and thanks to the Village Inn staff for being so friendly and professional.


---
• Nov 11 - KRO Tricks Trio at Iron Bridge, Allegan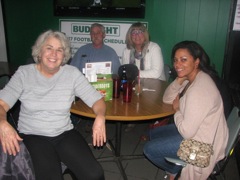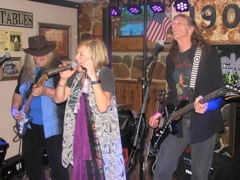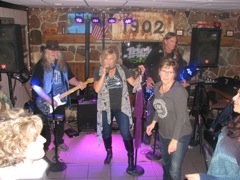 Here's another "new" venue for us. Not new, just new owners. And this night was a celebration of one year under new owners, Rich & Melissa Green. At first, Rich contacted K&R and was saying, "I don't want to have bands, I want singles and duos like you guys". We did KaR Tunes acoustic duo shows on the Iron Bridge deck several times this past summer. But now we're looking at doing some Fri or Sat nights at the Iron Bridge. I see on their Facebook page that they've been having some 3 or 4-man blues bands, and even the 5-man local favorite band "Strum Dumb and Dumber" with our pal Greg Howard at the helm. We took the initiative and went to talk with Rich the owner about our upcoming winter-time dates at Iron Bridge. When we said, "how 'bout we bring along our bassman Ozzy, and make it a trio, and more like a band"? Rich said, "to tell you honestly, I don't care. You guys are well-loved by everyone here at the Iron Bridge, and I know whatever you do will be well-loved".
So, it was another Tricks KRO Trio show. We had lots of Lake Allegan neighbors and Allegan area pals show up for our rock and roll party at the Iron Bridge. Very fun. We'll be back on Dec 22, the Friday night before Christmas - another Tricks KRO Trio party night. Thanks to Rich & Melissa. Thanks to our friends who came out to make it a fun night for everyone.


---
KaRTunes Blog - November 2017
• Nov 2 - KaR Tunes at Village Inn, Holland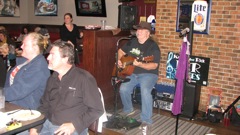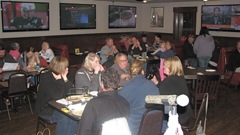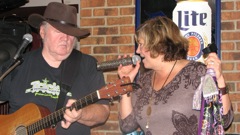 Here we are, back at our new place, Village Inn Pizza in Holland. This is the fourth time Krystal & Rick are playing here in the past two months. So, we're wearing our support thin. Our first 3 shows here, we had about 20 regular supporters, Rick's pals from Trendway and some Tricks fans who travelled a bit to come out for an evening of pizza and K&R tunes. This time, I think we had about 7 friends there. Good thing the place is popular and doesn't really need us to help fill it up on a Thurday night. The place was pretty packed. All ages; families out for dinner, sportsfans gathering for Thursday Night Football, and people who like the craft beer offerings, most notably the selections from Founders Brewery that were recently added.
KaR Tunes will be playing here every First Thursday of every month, in the foreseeable future. We might also play the 3rd Thursday of each month at the Grand Rapids Village Inn, owned by the same people.
First public performance of two new Doogie offerings: Jethro Tull's "Skating Away On The Thin Ice Of A New Day", and Snow Patrol's "Chasing Cars".


---
KaRTunes Blog - October 2017
• Oct 14 - KaR Tunes at Indian Shores Oktoberfest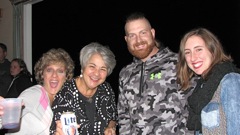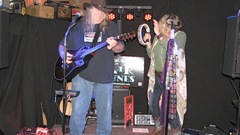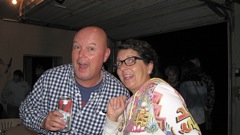 Our R&K neighbors from Lake Allegan Indian Shores community always come to our Iron Bridge shows. At our Aug 25 Iron Bridge party on the patio, our neighbor Jack got the idea to have an Oktoberfest party at his place, about three blocks from Krys & Rick's place. The weather was nothing but rain and wind and cold, but we had a great get-together in Jack's big 4-stall garage. Like usual, we had plenty of dancers. Everyone was urging Jack to make this an annual thing, so I guess we'll see about getting that date saved on our 2018 calendar, which is already filling up nicely. Thanks to Jack and all our beautiful party neighbors.


---
• Oct 12 - KaR Tunes at Village Inn, Holland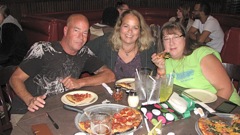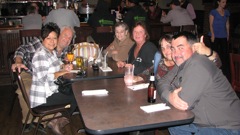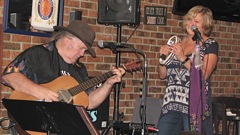 Michael the owner called us back for another Thursday at Village Inn, Holland. We haven't quite settled on a regular schedule, but it's looking like we're gonna try to do every 1st Thursday of the month with KaR Tunes at Village Inn, Holland. We also might be doing 1st Saturday of each month at Grand Rapids Village Inn. At our debut, two weeks ago, we had 17 K&R friends who came out to support our opening night. This time we thought we might have 7 regular K&R friends there. Much to our surprise and delight, we had over 20 friends there. It was mostly Doogie's Trendway and Ex-Trendway pals. Years ago, the Allegan Longbranch bar used to have "Perrigo Drinkers Night" on every Wednesday. Maybe this Holland Village Inn gig will turn into something like that for a monthly "Trendway Reunion Get-Together". You can never count on such things, but who knows? Thanks again to Michael, to the great wait-staff, and our amazing friends.


---
KaRTunes Blog - September 2017
• Sep 28 - KaR Tunes Village Inn Debut, Holland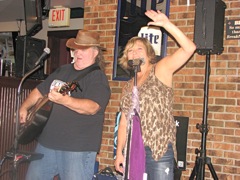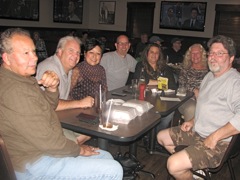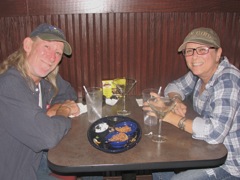 During one of our Boatwerks Deck shows, actually while we were packing up, we were approached by this guy who walked up boldly and said, "I e-mailed you already". Rick answers, "huh? What?". This dude repeats himself, "I e-mailed you already". And thankfully, he went on. "I'm the new owner of Village Inn and you guys are the exact kind of music we want to have". Michael went on to explain how he wanted more of a live dinner music show, not bands like they've had at Village Inn forever. He said, "I like how you interact with each other and how you relate to the crowd". Well, we got a chance to see if we lived up to expectations. This was our Thursday debut at the Holland Village Inn. We put the word out for some supportive fans, and we ended up with a head-count of 17 Krys & Rick friends/fans there. Along with a decent crowd of regulars. Here's the message we got from Michael the next morning, "You are Krystal are awesome. Let's connect when I get back from an extended weekend to talk about future appearances. I believe your type of music is exactly the style my Guests appreciate." So, that's very cool. We could use another regular K&R gig to get us through the winter months when Tricks is in Steve's basement. Michael mentioned giving us every first Thursday of the month. That's prettty good for us. The right night for people to go out and start the weekend early with a pizza & beer, and a KaR Tunes show. Thanks so much to Michael, the Village Inn staff, and all our friends who came out to support our debut here.
PS - The Holland Village Inn was in the news the very next day. They had a fire near the front door, where a smoker had tossed a butt into the mulch. The mulch caught fire and some outdoor woodwork caught fire, eventually burning into the rafters. It was only about $5k of mostly smoke damage and they were open again the same day.


---
• Sep 15 - Tricks RKO Trio, Cowboy Dinner, Oak Grove Patio, Irons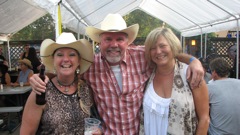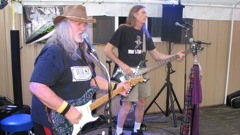 This weekend was a milestone for Tricks. It was the first time we ever played a concert at noon. And it was the first time we played with Steve in Irons (Okay, not counting 1977, because that was a lifetime ago ). We've been playing live music in Irons for over 10 years now, and we practically feel like Irons is our 2nd hometown. We play four or five times in Irons each summer, usually with Ozzy playing bass with Krys & Rick. We do parties out in the backwoods at the Phelps cabins, we do parties at Duane's party barn in downtown Irons, we've played a couple backwoods parties in nearby Kaleva. In addition to those annual parties, the Tricks Trio (Krystal, Rick, & Ozzzy) has been playing a few times each summer at the Oak Grove Tavern in Irons. The Oak Grove owners Rick & Wayne host and sponsor the annual Irons Cowboy Weekend. Every year, every Irons party, every Irons bar gig, we beg Steve to come up and join in the fun. 2017 was finally the year that Steve brought his drums to Irons. And it was a great time, even though we had start set-up around 9am, so we could be ready for our noon to 3 show. The Cowboy Weekend (see horse photos on their FB event page

) is nearly a week-long afair, starting with horse trailers, Cowboys, and Cowgirls arriving on Wed night, with rodeo contests, rides, and dinners all day Thu, Fri, Sat, & Sun. On Monday morning the Oak Grove hosts a free "Survivors Breakfast" for everyone who made it the entire long weekend.
Last year, Rick the owner at Oak Grove asked Krys, Rick, & Ozzy if we could get the big band to play at the Saturday luncheon, at the halfway point of the Saturday wagon ride. Steve surprisingly said yes, even though it involved taking a busy Saturday off from his store business. Krys, Rick, & Ozzy played the Friday night dinner at the Oak Grove, and after a night of rocking on the patio, we got up early to head out to the halfway point party place, which ended up being our Dorr friends, the Fifelski family. The Fifelski name is well-known in the Dorr area because they own three gas stations, and their grandpa Floyd owned the Sunoco station in Dorr while Steve & Rick were growing up.


Friday Trio on Oak Grove Patio


Sat Halfway Luncheon, Tricks at Fifelski's
---
KaRTunes Blog - August 2017
• Aug 26 - KaR Tunes, Boat Club Party, South Haven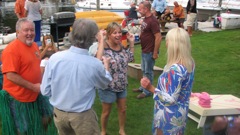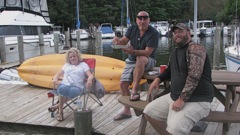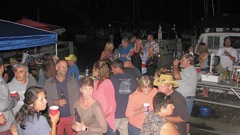 This big bash deserves more photos, but you can see we had our hands full keeping up with this bunch of party boat-people. It was a combo-party for several good causes, included at least 3 birthdays and a bachelor party. They had a big screen TV outdoors for the Mayweather vs McGregor big fight on Showtime Pay-Per-View at 11pm. So we had a firm quitting time. We started rocking out a little before 7pm and went until about 10:30. The location was right on the Black River, just a mile north of downtown. The weather was just about perfect, maybe a little cool for August, but these boat people are prepared for any weather. We actually felt a few drops just as we were passing 10pm. The Margaritas were flowing, and there were plenty of other beverages and food. And we had lots of grass-dancers, after some of our friendly encouragement, the dancers took the hint. We decided to BRING IT from the beginning, and we held back from doing a lot of our slow songs. We wanted to rock this crowd, because they looked ready to go. Sure enough, we had a record-breaking tip jar, plenty of grass dancers, and way too many nice compliments. And they told us to ink in Aug 25 for next year's boat party bash. Thanks to Jeff for getting up and doing a couple songs, great job. Thanks to Bob and Vicki for hiring us. Happy 50th, Bob! Wishing you many many more. Thanks to all you new Krys and Rick friends and fans. If we get follow-through on the offers we heard about, we'll have at least four more parties on our 2018 schedule. We handed out biz cards to people interested in having their own little party with KaR Tunes music. Words can't express how much we love doing these events with friends and families. Playing the weekend rock bars is fine and fun, but it's so special to feel like part of the family after singing at a party for a fun group of friends like this one. Thanks, and see you next year.


---
• Aug 25 - KaR Tunes, Iron Bridge, Allegan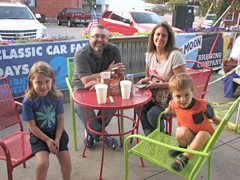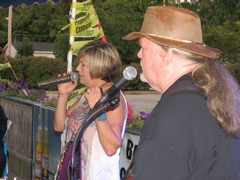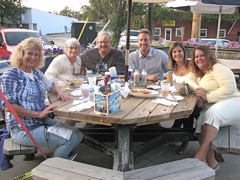 Another deck show finale for 2017, this time it's Friday night in Allegan, B's Beer Garden at the Iron Bridge. We had a nice group of regular K&R friends, family, and neighbors. It was feeling like autumn weather; people went to their cars and grabbed coats and sweaters as the sun went down. But, it wasn't windy, so it was a very pleasant night on the deck. Rich the owner always encourages us to bring the rocking tunes and the eclectic repertoire, so we got adventurous. We did a few songs that we haven't played in ages, and a couple that we never did acoustic style before. The best odd tunes were "Substitute" and "Pinball Wizard" by the Who, and "Lazarus" by Porcupine Tree. When someone asked if we did any Yes, we blundered our way through part of "Your Move" from The Yes Album. Great party crowd. Thanks to everyone for coming out, especially those who drove a bit to get here - you know who you are. Thanks to Melissa and Rich the owners for bringing this musical garden to the center of Allegan. I hope you can keep it going next year, and the next.


---
• Aug 19 - KaR Tunes, Boatwerks Waterfront, Final 2017 Deck Show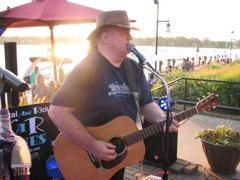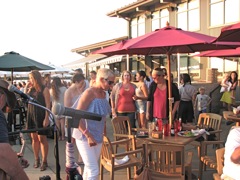 What a spectacular evening for a final Boatwerks deck show for 2017. This night was everything we love about Boatwerks. We love the food, we love the drinks, we love the ambience, we love the staff, we love the views. The only thing missing is room to dance. There are just too many people crowded onto the deck there on the Lake Macatawa waterfront. We always comment on the staff, "it's almost as if they like their jobs". Really, ... lots of places have good food and drinks, but it's rare to have such great "service with a smile". We always feel the love at Boatwerks. And this evening we were lucky to have a clear sky for a fantastic sunset over the water. Did I mention that Boatwerks has boat docks on three sides of the building? Yup, and there were plenty of boat people there this evening. Another cool thing is that there are all ages chilling out here on the deck. We get lots of little kids watching us with wide eyes and smiles. What a great place to gather for a party with friends and family. People are not shy here. We always get plenty of compliments from people walking past, either coming or going from their dinner party. "We love your music". "Thanks for playing 'our' music". "Really love the Dire Straits". "You guys look like you're having such fun up there". We really appreciate our times here at Boatwerks. Thanks so much to the staff and management, we know it's not always easy to keep the party going smoothly. Thanks to our friends who came out for our final 2017 summer night at Boatwerks.


---
• Aug 19 - Krys & Rick, Wedding Ceremony & Cocktail hour, South Haven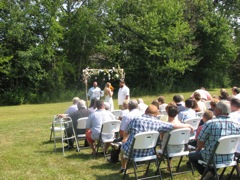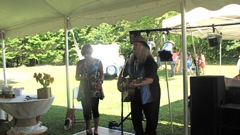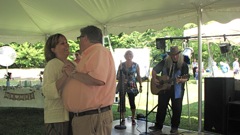 We love love. Matt & Abby requested "A Thousand Years" for their recessional song. And they also asked if we could do a set for their cocktail hour. We already had the Boatwerks deck show booked for this day, but we knew we could squeeze in this wedding on our way to Boatwerks. We had to keep one eye on the time, because we were cutting it close. Anyway, it turned out to be a beautiful day for an outdoor wedding - not too hot, not too windy. Just right! Tommy Phelps is father of the bride, so we did a song for Tara & Tommy to dance to "When You Say Nothing At All"; the song that we played for their first dance at their 2003 outdoor wedding. Glad that we could plug into the DeeJay's rig, to make it "hit and run" music. Thanks to Abby and Matt for having us. We wish you many years of happiness. We hope to play music for some of your anniversary parties in the future. Because, after all, we love love.


---
• Aug 18 - Tricks RKO Trio, Jim Ebeling Memorial, Decatur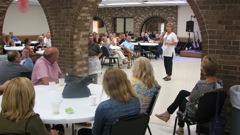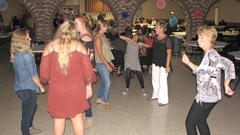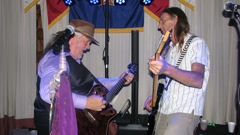 Krystal has worked alongside Dina Hestera in the Perrigo Graphics Design Team for many years. Dina has been on many hiking, kayaking, skiing, and camping adventures with Krystal. She one of "Krystal's Dancing Girls" who liven the dance floor at many Tricks shows and KaR Tunes shows. Dina is also an outstanding artist active in the Allegan Area Arts Council, where Rick is a board director. So, you could say we are friends and colleagues with Dina. When Dina's dad Jim passed away, she told us that her dad specifically requested live KaR Tunes music for dancing at his Life Celebration / Memorial. We added Ozzy to make it the Tricks Trio, because that thumping bassline makes for a lot better dance music. As we were getting the band set up, a couple hundred of Jim's friends and family sat and listened to stories about Jim's life. The very first thing that Dina's older sister Donna started the presentation with was, "my dad loved to dance, and he taught all of his five kids to love dancing. And we all still love to dance and we have our dad to thank for that". How cool is that? Just what the band wants to hear while we're getting ready to play. We always say that we're honored to be part of special get-togethers with family and friends, and it doesn't get much more special than this Life Celebration. We tried to donate our music in honor of Jim Ebeling's memory, but Dina said, "my dad would be pissed if we didn't pay the band". Okay, twist my arm. Thanks to Jim's family for inviting us to play. And thanks for dancing. It was a heart-warming event.
A couple days later, Krys sent Dina a big bunch of flowers, and Dina painted a still-life of the flowers and made her painting into a thank-you card for everyone involved with her dad's memorial.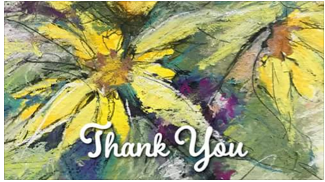 ---
• Aug 12 - Tricks RKO Trio, Kim & Duane Party, Irons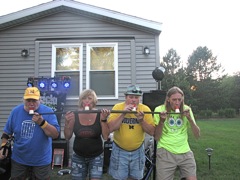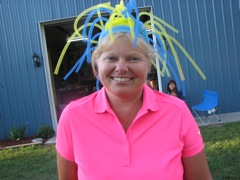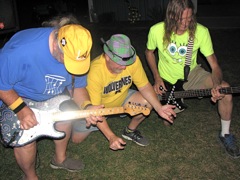 Here's another date that's been on our calendar for a long time. That's because it's an annual birthday bash party for Duane Lewis up in Irons. These people love to eat, drink, and dance. And they love their classic rock. It really worked out well that the Trio has just learned Bob Seger "Old Time Rock and Roll" for the wedding we did two weeks ago. Kid Rock's "All Summer Long" is also a huge hit. So, we do the long version, milking out long lead-guitar breaks and adding extra verses. Krys & Rick really blew out their voices at this one, rocking it hard in response to the cheering dancers. There were only about two dozen party people there this year, but they easily matched the enthusiasm of two hundred. We always count this as one of the top highlights of our summer. Thanks so much to Kim & Duane and all your friends and family who make this one of those "best ever" parties each and every year.


---
• Aug 11 - KaR Tunes, Lynx Patio Party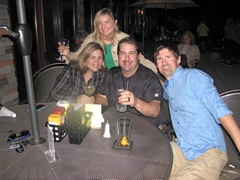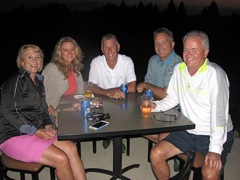 Jim the owner at the Lynx Golf Course has had this party pencilled in for a long time. We only firmed up the date a few weeks ago. Jim knew that he wanted to have a Friday night party on the patio with KaR Tunes music, but he had a hard time scheduling a date because of all the golfing activities that go on all summer long at the Lynx. And the weather has been pretty good this year for golfing. Well, we finally decided to go for it, and we found a Friday when Krystal & Rick were free. And now here it is. They did a "Nine and Dine" golf scramble with 60 golfers, but we also had another couple dozen reservations for the patio Barbecue dinner - Chicken, Sweetcorn, etc. A real gourmet summer picnic on the deck. We heard lots of compliments on the food and the ambience. As if all that good feeling wasn't enough, we had dance-school dancers there dancing the Rumba, Swing, Cha Cha, and so on. We are always honored when trained dancers think our music is worth dancing to. Good thing we brought the new drum machine to punch out that dance beat. Jim the owner was so happy with this evening, he wants to do another one in early September. I don't think we are free, so he might need to find other live music. One thing for sure; we are doing New Year's Eve here at the Lynx on Dec 31, Sunday night. We're pushing to make it the Tricks Trio with Ozzy, but nothing is for sure yet. We always love playing at the Lynx. It's so beautiful way back off the road, among the evergreens and golfing greens. Thanks so much to our friends and family who showed up. Thanks to golfers for letting us play on your stomping grounds Most of all, thank you dancers! We love the artful flow of the dancing that matches our music.


---
• Aug 6 - KaR Tunes, Boatwerks Deck Sunday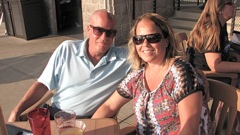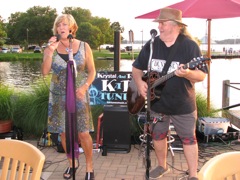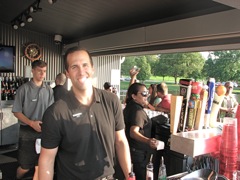 Last Summer Sunday gig on the Boatwerks deck. We had a record small crowd at the bar, with normal size dinner crowd. Silver lining? We had a record tip jar. Lots of those dinner people were dropping $$ in our tip jar as they were leaving. Lots of big compliments, "we love your music", "thanks for the great tunes, love the Dire Straits", "you play a great selection of tunes", "great guitar work".
Great weather. A lot like the weather last night for the wedding in Hudsonville - a little cool and kinda humid. Beautiful lake sunset. It was great to do another Boatwerks gig, after all the hard work doing weddings and Sandy Pines stuff the last couple weeks. Our candle is burnt at both ends, and it's nice to be in that chill atmosphere on the Boatwerks deck. We were approached while packing up by the new owners of the Village Inn. They said that they wanted to cool it on the big loud bands, and they are looking for duos or trios to do earlier live shows on weekends at Village Inn. They said our KaR Tunes show was exactly what they were looking for. I told them we might want to do the Tricks Trio there with our bassman Ozzy, to make it more of a dancing music show. They were anxious to get us into their schedule, so we'll probably be playing there by October.
Sunday night on the Deck

---
• Aug 5 - Tricks Trio, Tori & Branden's wedding, The Red Shed, Hudsonville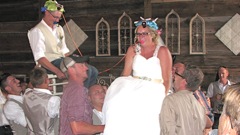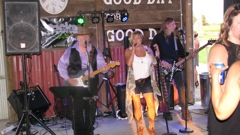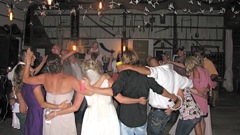 Two weekends in a row we're doing wedding receptions. This time as a trio with Krys, Ozzy, Rick, and a drum machine. The bride and groom, Branden and Tori, have come to some Tricks shows at AJ's in Dorr and the Dorr 4th Fireworks Show. What a fun time. Perfect weather, although a little humid. After getting married in the field across the street from the Red Shed, the bridal party went on a hay ride. Tori and Branden were completely against any formalities. They cut the cake after a buffet dinner, but that was about it. Rick learned a Tim McGraw song "My Best Friend" for the bride & groom's first dance. Then we rocked out.
Even though it was too nice and lots of the crowd were hanging around outside the big doors, we still had lots of dancers. We played our mp3 music during break time and that really got the younger dancers going. When we started the band back up, we kept most of the dance action going. When we took another break, we got into the pattern of doing requested mp3 music, including plugging in various people's phones for just the right dance song. People are so accustomed to having a wedding DeeJay where they can come up and demand song after song, so we had a lot of that. After 10pm, the dancing crowd was dwindling, so we packed it up while we kept playing requested mp3 tunes for the die-hard dancers. One very cool highlight was when Branden's uncle orchestrated a German tradition where the bride and groom get lifted on chairs, with chanting and a parade to the bar for a beer guzzling contest between bride and groom. We love being part of these family & friends events - I know I say it all the time, but it bears repeating.
Wedding Band Dancing

---
• Aug 1 - KaR Tunes, National Night Out, Kollen Park, Holland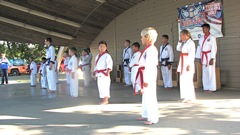 This has been a regular thing for Krystal & Rick for several years. A few times, we played in a smaller local park for a "get to know your neighbor" event. It was a get-together with many civic organizations, churches, police, firemen, and such. The main "National Night Out" event is held each year in many cities around the U.S.A. Holland has their NNO event in Kollen Park, right next door to Boatwerks on Lake Macatawa. We've been playing at Holland NNO for the last five years or so. The nationwide event is an effort to bring neighborhoods and law enforcement together to stop property crimes related to drugs and gangs. "Through camaraderie, understanding and awareness the campaign has made it possible for officers and neighbors alike to stand up for their safe towns and fight against drugs and crime peacefully." When the idea first started back in 1984, it was a call for one evening where neighbors turn on their yard lights and stay outside to meet and get to know neighbors. "The Lights On Campaign encourages citizens in every town or city to turn on their porch lights, lock their doors and spend the evening outside with their neighbors."
What a good idea, and what a fun time for kids. Thanks so much to Sue Harder at Holland City Hall for hiring the Krys & Rick team to provide music for this great event. We love doing it. The pie eating contest is a beir information boothes. It's just a good feeling.
Tuesday in the Park

---
KaRTunes Blog - July 2017
• July 29 - Sandy Pines Annual Color Run / Brat Cookout / Tricks Concert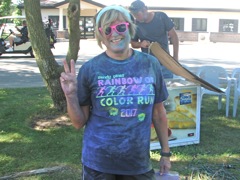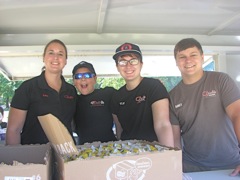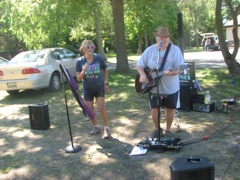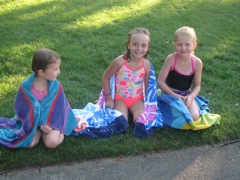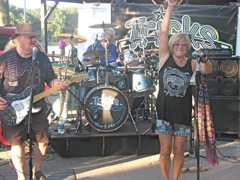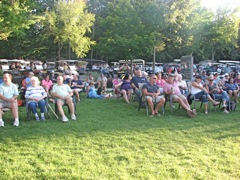 Talk about "Work hard, Play hard"! What a day this was. Almost as busy as the Dorr 4th. At least at Dorr we can partially set up the night before, because their stage can be locked up. Here at Sandy Pines, it's set up, play three hours of Krystal & Rick music, tear down, go home to rest for an hour, come back with the trailer, set up Tricks, play two and half hours, tear down and pack it up. We don't need to belong to a gym; we get some pretty good workouts power-lifting speakers, amps, and so on. The playing and singing in itself are a great aerobics work-out, involving lots of heavy breathing. I read somewhere that lifespan is above average for singers and swimmers - people who get good breathing work-outs. Did I mention that Krystal needed to pack one more thing into her busy day, so she ran the 5K in the morning? That lady is an inspiration to anyone whose motto is "Go, Girl, Go".
Perfect weather this time around. Last year it drizzled rain most of the day and we still had lots of fun. This time the weather was not too hot and no rain. A perfect summer day for the three big events: the annual "Sandy Pines Rainbow of Color Run", Dick's Market Brat Cook-Out with Steve in Charge, and a concert in the park with Tricks. Sandy Pines really does a top-notch job setting up events and activities for all ages, all summer long. Tricks and Dick's Market are glad to be associated with a class act like Sandy Pines Resort. They got it going on there. Such a chill atmosphere. Kids and families enjoying their summer vacation. We love being a small part of it all.
Dick's Market Brat Cookout with KaR Tunes

| Tricks Show

---
• July 28 - KaR Tunes at Iron Bridge, Allegan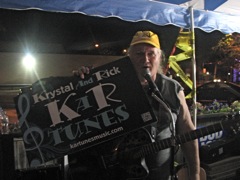 Our second show on the deck was even better than the first. The weather was great, the party people were finally recovered from the July 4 weekend. Back into the "normal" party nights of summer. The only regret is we don't have much room to dance on the deck. But chair-dancing is always allowed. Like usual, we had lots of friends and neighbors show up for some chillin' on the deck in downtown Allegan. A great location for people to drop in for a cold one. The rowdy little crowd was heckling Rick to go out on the limb with some rarities, so we did "Pinball Wizard" and "We're Not Gonna Take It / See Me, Feel Me" from the Who's rock opera "Tommy". Makes me laugh thinking about it. Perhaps we should rehearse some of those rarities before the next Iron Bridge Deck adventure. At the night's end, packing up, owner Rich came up and gave Rick a handshake and said, "wow, your song repertoire tonight was over the top good". Oh yeah, baby! We got more where that came from.
Friday Fun on the Deck

---
• July 22 - Band X at Phelpstock 10th Anniversary Party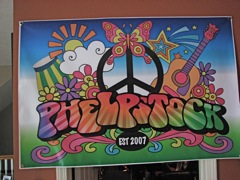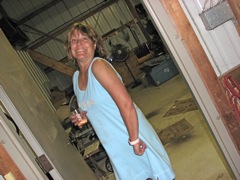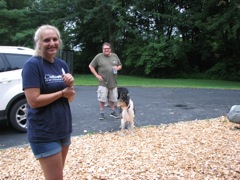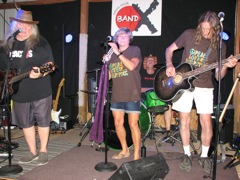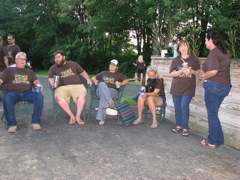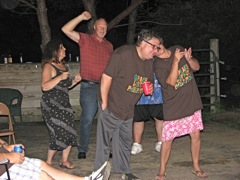 This party almost didn't happen. The annual birthday party for Tommy Phelps was ready to celebrate its 10 year anniversary. But, just two weeks ago, Krystal called up Tara and asked if they wanted to cancel the annual Irons party. Tommy and Tara are in the middle of moving into their new place in Fennville, so going up to Irons to host a party where maybe a couple dozen friends and family show up? It just wouldn't be worth the disruption of the entire moving plan. Krys told Tara that we could celebrate the Phelpstock 10th Anniversary next year, just as well. But Tara immediately said, "why don't we have Phelpstock here at the new house"? It could double as a house-warming party. After consulting Tommy, we had the go-ahead. We went ahead with the idea of making t-shirts for the Phelpstock regulars. Tara footed the bill for the t-shirts and she went the extra mile and ordered a banner. We ended up giving away 35 t-shirts. And the banner can go up to Irons next year for Phelpstock 2018. Thanks loads to Print Blitz in Dorr for the print job on the shirts and banner

- Who says you can have all three; quality, speed, low price?
When we started planning the "2007 - 2017 Phelpstock 10 Year Anniversary", Rick asked Tommy if we should make it a Tricks party. Tommy agreed to that - he's so easy about these things. We asked Steve and he couldn't do Irons on July 22. So we were happy to get our friend Skip Herrema to play drums for the date, and we revived the infamous "Band X". See the Band X webpage for the history of that side project

. To restore Band X to its former glory, we rehearsed in Skip's Hopkins barn a couple times. We also played for Skip's b-day party. So, Band X was in fine form for Phelpstock 10th Anniversary. I can't say "Phelpstock 10" because thise was actually our 11th Phelpstock. Do the math - if the first party was in 2007, and this is 2017... go figure. Any hoo ha, major thunderstorms were predicted for Saturday night, so Krys & Rick came over Monday to make a plan B in case of rain. Tommy ended up with the idea of making it a barn party in the horse stable from the old owners. We put the band in the stable and put the campfire & lawn chair circle right outside the big barn door. It worked out perfectly. The room sounded great because of all the wood. We made one of the two stalls into a buffet area, and there was plenty of great food to go around. There was even a nice area for dancers. An all-around cool party. Not a mob scene, because that's not what Phelpstock is about. It's about friends and family getting together in honor of our friend Tommy. We gave away all 35 shirts, so we must have had that many people. It seemed more like just a couple dozen, but there were friends who came early and didn't stay for much of the band, drinking, and dancing action. We love this party. Thanks to Tommy and Tara and all the minions who helped get the place in shape at the Friday night "pre-party" work session. Special thanks to Harold for his handyman work on everything. Thanks to everyone who brought a dish to pass. Thank you dancers! Thanks to Skip for taking time from his Landscaping business to rehearse with us. Great job Skip.
Pre-party Friday

| Party Saturday

---
• July 9 - KaR Tunes at Boatwerks in Holland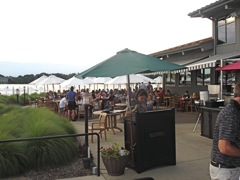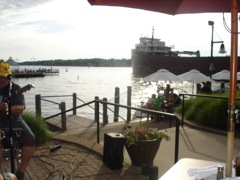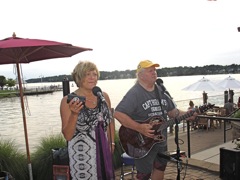 Our 2nd Krystal & Rick show at Boatwerks this summer on the deck. This summer we have four gigs on the Boatwerks deck, three on a Sunday and one on a Saturday. No matter what day, we make it a summer celebration. Great food, cold drinks, great lake views, friendly staff, and live music. I really mean that about the friendly staff. It's almost as if these people like their jobs. We hear nothing but good things about Boatwerks. We love this place, so we work extra hard to do a good job with our live music show on the deck. We always get lots of friends to show up, thanks to the good food and ambience. Thanks to our friends who showed up for a weekend wrap-up on the Boatwerks deck. Thanks especially to those who drove from Middleville, Allegan, Caledonia, Grandville, Grand Haven, etc. We love ya! Thanks to Boatwerks management for hiring KaR Tunes. And thanks to the staff for your friendly professionalism.


---
• July 8 - Band X at Skip's Lake Party, with a Raker reunion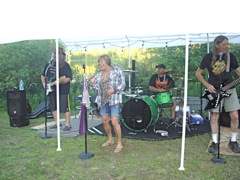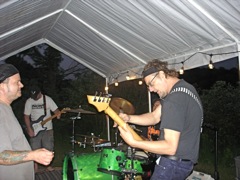 It's Skip's 50th birthday party. Skip and Tammi always throw a party for Skip's b-day out at his folk's place on Herlan Lake, just south of Hopkins. We decided it would be a good opportunity to have a "rehearsal" with Band X, so we would be ready for the upcoming Phelpstock 10th Anniversary party in a couple weeks. So, we brought a small sound system and tore it up for Skip's friends. Lots of fun for everyone, barbecue, beer, dancing, and some action out on the lake. The big fun surprise was the reunion of Skip's band Raker. They are on more or less permanent hiatus, but all four members managed to show up at the party at the same time. So, they got up and banged out some heavy metal tunes on Rick's poor little sound system. It actually sounded good, and the party really got some major excitement. It was a special treat and a fun memory that we all took with us. Thanks Skip for putting this party together. It was an honor to play for your 50th. See you at your 60th, maybe with wheelchairs and walkers. Grandpa Rick ain't getting any younger.


---
• July 7 - KaR Tunes at Iron Bridge Deck, Allegan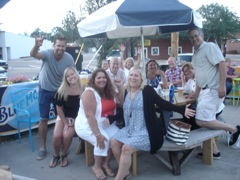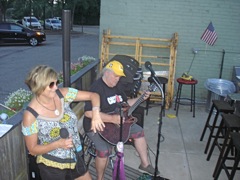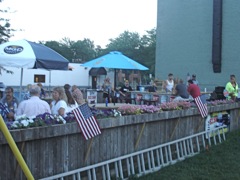 Finally! We finally have good weather for an Iron Bridge show. We got to play on the deck. They say, "third time is a charm", and here's your proof. And it was just as fun as we anticipated. It wasn't packed, but people are still recovering from a long Independence Day weekend. But we still had a good group of friends, neighbors, and Iron Bridge regulars. It was a fun Friday night for everyone there. Rich the owner was all about asking if Tricks could come and play on the deck. Not sure if we can swing that this summer. Maybe next year. Personally, I think the KaR Tunes show is perfect of the deck; they don't need a big loud band. People are chillin' and chatting. Oh well, we'll see what happens. Thanks to neighbors and friends who came out to support us at our very first deck gig at Iron Bridge. Thanks to Rich & Melissa for hiring us. And thanks for all the hard work you've been putting into making the Iron Bridge a great sports bar / restaurant / live music venue. We can't say enough good things about what you've done with the place.
Friday downtown Allegan -

---

to K&RBlog Early 2017 (Jan - Jun)


to K&RBlog Early 2018 (Jul - Dec)