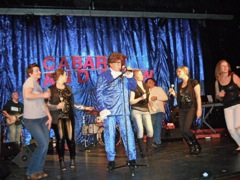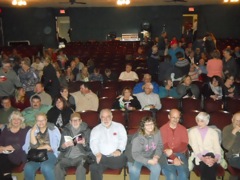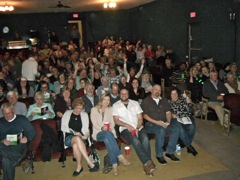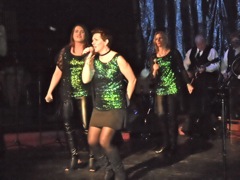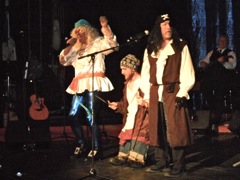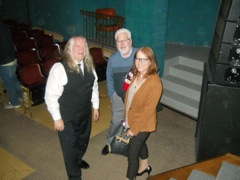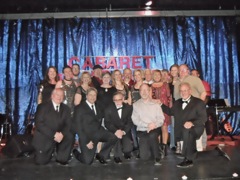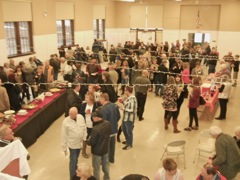 This was Rick & Krystal's third time doing the Allegan Cabaret Band Show. It was the 33rd show in all. We thank the director, Dean Michaels, for inviting us and keeping the Cabaret going all these years. This year, the show raised $16,000 for Allegan Wings of Hope Hospice, $6,000 for Allegan Area Arts Council, and $1,000 for Allegan Children's Museum. This show is so huge, you have to see it to appreciate it. There are about 15 singers that handle lead and support vocals for nearly 40 songs that make up the show. The back-up band is 5 guys; Dean Michaels on keys, sax, & flute, Greg Howard on electric, acoustic, and slide guitar, Rick Dutkiewicz on electric, acoustic, resonator guitar and ukulele, Jeff Clearwater on bass guitar, and Don Pabis on drums.
Song selection and rehearsal start in late January, so we have only about 7 weeks to prepare for the show. Besides individual and smaller group rehearsals, the entire group gets together every Mon & Wed evening. And the band guys get together every Saturday morning. Lots of blood, sweat, and tears go into the preparations. Dean Michaels shoulders the brunt of the load, spending hundreds of hours traveling around and hammering out the plans and details. Dean enlists lots of helpers, but ends up doing a lot of the legwork himself, besides being the band director, keyboard player, and MC for the show.
I guess I could go on and on about all the contributions from everyone involved, but that's way too long to rattle on, even for me. Special thanks goes to the volunteers from Hospice, AAAC, and the Children's Museum, for help with tickets, ushering, concessions, and other details. Special thanks to Marsha Halloran for putting together the buffet for the pre-show parties on the two Saturdays. Special thanks to our soundman Gerry, who does an amazing job making the show sound professional.
This year was advertised as the Final Cabaret Band Show. The show takes up nearly a quarter of Dean's year, and he ends up neglecting his family and his day-job as a construction/contractor fix-it man. So, the plan was to have a very cut-down version of Cabaret next year, possibly playing the show in some smaller venues. But, the demanding public had other plans. The requests and demands to keep the show going was overwhelming. By the beginning of the 2nd weekend of Cabaret, Dean had decided to give in to the clamoring of the masses. The show must go on! Next year's March dates have already been reserved at the Griswold Auditorium. We will push on. Dean is also looking into doing some of those smaller shows he was pondering. It's possible that "Allegan Cabaret On The Road" will be playing some shows as early as this summer.
Thurs Rehearsal

|Fri Opening

|Sat

|Fri

|Sat

---
KaRTunes Blog - February 2018
• Feb 24 - Tricks RKO Trio, Gentleman Jack's, Fennville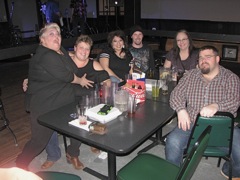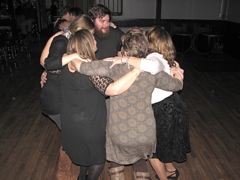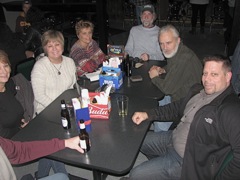 This was interesting. Tricks has several years of history at Sue's Sidetrack, between Fennville and Pullman. The new owners call it "Gentleman Jack's", and they're having regular bands every Saturday night. That pretty much leaves out the possibility of doing the big Tricks show there, but it's perfect for the Tricks Trio. We had a small crowd that was mostly people we invited, Krystal's Allegan friends, Tommy & Tara Phelps' family get-together, and a few old Sidetrack pals from the old days. They have that huge dance floor, and it's hard to fill it up. But, we did a pretty good job. We plan on being back here soon, with the Trio. Thanks to Gentleman Jack's owners and staff. So far, so good. We hope you can make this work.


---
• Feb 17 - Tricks RKO Trio, Holland Elks, Polar Plunge Benefit for Special Olympics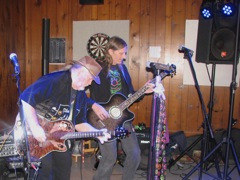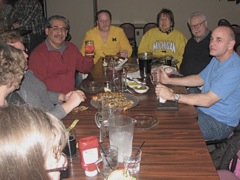 We're hoping this is just the first of many gigs here at Holland Elks. Thanks to Duane and Kim Lewis for hooking us up. This Polar Plunge is an annual benefit for Special Olympics. This year they raised over $40k and they had 97 people who dove into the cold water to get pledges from their friends. Great work, everyone! By the time we did the musical after-party, most people were heading home after a long afternoon. We've been asked back for next year's Polar Plunge, and they say they want to move the time up in order to keep some of the afternoon crowd here. The Tricks Trio did okay, though. We had a bunch of our friends and fans who showed up to support the band and the event. A highlight for Rick, Krys, & Ozzy was the chance to take our new "winter break" tunes on a test drive with the drum machine. All the new tunes went very well, I'm glad to report. "Pearl Necklace", "Heart of Rock n Roll", "What's Your Name", "Money for Nothing". But, the biggest new dance hit was the Shania Twain, "Man, I Feel Like a Woman".
Thanks to everyone for coming out to our first Holland Elks gig. Thanks to the Elks people for having us. We hope to be back soon.


---
KaRTunes Blog - January 2018
• Jan 6 - Rick Doogie solo Acoustic at Iron Bridge, Allegan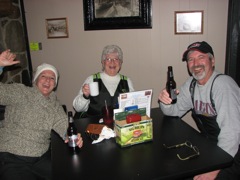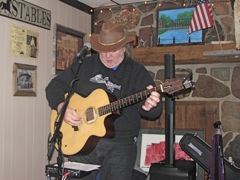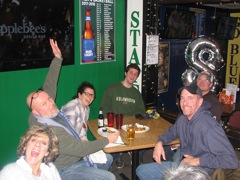 Krystal is out for the day, x-country skiing with her gal pals, and I get a last-minute call from Rich Green, the owner of the Iron Bridge. With only a few hours notice, I managed to get the word out to neighbors and friends. Add that party bunch to the snowmobilers seeking warmth, food, and drink, and it turned out to be a nice Saturday night shindig at the Iron Bridge. I was able to mix in some of my more obscure tunes with the popular stuff, because this crowd was open to anything and everything I was dishing out. I did my Counting Crowes and Matchbox 20 for neighbor Tim Miller, because it's all about the 80s and 90s for Tim. I brought out the Babicz guitar because it's been a while since I did a gig with that awesome-sounding instrument. It seems to have a piano-like quality to its sound. Ringy, deep, and clear.


---
KaRTunes Blog - December 2017
• Dec 31 - Dinner & Dance at Lynx Clubhouse "Lodge"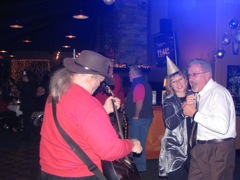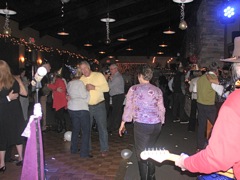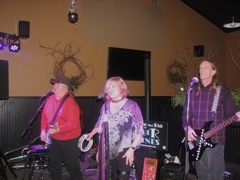 Wow! What a great way to wrap up 2017! Jim Szilagyi (read about Jim when he bought the Lynx just five years ago

) his Lynx staff really know how to put on the ritz. It was a sell-out dinner crowd with about 65 being served a sit-down plate dinner of 5 courses. Jim and his wife Pam had the place decorated to the T, and there were plenty of waitresses on hand to keep all the tables well-served. And the dancing! Wish we had some better pictures. Krystal had the camera and was kept busy rocking out the tunes with Rick & Ozzy. But, you can get some idea from the few photos we have. A big highlight was having several couples from Sharon's Dance Studio in Kalamazoo. Se see them regularly at Lynx dinner/dance events. Those people really set the dancefloor on fire. They have such a fun attitude and they love dancing so much; it really inspires everyone else to get out there dancing as well. Our KRO Trio had all we could do to keep up with all that dancing energy. At many shows and events, we're used to being up there doing all the work. But not this night.
We did an early count-down to 2018 at 9pm EST. We actually had a clock displaying the time zone 3 hours ahead of EST. Oddly enough, it took some doing to find a time zone that is 3 hours ahead of EST time at this time of year. Most southern Time Zones are observing daylight savings time, so that throws things off a bit. We found only one small area in the South Atlantic that is 3 hours ahead of us at the stroke of New Year's midnight. Jim found a clock online that displayed the digital time for King Edward Point, the capital of the South Sandwich Islands. He piped that through one of his big-screen screens near the dancefloor. Just before that clock showed midnight, we stopped the music and let everyone hoot and holler as they counted down to New Year 2018, GST (South Georgia Time in South America). The balloons were flying and the noise makers were squeaking, as everyone hugged and kissed. We sang "Auld Lang Syne", and then went into Allison Krause "When You Say Nothing At All", a suitable love song for dancing in the new year. A beautiful sight to see all those friends and lovers holding each other.
The true meaning of every New Year's Eve celebration is the recalling of all the good and bad of the previous year, with hopes that we will bring forward most of the good and leave behind much of the bad, with a little help from our friends and family. Thanks to everyone for getting together for this highly meaningful get-together. Special thanks to those who had to travel a distance to get here. Special thanks to Jim and Pam for the awesome decorations that provided the perfect ambience for such an occasion. Thanks to the Lynx staff and chefs for great food and drinks, along with fast & friendly service. Thanks to Jim for having us. Thanks to Sharon's Dance Studio dancers, and all of you "regular" dancers. You light up our life. We love all of you and are honored to be a part of such a great event.


---
---

to K&RBlog
Late 2017 (Jul - Dec)