KaRTunes Blog - Early 2020
KaRTunes Blog - March 2020
Mar 14 - Tricks Trio, Russo's St. Patty's Day party, Cutlerville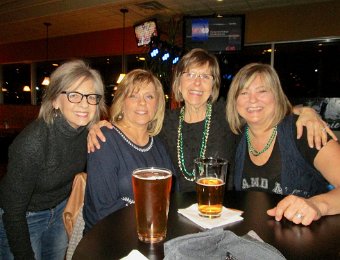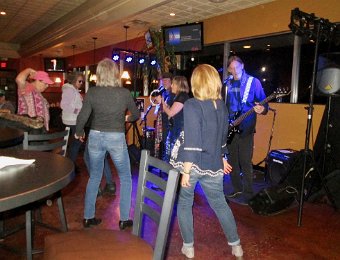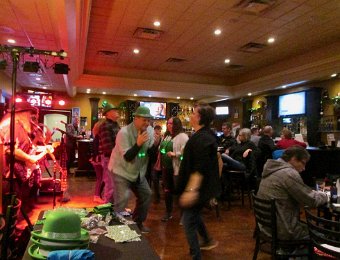 This is our first but hopefully not last Tricks Trio show at Russo's Pizzeria Bar & Grill. The world is gripped in hysteria and panic over the Corona Virus, and Michigan government has shut down any public gathering of more than 50 people (they will shut down all restaurants, bars, and theaters in a couple days). Brian the new owner put a lot into publicizing this party, and we all expected a full house. It was not to be. We had about 10 of our Tricks fans/friends there and about 20 Russo's regulars. Brian was giving away door prizes for St Patty's; hats, necklaces, and such. When someone joked that he ought to include toilet paper in the raffle, he showed up with a 4-pack of TP. The very next person who got their name drawn took the TP and said, "this will save me from standing in line at the store". (There has been a buying frenzy in the past few days of panic, mostly including toilet paper, hand cleaner, and water.) Thanks to our dancing gal pals, we had almost everyone dancing throughout the night. The Tricks Trio was really hot and tight. Thanks to Dave for showing up to tweek our sound, and thanks to Linda for taking a bunch of pictures. Thanks to Brian for hiring us; we hope to come back for another event, after this pandemic cools down.
---
KaRTunes Blog - February 2020
Feb 8 - First weekend of the month - Tricks Trio +Don at Iron Bridge Sportsbar, Allegan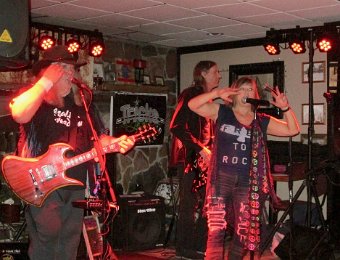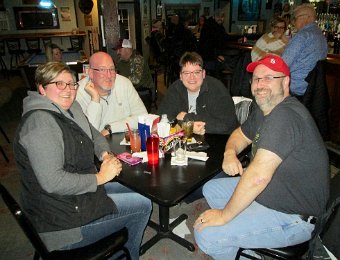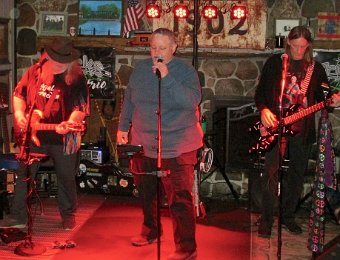 The band sure was fun tonight. Too bad there were only about fifteen people in the bar ... and that's counting the band and the staff. It was cold and icy out, but not bad for travel. Maybe good for staying cuddled up on the couch with your blanky. Anyway, back to the band. It's been two months off for the Tricks Trio, so we had some rust to work out. That almost increases the excitement, as you get that "no brakes, no net" feeling of going out on a limb. We were happy that Don showed up to sing with us. That's always fun. Tricks goes into Steve's basement on Monday, so this was like our final fling before winter break. Hopefully we can attract a bigger crowd at Iron Bridge next time, so the bar can make a little money. That's the whole idea of live music; it's all a trick to make you come out and spend money. That's why the band is called "Tricks" get it? As Bob Dylan once said,
"You never turned around to see the frowns
On the jugglers and the clowns
When they all did Tricks for you
You never understood that it ain't no good
You shouldn't let other people get your kicks for you".

---
KaRTunes Blog - January 2020

Jan 18 - Tricks Trio at South Haven Moose Lodge
*(So sad that our camera messed up after just a few pics.)